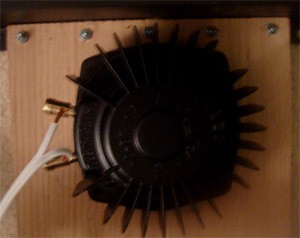 This is a long over due post about how to add vibration to your Xbox racing chair. When I first set this up, I couldn't find any resources online about how to do this…and thus the idea for Xboxracingpro.com was born!
This post will cover how I added vibration to my Xbox racing seat (Playseat Evolution). The goal is that when you hit the rumble strips playing Forza or any driving game, your chair simulates the feeling of being in a real car.
To accomplish this we will be adding transducers and sub amplifiers onto your Xbox driving cockpit. A Transducer is simply a bass shaker, it's kind of like a speaker, that only vibrates when there is low frequency and it barely produces any sound – just shake!
The key to making a transducer work effectively is hooking it up to a sub amplifier. The reason you need a sub amp is because you need the ability to filter out high frequencies and only push low frequencies to the transducers. this is for creating maximum low end vibration.
This is not a perfect system (ill explain more on that later), but it is VERY effective and FUN. I can honestly say this takes driving games on the Xbox One to the next level. As proof, my Playstation friends are at my house every Saturday to race in this customized Xbox racing simulator!
Here Is what this post will cover:
Adding transducers (bass shakers) to the bottom of your Xbox racing chair
A birds eye view of how to wire the setup
The pros and cons of this set up
All of the products I used to set this up
Other Alternatives
This is the part were we turn your Xbox Racing Chair into An Xbox Racing Simulator…
Lets Make Your Gaming Chair Vibrate!
Here Are More Details and Pictures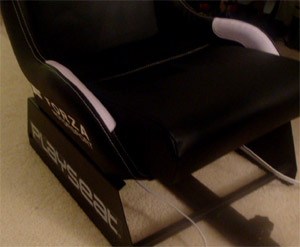 Separate The Frame and Remove The Seat
Detach your front end of your cockpit so that you are only dealing with the racing seat
Unscrew the four screws that attach your racing seat to the metal frame
This is all straight forward stuff, but here comes the hard part, now we have to drill the frame. **Once you drill your frame, you void your warrenty**
---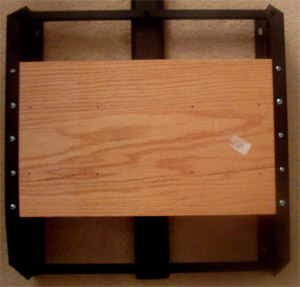 Drill Equidistant Holes And Mount A Board
Measure 5 equidistant holes on each side of the top of the seat frame (mine are 2inches apart)
Drill holes into the frame on each side
Mount a .75 inch thick piece of oak (dimensions 17 in l x 10 in w) with screws
For this I used a drill press. Also be careful measuring try to line everything up nice on both sides of the frame. Check your seat and make sure the screw holes line up correctly.
---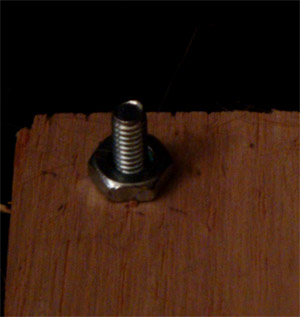 Flip the Frame And Add Washers
Flip the frame over
Add washers onto each screw
Adding washers is important, because the when the seat shakes, it can loosen the screws. So don't skip on adding the washers.
You will want to add one washer to each of the 10 screws on the bottom side of the oak board and fasten them on very TIGHT!
---
If you are running stereo measure out and center the transducers
Screw them into the oak board with the connectors facing anyway you want ( I choose toward the front of the seat)
I personally found it easier to attach my speaker wire now, while I had the chair flipped over and the transducers exposed.
---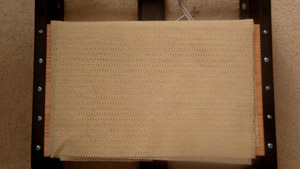 Add Padding To The Top Of the Board & Reattach Seat
Flip the frame back over
Add a piece of carpet pad to add some cushion under your but – anything soft will do
Reattach your racing seat to the frame
Reattach the front end of your cockpit with your wheel
---
A few words of advice when adding transducers to any type of setup. Always think about transfer of energy. You want these transducers to shake your whole setup and transfer as much wattage as they can into your Xbox driving simulator.
We are now ready to start hooking up all the wiring to make the vibration work.
Xbox Racing Simulator Birds Eye View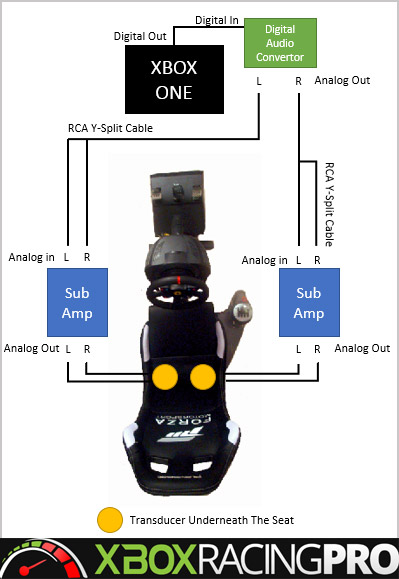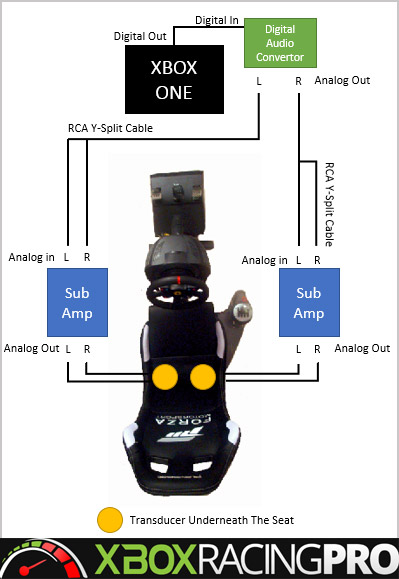 Here is a text recap of what I have covered in the picture above:
Xbox Digital Out to Digital to Analog Converter (DAC) – need to use a Toslink cable
DAC Splits out Left and Right Analog Into Sub Amps – use 2 Y Spilt RCA cables
Sub goes into Transducers attached to the bottom of your Xbox Racing Chair
Optional: Add a volume control knob between your DAC and amps/li>
Pros and Cons of This Custom Racing Setup
Pro's of this setup:
This adds an entire new level of immersion to any racing game
When you add vibration and wear headphones, your immersion gets modified x100
2 transducers allows you to feel vibration in stereo
Took me about 3-4 hours in total to customize this whole setup
Everything feels more real and activates all of your senses
Add a high end set of headphones to work in tandem with the vibration…it is all taken to the next level
Even with board underneath seat it remains comfortable for hours
If you jack up the gain enough on the amps, the whole frame will get adequate vibration
If you get creative you can mount your amps onto your seat
Cons of this setup
Using the Xbox OUT you are getting all game audio (this is why you need a sub amp…you need to filter out the highs). Example, in Forza 6 I can feel the low end of the helicopter passing over my head in certain parts of tracks it vibrates the seat – again not perfect put still AWESOME!
If you don't measure the board 100% right, it can be difficult to mount your seat back to the frame. I estimated 17 in long, but measure yourself and make sure it fits within your frame
My down stairs neighbor thinks I am a D bag, because the floor vibrates. (to fix that I used high grade Isolate It pads under my playseat frame…no more downstairs complaints)
Other Notes:
I set the frequency on my sub amps between 60-80 hz
I set my gain to 6 and it provides a nice simulation experience
After 1.5 hours of solid driving the amps feel warm and I cut em off in between races
You can wire a volume control knob and mount it on your seat
I cut my 4 Isolate It pads into 8 and double stack them under the metal frame of the seat
If you wanna go mono, add your transducer to the middle of the board
DIY Xbox Racing Simulator Setup At Amazon
Here is a list of all the products I used in the set up above. I have them listed here from left to right in the order they appear in my setup.
FYI…the 70 watt sub amp, transducers (bass hsakers), and Y split RCA cables are X 2. You can swap these out for different products and wattages, but this is what I found to work best.
Other Alternatives For adding Vibration
There are other products for adding vibration, like the Butt kicker 2.Tthe only issues with that is they NEVER seem to be in stock anywhere and they are mono.
A good high end transducer company Clark has nice products if you have the budget and on the lower end you can get Dayton Audio Pucks for pretty cheap. Whatever you get just make sure you do some research on the proper wiring and appropriate wattages for driving power to the transducers. You don't want to under power them and not get what you paid for, but over powering them can blow them.
If you have any questions at all about this DIY mod or want to share your own, please let me know. I hope that you found this helpful, since there are not many DIY guides online about doing this.