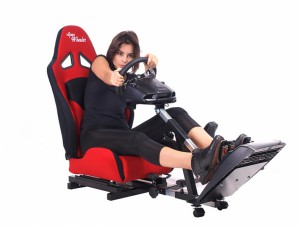 If you love Xbox racing games and are seeking an immersive racing experience, choosing the right products is intimidating. There are so many choices for Xbox racing wheels, cockpits, and accessories that it is hard to figure out what works best, which products are compatible, and how much money is the setup going to cost.
Below are my best Xbox racing setups, listed in the order of product importance and how crucial they are to the Xbox One racing experience. Find your budget on the left of the chart and scroll across the suggested product combinations. I have highlighted the 3 best values in gold.
The total I have listed are an estimated cost before tax and shipping, Be aware these products tend to fluctuate a bit in price based on supply and demand.
Best Xbox Racing Setups For Any Budget
*There are 2 different models of the Wheelstand Pro. Make sure you order the one associated with your wheel selection
All of the product prices I have listed are USD estimates and are not guaranteed. If any of these estimates seem extremely off please do your part and let me know on my contact page so that I can reassess the suggestions.
The Main Types of Setups
When purchasing an Xbox racing setup, you should consider one of three basic setups: Wheel/pedal set, Wheel/Pedal set on a stand, or a Wheel/pedal set on a cockpit. A Wheel and pedal set pack up easy for storage as does one on a stand, while the wheel/pedal set on a cockpit are larger and more stationary.
Having an Xbox racing set up creates an immersive gaming experience, by putting a steering wheel in your hands and using force feedback to create the feel of controlling a real car. Here is a quick guide to the 3 setup types:
Wheel/Pedal Set
All of the racing wheels licensed for Xbox One come with a gas and a brake pedal included. The wheel/pedal sets cost from $100 to $400, depending on which brand of wheel you choose. If you are on a tight budget or trying to add an immersive racing experience in a small living space just buying a wheel/pedal set will likely be the best choice, but you will also need a piece of furniture available to clamp your racing wheel to for stabilization.
Wheel/Pedal Set On A Stand
This setup doesn't require any furniture for mounting and puts your body in a simulated driving position, providing a much more immersive gaming experience. The cost of a wheel/pedal set with the addition of a stand runs between $250 and $550. These setups are typically compact and fold up really easy for storage, but some don't provide for future scalability like adding a clutch and a shifter.
Wheel/Pedal Set On A Cockpit
This type of setup is bulky as it combines a bucket style race car seat and mounting hardware for your racing wheel and pedals, however it creates the best gaming immersion experience. Scaling out racing accessories like a clutch and a shifter are usually much easier on a cockpit as well as adding vibration to the seat. The total prices of wheel/pedal sets with the addition of a cockpit vary greatly. In general expect to spend $700 to $1,800 for both the wheel/pedal set and the cockpit.
What's the Best Xbox Racing Setup For You?
If you are just a casual racing game fan just looking for some realism, a serious racer on a tight budget, or someone with extremely limited spaces, you will probably be satisfied with a wheel/pedal set. A wheel/pedal set will create a more immersive experience than an xbox controller, packs up easy and doesn't cost alot – although if you don't have a piece of furniture available for mounting adding a wheel stand is your next best option.
Generally a wheel/pedal set with the addition of a wheel stand or a cockpit are more immersive because they put your body in a position like you are driving a car. They also fix the pedals to a mount so they don't slide around while you are pressing them. Typically these stand and cockpits upgrade a bit easier and feature multiple pre-drilled holes to allow for different types of wheels and pedals to be mounted.
If you are someone with a medium size budget seeking an immersive experience a wheel/pedal set on a stand may be right for you. These setups usually fold up compact, can fit in a small coat closet, and are easily set back up when you are ready to race.
If you have a serious Xbox racing addiction and have the budget to go with it, mounting your wheel/pedal set on a cockpit is the way to go. A cockpit not only puts you in a bucket style racing seat, but it raises the pedals off the floor to simulate a true driving position. These setups are large and will take up some space, but most do slide fairly easy on a carpet and allow the back rest on the seat to fold down.
The next step to our Xbox racing buyers guide is to determine the best Xbox racing wheel for your setup.