Today we we review the Mad Catz Pro Racing Force Feedback Wheel and Pedals for Xbox One.
This steering wheel is considered a mid to high end Xbox One racing wheel ans is priced just under $400. I'll break down the specifics of the latest steering wheel offering from Mad Catz.
Introducing the Mad Catz Pro Racing Force Feedback Wheel and Pedals for Xbox One…The wheel and pedals system are a realistic racing simulation accessory with force feedback hat you can to mount into your racing cockpit or clamp onto a desk.  It is a definitely a solid choice if you are looking for an immersive racing experience on your Xbox One.
Mad Catz released this wheel late in the summer of 2014 and was made for full integration with the Xbox One. When the wheel was first released there were alot of complaints about it such as it had lots of of bugs and the force feedback was very choppy and unnatural.
Mad Catz has continued to work on improving the steering wheel and provide customer service to those that had issues. It seems now that better reviews are coming in and they have the wheel operating at a much higher standard than when it was first released.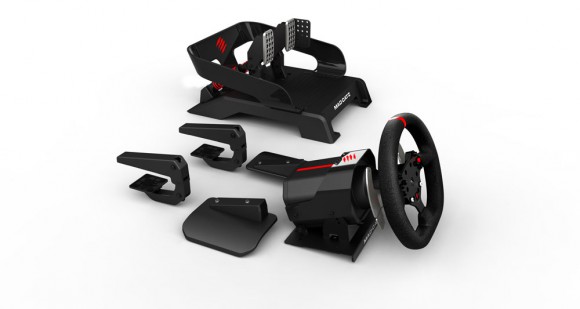 Mad Cats Pro Racing Wheel Specs:
Switchable rotation between 270 and 900 degrees, force feedback with dual motors and helical gears, pedals adjustable to 9 different positions, adjustable steering wheel rake angle to 4 different positions (15 degrees each), metal paddle shifters, suede leather wheel rim on an aluminum steering wheel.
The two pedal set is highly adjustable and also includes a pedal frame that is supposed to mimic the sensation of foot well limits, replicating the perspective of pro racers. If you are familiar with the Mad Catz steering wheel for the xbox 360, I would overall say this version is similar, but a bit improved.
So for a mid to high end racing wheel does the Mad Catz steering wheel compare to it's Xbox One competition in the same price range? Is it as good or better than the Thrustmaster TX or the Logitech G920? Hopefully I'll have that squared away for you by the end of this review.
Built With Future Upgrades In Mind
Mad Catz built this wheel with the potential for updates farther down the road. The wheel face is removable and easily detaches from the wheel base, allowing for future wheel rims to be attached. The internal firmware is also upgradable via USB to a PC.
Get the Mad Catz Racing Wheel For Xbox One At Amazon
The Mad Catz Steering Wheel Leaves A Bit To Be Desired
How it feels to race with the Mad Catz Pro Racing Force Feedback Wheel and Pedals? I have taken the Mad Catz Wheel out for a spin on Forza Horizon 2 and Project Cars and the wheel feels a bit like weight plastic in your hands. It turns really smooth, but the force feedback has a bit of a grinding sound and I can feel the wheel chop through the gears as it returns to center.
The force feedback does not feel very strong either and I have it cranked to 100% in the game. The pedals are solid and they feel firm and responsive to the game. I do like the feel of the suede leather in my hands, but after a while may make your hands a bit clamey.
It has Multiple Mounting Options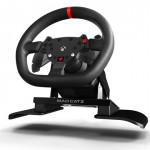 The base of the wheel is small, lite weight, and it will mount really easy to a table, desk, or racing cockpit. The Mad Catz particularly was designed to mount on the Playseat Evolution. They do have options though for table/desk mounting and there is a version of the Wheel Stand pro, that can also mount it.
Overall It's A Good Wheel, but…
Overall the Mad Catz Pro Racing Wheel and pedal set is decent, however I do think that the Thrustmaster TX and The Logitech G920 are better options, particularly because they have stronger force feedback and have vibration. For the $400 asking price on the Mad Catz wheel, I think they could have delivered a better product.
So that's some specs and my opinion, now let's get into some pros and cons and wrap up this review.
Pros:
Xbox One compatible
Licensed by microsoft
Easy turning
Provides force feedback
Lite weight wheel base
Removable wheel face for changing rims
Pedal unit has a carpet gripper (great if you are using clamps)
Looks really sharp with red rubber grips
Lot of adjustability in the pedal alignments
Suede rim is a nice touch
Licensed by Microsift
Cons
Grinding sound when wheel returns to center
Force feedback is not very strong
No clutch or shifter available (they made it to be upgradeable, but have not announced any accessories as of yet)
Price point is $150 more than I think it's worth
Does not have a progressive brake
Mad Catz Pro Racing Force Feedback Wheel Xbox One Review
This wheel is definitely worth a look, especially if you are looking for an option other than Thrustmaster or Logitech. From my research it looks like all of the initial bugs and kinks that Mad Catz experienced in the beginning with their steering wheel have all been resolved and you can confidently order this product. Again my only real reservations on the Mad Catz Pro steering wheel is that it's over priced in my opinion and could have better force feedback.
Mad Catz also mentioned future upgrades and to date we have yet to see any, while companies like Thrustmaster have put out multiple add on rims, a shifter, and multiple pedal sets for their Thrustmaster TX Wheel base.
I still think the Mad Ctaz force feedback steering wheel has a lot to offer: it turns smooth, the pedals are firm, and it has some great mounting options, but for $400 I have my reservations.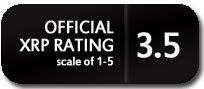 Buy The Mad Catz Steering Wheel or Related Products at Amazon
Have you tried the Mad Catz Steering Wheel or another Xbox One wheel? What is your take on this racing wheel or how do you compare it to the other Xbox One racing wheels on the market? Let me know in the comments.
Mad Catz Steering Wheel Xbox One
Rated
3.5
/5 based on
1
review