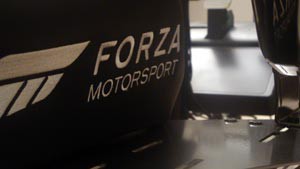 These are all the pieces I have in my regular driving setup. I have included a few brief descriptions along side the products, and have included all the stuff you need at the bottom from Amazon. If you have questions about this stuff or how to customize it, ask away I am an open book!
My Full Xbox Sim Racing Setup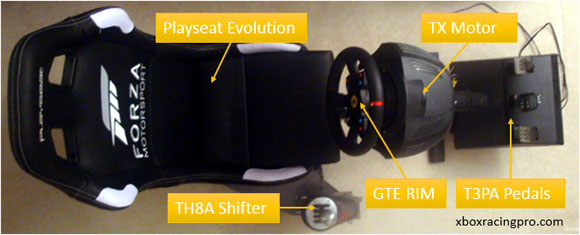 Here are all of the components of my driving rig. I do own products from Fanatec and Logitech, but have a preference for Thrustmaster when it comes to my X Box One.If you are interested in adding vibration to your cockpit, see this page here!
Xbox One Racing Wheel

Thrustmaster TX: I find the base extremely sturdy and provides excellent force feedback. The ability to choose rotation between 270 and 900 was huge sales factor for me. I tend to keep mine set between 270 and 330 degrees depending on my car choice. I've owned the TX for 1 year and have not had any issues with it, like were reported early on when they first hit the market.

Thrustmaster GTE Rim add on: This rim is better than the stock TX rim. It has a nice weight to it, the paddle shifters give a nice click, and I love the re-enforced rubber grips on the diameter. While still a 7/10 size replica, this may feel a bit small in your hands, but the extra weight and metal center column make up for it's size deficiencies.
UPDATE AS OF APRIL 2015

Thrustmaster Leather GT Rim add on: This rim feels much more realistic than the GTE rim add on and I use it daily. It is made of metal and leather and was engineered with automotive standards in mind. This accessory like the others is a 7/10 replica in size, but it certainly feels like it delivers the force feedback and the vibration from the base much better than the other two rims.
Xbox One Racing Pedals

Thrustmaster T3PA Wide Pedal Set: I do not use my stock TX pedals. I traded mine out for theT3PA's. The clutch alone is worth the price of admission and the conical brake module took this pedal set over the top. I have my brake mod set at like 85% engaged and the progressive resistance feels like a really stiff car brake. Another perk is that face plates are adjustable.
UPDATE AS OF APRIL 2015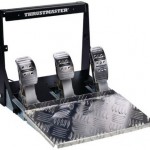 TheT3PA Pro pedal set is more robust than the T3PA wide pedals and offers more adjustability and stability. These are made of all metal parts and offer the ability to invert the pedals from Formula 1 style to GT Style. These pedals and springs feel much better that the T3PA wide set. FYI Thrustmaster does not advise using these without shoes on.
NOTE* I added a load cell brake mod to my T3PA Pro pedals….make a huge difference in braking efficiency.
NOTE* I have tried taking the wide brake plate on the stock TX pedals and putting it on the T3PA's, but the TX plate holes would need to be drilled. If you have the means to drill a cool customization could be adding the stock TX wide brake face plate to your T3PA pedal set.
Sim Racing Cockpit

Playseat Evolution Forza edition: It not only has an awesome, clean, and polished look to it, but you can sit in it for hours and not get a back ache. I find the adjustability to be pretty good, even though I am over 6 feet tall, I fit it pretty comfortably. There are some adjustments you can make so that you can fit the cockpit to your body length.
NOTE* If you are putting your driving setup on a wood floor, then I would also highly recommend getting the playset floor mat. Since the base of the playseat is metal, this will help prevent you from scratching your floors up.
NOTE* You can also get seat sliders to make your seat slide forward and back a few inches and an ad on for mounting a shifter gearbox. I own the shifter mount, but I don't own the seat sliders!
Xbox Shifter

Thrustmaster T38A shifter: This monster is 90% metal and adjustable to different angles. You can certainly live without it because there are paddle shifters on your wheel, but the one thing you lose with paddle shifters is neutral. When you throw your car into neutral prior to a heavy down shift, you allow yourself to jump gears and get the car under control.
I also have a Ricmotech short shift mod kit on my shifter which reduces the throw distance by 35%, which leads to faster shifts and reduced lap times!
If you are looking to add some aesthics to your shifter, the knob changes out really easy. I have a classic Eight ball knob on order. You can checkout universal shifter knobs here.
Xbox Audio Gaming Headset

Polk Audio 4shot: Most people probably don't race with a set of headphones on, you are missing out. These bad boys were tuned for Forza 5 so the cars sound bananas!! Using a high end set of headphones, like the 4shots you can focus your eyes on only what's in front of you and eliminate the distractions around you like your girlfriend telling you about her day at work..lol
The added bonus is if you add vibration in combination with a high end set of headphones, your body will perceive low ends sounds like, bass, rumble strips on the tracks, car crashes, etc to be much louder and feel more real. It is part of bringing all of your senses together to create immersion.
Adding Vibration To A Sim Cockpit

I have 2 Dayton Sun-woofer amps and 2 Aura Bass shakers. Each amp runs one bass shaker and each is assigned to a mono channel. They are mounted to the bottom of my Playseat and it creates an awesome vibration with driving games. When you hit the rumble strip the seat shakes on the appropriate side. To  add vibration to your driving chair, go here.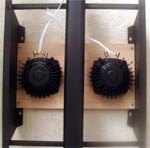 When you combine the vibration, the force feedback and vibration in the driving accessory, a progressive brake, a dynamic shifter, and awesome pair if headphones you start loosing the ability to differentiate a driving game from a real driving experience. To the left is a snapshot of how I customized my Playseat Evolution with the mounted Aura bass shakers. To stop the vibration in the floor and stop my downstairs neighbor from complaining I use Isolate It Pads.
Wanna Duplicate My Setup?
How Come I Favor Thrustmaster Over Logitech and Fanatec
For my X Box setup its honestly what I find performs best. I usually keep my Fanatec wheel mounted on an OpenWheeler Advanced and connected to the PC because it has such nice fidelity with iRacing, rFactor, and Assetto Corsa. My Logitech G920 I have bolted to a Wheel Stand Pro and I only pull it out on occasion when I am testing new games for compatibility.
Do I Recommend Fanatec or Logitech Wheels for the X Box One
100% I would recommend them. Both wheels perform outstanding on the console and in fact the Logitech G920 is one of the best selling wheels on the market. For Fanatec their Forza Xbox 1 Bundleis the highest quality wheel you can purchase for the XB1, but I tend not to recommend only because I think its far too expensive for console sim racers, but they also have the CSL Elite which is much more in line with the price of the Thrustmaster TX.
What do you think of my setup? What would you do differently? Let me know in the comments!