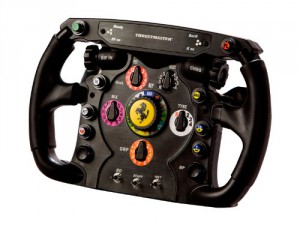 Thrustmaster Ferrari F1 Wheel Add-On:
The Thrustmaster F1 Wheel Rim Add On is a full size replica of the Formula 1 Ferrari 2011 racing wheel. It can be mounted on several different Thrustmaster wheel base motors and it is officially licensed by Ferrari.
It is constructed of metal, rubber, and plastic. It has 8 dual dent push buttons, 3 metal switches, 2 rotary knobs, 2 D Pads, and 2 speed shifters. Of all of the Add on Thrustmaster Rims, this one is the most authentic looking!
Construction and Quality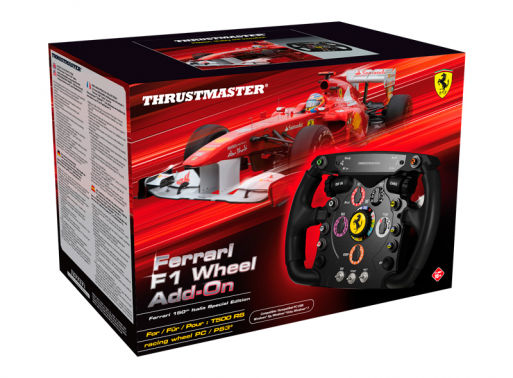 Right out the box the F1 add on rim feels a bit light in your hands, which makes it feel like a toy. The center column of the wheel and the sequential shifters are made of brushed metal, most of the casing is plastic, and the hand grips are a thin layer of smooth rubber, covering plastic (similar to the stock TX rim, but with no grip texture).
The wheel weighs just under 3 lbs.
The size of the rim itself is impressive measuring about 12.2 inches wide and 9 inches high. When you hold it up in front of like a racing wheel, the spacing between your hands feels awesome, unlike the 7/10 scale Thrustmaster uses on their other rims.
"There is no other rim on the market that is this wide"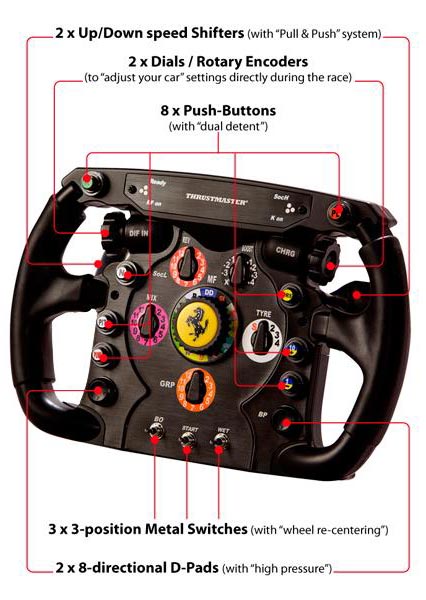 The metal center of the wheel plate looks really nice and so do the 3 metal 2 position switches at the bottom, everything else that is attached to it is pretty much plastic (including the center Ferrari logo). Its, basically a wide metal center plate, with plastic parts attached to it, which explains why this rim only weights about 2.8 lb.
All the push down buttons click down and pop up really easy, the dials turn smooth, the 2 d-pads move a bit stiff, (which is good) the thumb dial rotary encoders spin easy and are positioned nicely, and sequential shifters make a nice CLICK when they are engaged.
It's also worth noting that the sequential shifters are a "push and pull" style similar to what you would actually see in an F1 race car. When you grip the wheel they fall perfectly on your fingers.
My 2 immediate takeaways from just observing this rim out of the box:
It looks magnificent
It feels kind of cheap
How The Thrustmaster F1 Wheel Feels In Use
I tested this rim using the base of the motor base of the Thrustmaster TX, a Playseat Evolution cockpit, The T3PA Pro Pedal Set setup F1 style, F1 2015 and Project Cars on the Xbox One. The rim snaps on really easy to the Thrustmaster wheel base and there is only one small screw to tighten.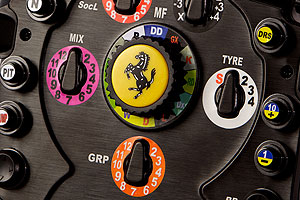 Just getting into the game is slightly confusing at first because the buttons are not labeled for the Xbox…however these wheel wasn't made initially for the Xbox so you don't have A,B,X,Y written on the buttons. On this rim particularly I like that they are not labeled. I like that they are F1 themed like a DRS button and PIT labeled buttons….I think that adds an immerive element to the experience.
However most of the buttons and dials are just for show and have zero use in the game, so don't get to excited about them.
The Racing Experience
To aim for maximum simulation, I and changed the wheel degree rotation to 270 degrees to simulate the F1 experience and used the "in cockpit view". I also used only F1 cars and real F1 tracks.

From the moment I started racing the 12 inch width of this wheel felt like a real race car wheel. The size alone simply makes this a great rim for an immersive racing experience. While I do like the width of the rim, the smooth rubber hand grips, feel hollow and plasticy inside your palms.
"Racing f1 cars and looking down and seeing the rim in your hands is sick"
Having this wide rim, with the short wheel rotation degree, and driving an open wheel race car in the game..kind of blows your mind . It feels particularly immersive  when you quick shift with the push and pull  style sequential shifters.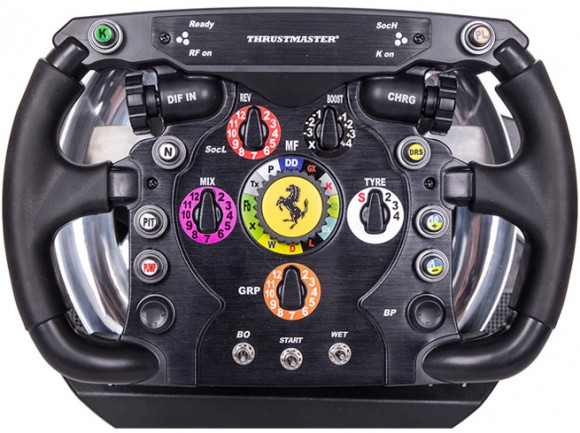 The force feedback and vibration from the TX wheel base feel really strong, but I think there is a bit of loss in the transfer of energy in a lot of the hard plastic parts.
Of both the games F1 2015 and Project Cars, it was the Project Cars game that made this wheel feel the best. The F1 cars and force feedback were incredible with this wheel rim in your hands.
During the race just for kicks I flipped a few switches and turned a few dials…not much to report as they are just for show.
Thrustmaster F1 Wheel Complaints
There are several things about the Thrustmaster Ferrari F1 wheel that need to be mentioned prior to purchasing this rim.
The price point is to high for the quality and construction. Thrustmaster priced this based the fact it's an F1 rim and not on the technology they used to make it. This rim shouldn't cost more than $100
Too much plastic makes it very lite weight. As a comparison the Thrustmaster F1 rim weights 1 lb, but the Thrustmaster GTE add on rim weighs almost 3 lbs
The hand grips feel hollow and they should have used a solid construction with reinforced rubber
Most of the buttons and dials are just for show
Thrustmaster advertises this as a collectors piece, nothing with this much plastic should be called a collectors piece
Ferrari F1 Wheel Add On Is Compatible On Multiple Thrustmaster Wheels
This Ferrari GTE rim add on is compatible with several different Thrustmaster wheel bases:
If you were not an Xbox racer and using this rim on your PC to play F1 games, you will get much more button and feature functionality out of this rim. For us Xbox users, it's limited.
Thrustmaster Ferrari F1 Wheel Add On Review – Wrap Up
The Ferrari F1 steering wheel creates a really nice immersive racing experience for open wheel racing games. I really like the width of the rim and that is part of what makes this wheel feel different than other rims on the market.
The biggest issues for me is that it is a bit over priced for the quality and functionality and that's the one thing that prevents me from rating it higher. Is it a nice rim? YES! Did it make my Xbox immersion and simulation better? YES!…But I truly think this wheel is overpriced by about $30.
For the standard Xbox racing gamer I rate the F1 wheel a 3. If you are an F1 fan and this is your style of racing game, then this wheel is a 5 and a must buy, but do your research because I have seen the price range from $150 to $600.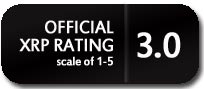 Buy The Thrustmaster Ferrari F1 Wheel Or Related Products
Thrustmaster Ferrari F1 Rim Add On
Rated
3
/5 based on
1
review
Have you tried the Thrustmaster Ferrari F1 Wheel Add on? Let me know your experience with this rim in the comments below.