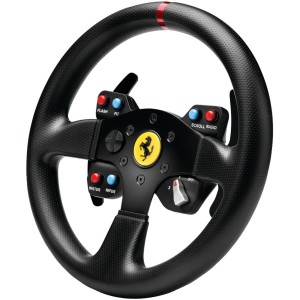 Thrustmaster Ferrari GTE F458 Rim Add-On:
This detachable GTE wheel rim add on also referred to as the Ferrari 458 challenge wheel was  built to be mounted on several different Thrustmaster wheel base motors and is officially licensed by Ferrari.
It is constructed of metal, rubber, and plastic. It has 6 assignable action buttons, 2 metal paddles shifters, a 3 position Manettino dial, and a D Pad.
Construction and Quality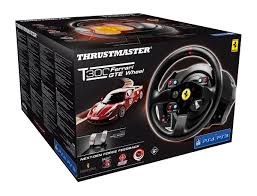 Right out the box the Ferrari challenge Wheel rim feels like it's got some weight to it and has the look of a real rim you would see in a race car. It weighs just under 3 pounds and when you hold it up in front of you like you are steering, you can tell that it feels like it's made of quality material.
It is not a full scale rim (7/10 scale), it's about 11 inches around, and with that being said, it looks a bit small in diameter and feels slightly small in your hands.
The circumference of the rim itself is covered in reinforced rubber and the texture on your hands feels nice and grippy! Of all of the Thrustamster Add On Rims, this one definitely offers the most grip.
The center of the rim spokes are made of a thick brushed metal, that has black metallic paint. The colors of the red and blue buttons offer a nice stark contrast to the black rim and all of the buttons push down and spring up nicely.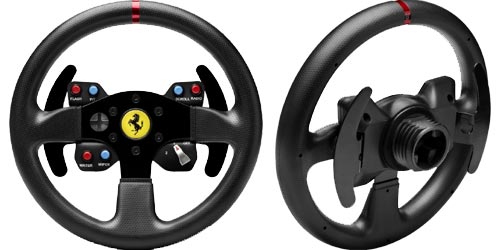 The Ferrari logo in the center is a nice touch, but looks small, plastic, and toyish. The Quick release system (seen above on the right) that mounts to your wheel base looks sturdy and easy to use.
The paddle shifters are a thick black brushed metal. When you engage the shifter it makes a nice click sound.
How The Thrustmaster GTE Feels Great In Gameplay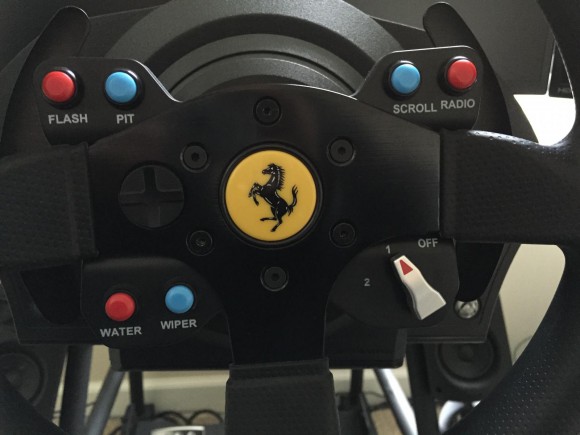 I tested this rim using the base of the motor base of the Thrustmaster TX, a Playseat Evolution cockpit, and Forza Horizon 2 on an Xbox One.
The rim snaps on really easy to the Thrustmaster wheel base and there is only one small screw to tighten.
Getting started in a game is a little confusing at first because the buttons are not labeled A,B,X,Y or Start and Select. You find yourself guessing as to which button is which. I would imagine since this rim fits multiple wheel setups they didn't label the buttons so I can forgive them for that. Once you figure the buttons out, it becomes second nature.
The Ferrari GTE Rim Racing Experience
Immediately this rim feels like a huge upgrade from the Ferrari 458 Italia Edition racing wheel. It feels heavy in your hands and does not feel at all like a toy.
"It is very grippy and is easy to control when the force feedback is tugging at your hands"
If you let the force feedback spin the wheel back to center, watch your fingers cause the wheel spins hard and the metal spokes will get you if your lazy with your hands.
The GTE rim responds very nicely to feedback and the vibrations through the reinforced rubber is really strong. The material the rim is made out of really conducts the vibrations into your hands and up your arms really nicely just like it would in a race car.
The paddle shifters have high quality spring action and when you shift gears not only do they snap back, but they CLICK into place. The thick brushed medal paddle shifter also has a real car feel to it on your finger tips.
This rim boils down to how it feels in your hands and it feels like a real race rim, just a bit smaller. Don't get me wrong I would love a full size race rim, but this is a great add on for racing games on any console.
Thrustmaster F458 GTE Rim Complaints
I have 2 complaints about the GTE Add On Rim:
Feels a bit small, wish they raised it from 11 inches to 12 inches
Buttons aren't labeled for the Xbox, which I understand that doesn't work for everybody
GTE Wheel Add On Is Super Compatible
This Ferrari GTE rim add on is compatible with several different Thrustmaster Wheel bases:
Thrustmaster Ferrari GTE Racing Wheel Review – Wrap Up
This wheel is definitely worth upgrading to for any set up. This rim will really improves the Xbox simulated racing experience and I highly recommend it if you have not yet upgraded. Without a doubt The Ferrari GTE racing wheel add on is a good buy and worth the money they are asking for it. It's really easy to love the look and feel of this rim and if you are upgrading from a stock Thrustmaster rim, this is 1000X better.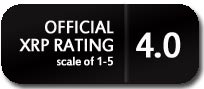 Buy The Thrustmaster Ferrari GTE Rim or Other Related Products
Thrustmaster Ferrari GTE F458 Wheel Add-On
Rated
4
/5 based on
1
review
Have you tried the Thrustmaster Ferrari GTE F458 Add On Wheel? If so let me know what you think about it in the comments below.