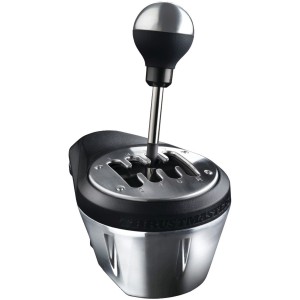 Thrustmaster VG TH8A Gearbox Shifter:
The Thrustmaster TH8A shifter is the gearbox shifter component to Thrustmaster racing wheels. If you are looking for realism and authenticity…This is it!
It offers a simulated gear-shifting feel with 2 shift-plates included: "H"-pattern (7+1) and Sequential (+/-).  It has all metal internal parts, metal gear stick and a metal clamping system.
Top Notch Construction And Quality Shifter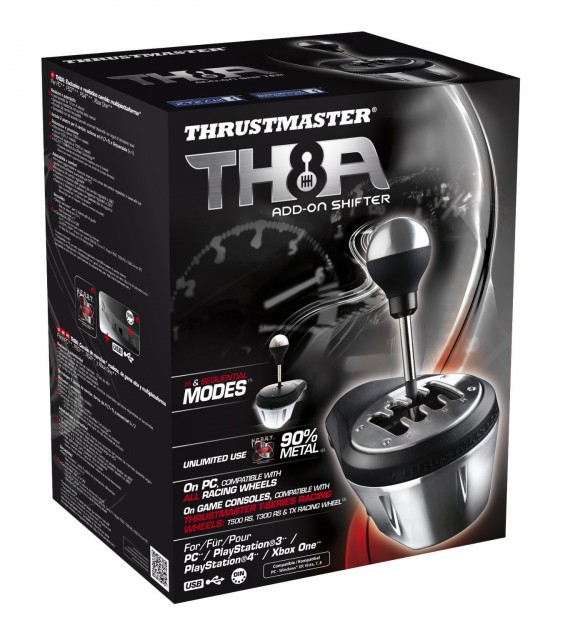 From the moment you lift this piece of equipment out of the box it looks and feels like they took this shifter right out of a real race car.
This thing is solid metal and has some good weight to it (it's over 5lbs). The chrome on the gear stick and the H pattern shifter plate looks incredibly sexy and is really polished. The optional sequential shifter plate is made of black plastic.
Just shifting the gears in my hands while holding the base, I can feel how easy it shifts with only a bit of touch and yet it still moves firm. It moves really natural.
The shifter knob unscrews easy and as a bonus you can replace it with a different knob from a car parts store to customize your look. The metal clamping system looks solid and has black plastic turn knobs to tighten the grips.
There is USB wire included for connecting to a PC as well as cord for hooking it up to your racing wheel.
The Internal Mechanisms Are Built To Last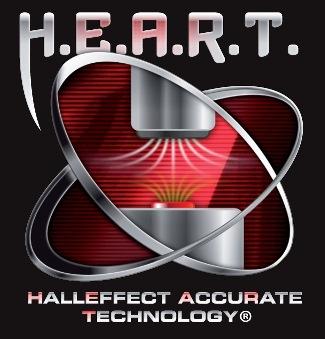 Thrustmaster made the TH8A to stand the test of time. They included all metal parts inside and used H.E.A.R.T. Hall Effect AccuRate Technology. This technology  means that over time the precision will not decrease, because it uses a contactless magnetic sensor. There is no tact switch and no potentiometer which gives this shifter unlimited product lifespan.
The TH8A Feels Authentic When Racing
For this review I used the Thrustmaster TX with the T3PA Pro Pedals, and mounted the TH8A shifter to the Playseat Evolution and played Forza Horizon 2 and Project Cars.
If you are using an Xbox One, with a TX wheel base, then you will need to plug the shifter into the wheel and the wheel will need to have the "V47 firmware update" for it to work properly".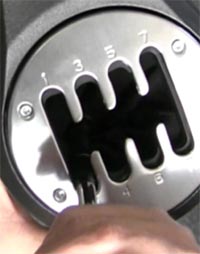 H-Pattern Gear Plate
I started with the H-pattern shifter plate and I can't lie…I was horrible, but could tell immediatly this was a game changer . Having 8 gates available I kept throwing the car into the wrong gear, so it takes some getting used to. Once you get your technique down pat, this thing is gonna be one of your favorite racing accessories.
Shifting the gears feels really nice and smooth. The shifter moves with such little force. The throw of the gears feels a bit too long for my preference, but it may just take some getting adjusted. Once you get acclimated and get your timing down…
"Your going to feel like WHOA That was Awesome every time you shift!"
If you were looking to compare this shifter to a shifter in a car the biggest difference is the lack of pressure that you get when moving from one gear to the next. A real car shifter has a bit more snap to it when you can feel the gear lock in. Don't get me wrong it snaps, just not like a real car.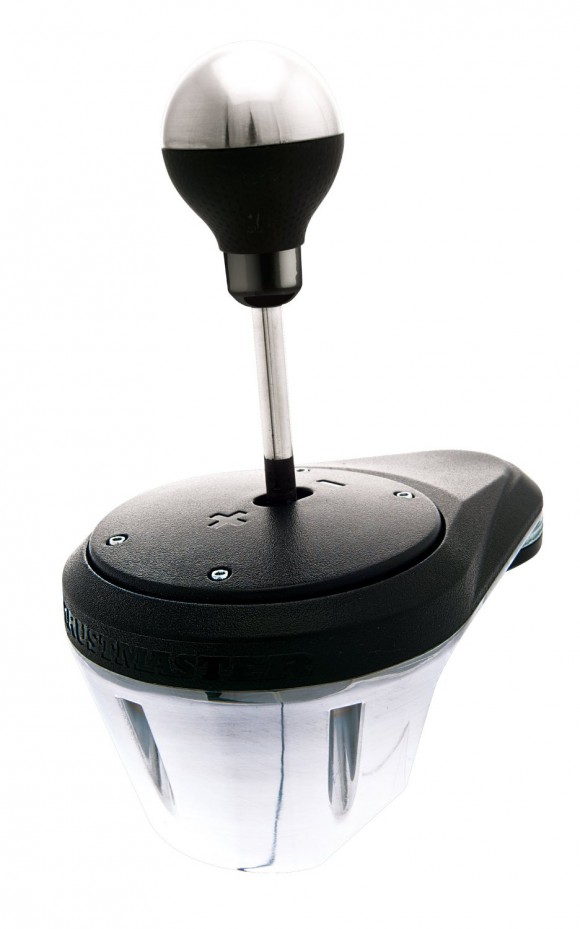 Sequential Gear Plate
After some H pattern shifting, I gave the black plastic sequential shifter plate a shot, which switches out really easy.
Sequential shifting was much of the same feeling; shifter slides nice and easy, but doesn't give the gear shift sensation you get from a real car. There is one big difference though here and that is that the throw shortens up.
If you are just starting out and if not used a clutch and shifter before  in your racing setup, it may be best to start with the sequential plate, get a feel for it, and then move into the H-pattern plate. I think it's pretty awesome they have both options for this shifter! you can also get the Sequential Shifter Knob which is adds a bit more height to the shifter and is ideal for sequential shifting.
The simple act of shifting the TH8A and using the T3PA clutch will take your racing immersion experience up about 1000 notches…don't get me wrong it doesn't feel exactly like a real car shifter, but if you don't have a shifter hooked up then you MUST get this.
The one thing that stood out to me was the quality. The entire time racing and having my hand on the shifter, it felt like I had a quality product in my palm!
CHECKOUT THE TH8A SHIFTER ON AMAZON
The TH8A Offers Plenty Of Adjustability
The quality and craftsmanship of the shifter are OUTSTANDING. I love how it was designed to last with using a contactless magnetic sensor. There is lots of adjustability including increasing the shifting resistance, changing the shift plate position and rotation, and even removing the clamping system for mounting on a cockpit.
If you have any technical knowledge you can open it up and shorten the throw of the gates as well, but I wouldn't advice that if you are not technically inclined. There are better options like getting a short shift kit mod which will reduce the throw by about 35%.
One of my favorite things on the TH8A is the ability to change the knob for something more customized…who doesn't like putting their own style on their racing setup. Checkout universal stick shift knobs here!
Thrustmaster TH8A Complaints
Not really much to complain about, but if I am being nit-picky:
The cords may be a bit short for some peoples setups
The gear shift throw is a bit long
The lack of gear lock like a real car may leave some experienced racers looking for a more simulated feel
I wish the black plastic sequential plate was chrome like the H-pattern plate
This shifter is actually not new, Thrustmaster just repackaged the Th8RS
The TH8A Gearbox Shifter Is Super Compatibile
This TH8A shifter add on is compatible with multiple wheel bases:
This thing is super compatible: PC (works with every wheel on the market), PS3, PS4 and Xbox One.
Note To Xbox One Users: People have asked how come the TH8A shifter doesn't work without the pedals even after a hard reset of the Xbox? You have to connect to Xbox live and install an update for your shifter to work. Once it updates  you should be good to go and not even need to be on Xbox Live anymore.
Mounting Compatibility
The clamping system (detachable) that is included is adjustable to 360 degrees and the clamp itself is really strong and will definitely holed the shifter in place on a table while you beat on it in a race. I would imagine that overtime, you may have to tighten the screw every once in awhile. There is a nice piece of black rubber at the top of the clamp that will help protect the surface of whatever you are clamping to.
If you are looking to mount into to a mount it to a Playseat then you will need to pick up special mounting hardware, so that you can fix the shifter into place on your gaming chair.
Thrustmaster TH8A Shifter Review – Wrap Up
The Thrustmaster shifter is definitely worth the money and a high quality product. I think it really adds to the immersion experience and makes any racing game much more engaging. One of it's greatest assets is that it was built to last, so if you are gonna spend the money, you will get years of value out of this shifter!


Buy The Thrustmaster TH8A Shifter Or Related Products
Thrustmaster TH8A Shifter
Rated
4.5
/5 based on
1
review
Have your tried the TH8A? If you have any questions about it or any other Xbox Racing Accessories, please let me know in the comments below