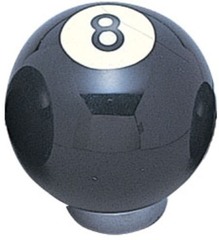 If you own the Thrustmaster TH8A shifter one of the BEST parts is choosing a shifter knob that suits your style and personality.
Here are a few of my favorites below, but there are so many choices it's hard to decide when you can only use one stick shift!
If you haven't got the TH8A shifter yet for racing setup, read my review here! If you already got the TH8A…then polish your knob below!
You can also check out the Thrustmaster Sequential Shifter Knob which is made for the sequential pattern shifting only and is an alternative to using the standard ball gear shift knob.
Best Universal Stick Shift Knobs For The TH8A
I love the Thrustmaster TH8A shifter for its ability to personalize it with any universal stick shift knob, but my biggest complaint is that the throw distance forward and back is a bit too long. There is a cool mod by Ricmotech that shortens the throw distance by 35%. You will not only decrease your shift time, but will also reduce your lap time. Read more here.
Which one of these is your favorite shifter knob? If you had to pick your favorite 5 which are they? Please let me know in the comments below.