If you are looking for a more immersive racing setup, but simply don't have the space or money to for a dedicated cockpit setup your next best option is a wheel stand. There are a lot of options for wheel stands on the market, but the only one I recommend to my readers is the Wheel Stand Pro. This stand offers versions compatible with almost every wheel available on every console or PC.
Check Out The Wheel Stand Pro In Action
It Is Made Of Quality Materials
The Wheel Stand Pro is build of metal and is put together extremely well. It weighs about 17 lbs and feels very stable, both when a wheel is mounted to it and when the wheel is removed. It is definitely built to last and withstand a beating. It will support the weight of your wheel and lock your pedals into place very securely.
Perfect Wheel Stand For Racing And Easy To Put Away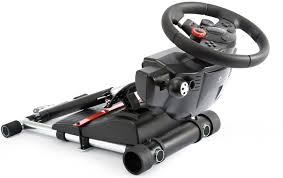 The WheelStand Pro is for anyone who is a casual racer or needs to be able to quickly put their racing setup in the closet or another room. It is as functional as a racing cockpit, putting your arms into a driving position, but it's easier to move around, fold up, and it doesn't have the same price tag as a full rig. You can simply leave your wheel and pedals attached to it, fold it up and put it in a closet when you are done.
Unlike Table Clamps, You Don't Need to Retighten
Table clamps certainly have their place if you can't afford a wheel stand, but the problem with table clamps is that they constantly need to be re-tightened. With all of the pressure and pulling you don on your wheel from force feedback table and desk clamps don't keep your steering wheel stable…with this stand that problem is solved.
This stand has a steering wheel plate with pre-drilled holes that you can mount your wheel too. This adds maximum stability and will make your wheel as stable as it would be if it was attached to a sim racing rig.
One Limitation For PC Racers
If you are looking to setup the WheelStand Pro at a desk for PC gaming, you may find it a bit less comfortable than someone who uses a TV. The reason being is that the back of the racing wheel comes to the same height as the top of your desk, which will prevent you from sitting close to your computer monitor. For me that's not a deal breaker, but it may not work for someone who wants to race sitting at a desk.
It Puts Your Body In A Perfect Driving Position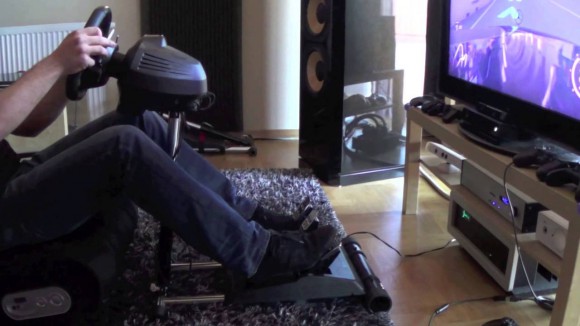 The driving experience is awesome. The stand pulls out and unfolds fast. The wheel and pedals feel very stable. Your arms and legs will form are in a perfect driving position for almost all standard seats like couches, office chairs, or kitchen table chairs.
The height of the wheel and distance of the pedals can also be adjusted, so this stand can accommodate people of all body types and sizes.
Games simply feel better with this wheel stand especially if you have been strapping your steering wheel to a table in the past. The Stand also locks your pedals into place, so no more dealing with your pedals sliding around as you jam on the accelerator or smash down on the brake.
Is The Center Column In Your Way?
No! The center column bar at first glance looks like it will impede your legs and feet preventing you from getting to the pedals comfortably, but it doesn't at all. When you sit at the stand, the center column bar comes up perfectly past your knees and your feet feel natural on the pedals. Once you start racing you won't even notice the center column bar at all.
There Is A Version For Every Steering Wheel Brand
WSP went to lengths to ensure every racing wheel is compatible with their product. To and do so, they made multiple versions of the wheel stand with various mounting plates. So no matter what steering wheel you own or what type of console or PC you are racing on, they have a viable stand for you. All you need to do is order the Wheel Stand that has the mounting plate for the wheel you own.
Here is a Link to the right wheel stand for the 4 most popular steering wheels
Whats even better is that when you order the stand for your wheel you get the stand, the bolts and tools you need to attach your pedals, the bolts you need to attach your wheel, and tie-wraps to keep your wiring in line.
The Wheel Stand Pro as A XRP Best Seller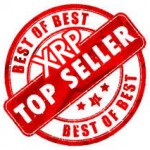 The Wheel Stand Pro is one of our most popular selling items on Xbox Racing Pro. It particularly soared in popularity around the time Thrustmaster released the VG Spider racing wheel. A lot of people grabbed those two products together and for under $250 bucks, you got yourself an awesome racing wheel, pedals, and a stand. This wheel stand though is perfect for any wheel.
This is a product you can buy and feel good about it after your purchase. It is high quality and provides such a better racing experience than clamping your wheel onto a table or desk. It is highly reviewed with over 4.5 stars on Amazon and the manufacturer offers a 30 day money back guarantee if you don't love the wheel stand.
Wheel Stand Pro Review – Wrapping It up
If you can't afford a racing rig, don't have a table to clamp your wheel to, or hate the feeling of clamping your wheel to a table, the Wheel Stand Pro is a perfect solution. I love the fact that it is not only made sturdy, but can also be hidden away when you don't want it out. This product is definitely worth taking a look at if you want to take your racing game experience to the next level.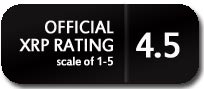 Get A Wheel Stand Pro at Amazon
Wheel Stand Pro
Rated
4.5
/5 based on
1
review
What are you currently mounting your racing wheel on now? Let me know about your experience in the comments below.