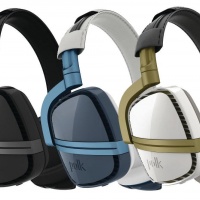 And often overlooked aspect of creating an immersive driving experience is adding high quality audio equipment. Your TV speaker are serviceable if you are on a limited budget, but there are other options like sound bars and headphones.
Some racing cockpits actually come with speakers in the headrests that you can wire to your console, but you can often get a more immersive feeling from using a high quality headphone set.
Headsets Add Immersion
Nothing like adding incredible sound to your Xbox racing games.  The ability to hear a car approaching you from behind and let your senses tell you which side you are being passed on, really helps ensure you are keeping your race position.
The feeling of a snug headset and  the sound directly in your ears also psychologically limits your focus to what your eyes are looking at and helps you tune out distractions in the room.
If you also add vibration to your seat, headphones create the illusion of lower frequency sounds being louder than they really are.
Xbox Gaming Headsets
Try on some of these headphones to add a new dimension to your games.
Aside from a great headset, there are other products that can with immersion. Check out these Xbox racing accessories.
What is your favorite headset of all time? What games do you like to play with a good pair of headphones on? lemme know in the comments below.