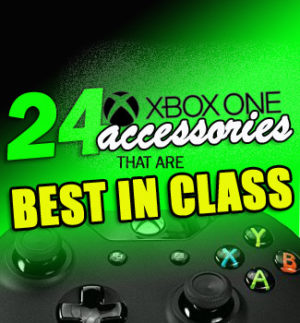 Having an Xbox One or Xbox One S is awesome in itself, but it's great when you can expand upon what you have. These 15 Xbox One Accessories will help take your gaming and entertainment experience to the next level.
On this list we cover controller accessories, charging stations, external hard drives, TV accessories, and more. We checked out the best in class Xbox peripherals and brought you the ultimate all inclusive list based on our experience and customer reviews. These accessories make awesome gifts for yourself or any fan of the X Box console.
Feel free to jump to the section you want want:
Controller Upgrades, Controller Accessories, Audio and Vibration, Battery Chargers, TV and Entertainment, Game Recorders, Console Expansion, Ergonomic Solutions, Gaming Adapters, Console Protection, Stands and Mounts
Controller Upgrades
The Elite Wireless Controller
The Elite wireless controller is the ultimate advantage in any video game on the console. It comes standard with a carrying case, a set of 4 paddles (which go underneath the body), 6 thumb stick options, a set of 2 different styles of D-pads, and a USB cable.
This unit will work on Xbox 1, Xbox 1 S, and any computer running Windows 10 via the USB cable or separately sold wireless adapter. You can even customize your button configuration with an easy to use app on your console.
The advantage of the Elite controller is that it allows you to change out the thumb sticks and/or the D-pad quickly for providing more speed and accuracy in your game. There are also built in hair trigger locks that allow you to fire faster. It even has a rubberized grip for greater control and 4 paddles on the bottom.
---
Thrustmaster TMX Racing Wheel
The Thrustmaster TMX racing wheel is an entry level wheel for simulated racing on your console. It adds immersion to racing games and provides force feedback to simulate the feel of steering a real vehicle.
The wheel offers 900 degrees of rotation, a two pedal set that has a pressure sensitive brake, a table clamp for mounting, and it is expandable to add on other racing accessories like a shifter and a clutch pedal. It is also compatible on the PC.
This wheel is perfect for games like Forza Horizon 3, and F1 2016 and works with almost all other racing titles. you can read more about it in my full review.
---
HORI Real Arcade Pro.V Kai Fighting Stick
If you are looking for the old school arcade style joystick and buttons you can mash for fighting games like Tekken, this is one of the most well received fighting sticks on the market.
The Hori fight stick features a slim designed chassis, an original Hayabusa joystick, and Kuro buttons. This fighting stick was designed to increase response time and reduce the input load by almost 15%. The Kuro buttons even have less spacing in between them for faster movements between actions. It is even compatible on the PC.
If you are clamoring for the old feel of an arcade joy stick for your fighting games, look no further than this critically acclaimed fightingstick from Hori.
---
Xbox One Accessories for Controllers
Xbox One Chatpad
The chatpad makes typing on your console fast and efficient. Its kind of like typing on an old Blackberry phone and beats having to use your controller buttons to enter in passwords or type in the twitch chat box.
It also comes with a cheap pair of headphones, but what is great is that they plug directly into the chatpad without the need for the stereo headset adapter. This chatpad is compatible with both the standard black wireless and the white wireless controller.
It includes a full QWERTY keypad and the letters and numbers are backlit so you can even type in the dark. There is an audio control as well for getting a better mix of your game and chat volume mix. In addition it features two programmable buttons that provide access to game DVR, screenshots, and even launching applications.
You can read more about it here in my full XBox Chatpad Review.
---
Kontrol Freek FPS Freek Inferno Thumbstick Extenders
Kontrol freek makes the best thumbstick extenders for first person shooter games like Call of Duty and Battlefront. These are by far my favorite pair of thumb sticks for FPS and they are tournament legal.
if you are not familiar with the benefits of thumb stick extenders, they improve your gaming performance and you kill rate by giving you better control and accuracy. You will find your movements much faster as well because they increase your range of motion by 50 percent.
While the FPS Infernos are my favorite for FPS, the Speed Freek Apex Thumb Sticks are my favorite for racing games.
---
Silicone Wireless Controller Covers
Two things I like about the silicone covers is they protect both your controller and your wallet because they are inexpensive.
These covers are made of a high grade silicone which help to minimize sweat, increase controller grip, and they feel really soft. They fit nicely with all of the holes lining up perfectly for your thumb sticks and buttons. You can even charge your controller without having to remove the silicone cover.
These skins protect your controller from the shock of being dropped and also from scratches from gameplay. It doesn't however reduce the micro-vibrations emitted so you can still get the same feel of the controller shaking during your action or racing games.
The silicone covers I have shown above are a cool camouflage style, but they come in many varieties.
---
Xbox 1 Audio and Vibration Peripherals
ASTRO Gaming A40 System Bundle
The Astro Gaming A40 headphones are recognized as one of the best audio headphones in the gaming industry and are used by pro gamers.
What makes them notable is they produce an accurate sound with great bass response, they are highly adjsutable, and extremely light weight. the A40s come mod kit ready, which means they can go from open back to a closed back noise canceling headset with swappable mod kit parts that you can purchase separately. Even the super-sensitive omni directional microphone is changeable from one side of the headset over to the other.
The A40s are an elite class of gaming headphones and these here are specifically designed to work on the Xbox one and One s. For more info you can read my review view of the A40 TR Headset.
---
Buttkicker BK-GR Gamer
If you want to add real gaming immersion to your FPS, RPG, or racing game the ButtKicker BK-GR Gamer will make your chair or couch shake with low bass sounds without making any noise.
This device has a 90 watt transducer attached to it which is what you might see in a high end home theater. You mount it via flanges to whatever you are sitting on and when low end bass hits, it causes your seat to shake without even disturbing anyone around you. It comes with a wired remote control so you can dictate how much vibration your seat is getting.
The Buttkicker BK-Gamer is fantastic for shooting games because when you blast a shot gun or an explosion goes off near you, your entire body shakes which creates a feeling of being in the game. To push your Xbox audio through the chair, you can get a digital audio converter that will turn your consoles digital out into two analog RCA outputs which wire into the buttkicker.
---
Xbox One Controller Charging Accessories
Energizer 2X Smart Charger
The Energizer 2X Smart Charging Station is the highest rated dual controller station on Amazon and it comes from the Energizer brand which is famous for batteries.
This station can charge two controllers at the same time and it comes with two recharge packs that you place in the back of your controller. The docking station features a LED indicator light so you can see quickly the exact percentage it is charged which lets you get back to gaming a lot faster.
One of the best features of this charger is that is compatible with the Elite controller, which can sit on the docking station without making any modifications.
---
Play and Charge Kit
The play and charge kit is the most simple charging solution you can find and it is the most well reviewed charger on Amazon with over 1,800 customer reviews.
The play and charge system is exactly as the name describes…you plug in you controller via the USB cable it comes with and it charges it while you play. It comes with a rechargeable lithium Ion battery pack that you put in the back instead of two AA batteries. It can fully charge a controller in less than 4 hours!
This charging accessory is compatible with the standard and the white wireless controller. It is our highest rated charging solution on our list of the Best Xbox One Chargers.
---
XBox 1 Accessories for TV, NetFlix, Blu Ray
Hauppauge Digital TV Tuner
This digital TV tuner allows you to get free over the air channels like CBS, FOX, NBC, and CBS on your console. This is the first step t cutting your cable cord and saving money every month.
With the Hauppauge Digital Tuner you can play and pause live TV on both your console and any device you have the X Box Smartglass app installed. You can also use the OneGuide button on your Media Remote to display local TV listings.
The device connects easily through the USB on your console and includes an antenna. My best suggestion though would be to also get a higher powered antenna like the Mohu Leaf which will maximize the amount of channels you have available to you.
---
Media Remote
The XB1 Media Remote allows you to control your console just like you would a TV remote. It allows you to easily navigate through the screens access search, go back, pause and play Blue-Ray and streaming video…everything like you do with a TV remote, but for your console.
This devise is compatible with the Xbox One and and the One S and has the OneGuide button on it that allows for fast one click access. It has about a 30 foot range from your console and has motion sensitive backlit buttons so you can see what you are doing in the dark.
For more info you can checkout the full Media Remote for Xbox One Review.
---
Record Your Gameplay
Elgato Game Capture
Wanna become the next YouTube or Twitch star? You need to start recording your gameplay in HD and then broadcast your skills to the masses.
The Elgato HD60 game capture is the most popular game capture device on the market. It allows you to stream or record your Xbox or Playstation games in 1080p quality at 60 frames per second. It also provides unlimited capture directly onto your PC or MAC and allows for bulit in live streaming right onto Twitch and Youtube.
One of the most standout features of the game capture system is the editing ability. With this accessory you can add webcam overlays and do live commentary.
---
Xbox Accessories to Expand Your Console
Seagate Game Drive 4TB Green
The Seagate Game Drive was specifically made for the console and not only expands your storage, but will decrease the amount of time it takes for your games to load.
With 4 TB of storage this external hard drive allows you to store up to 100 games. It has very easy plug in and play functionality and moving your current games over from your console on to the Seagate is easy and seamless.
One of the things I like most about the Seagate Game Drive is that it is small and doesn't require a power cable, which means it's easy to unplug the USB, throw the drive in your pocket, and take your games over to a friends house. For more info read my full Seagate Game Drive review.
---
DreamGEAR Universal USB 3.0 Hub
This USB expands your console to add 4 USB 3.0 ports. It is also universal which means it will work on the Xbox 1 and the Playstaion 4.
Because of the high speed USB 3.0 you can charge and sync up to 4 devices at once. This means you could charge your phone, Ipad, and controller, while also running an external hard drive through it.
The DreamGear USB hub is designed very simple with an LED light that lets you know the power is on and it connects directly to your console via the included USB cable. For more info on the USB hub, you can read my DreamGear USB Hub review.
---
Gaming Accessories For Long Hours of Play
X Rocker Video Gaming Chair w/ Bulit in Audio and Storage Ottoman
The X Rocker Triple Flip 2.1 Storage Ottoman Sound Chair is a comfortable ergonomically designed chair for long hours of gaming and movie watching.
One of the nicest features is the built in ottoman underneath the seat that allows for storage of all your movies, game,s and accessories. You can also recline the back of the seat to kick the built in footrest out.
The XRocker also has built in sound that is produced by two speakers that create a total 2.1 sound immersion experience. To push your X-box audio through the chair, you can get a digital audio converter that will turn your consoles digital out into two analog RCA outputs which wire into the chair.
---
Gunnar Optiks Ergonomic Advanced Gaming Glasses
These gaming glasses by Gunnar Optiks are recommended by doctors to improve your sight through a pair of lenses that feature tints and coatings that block high-energy blue light and reduce the effects of digital eye strain.
These glasses have a 35 gram alloy frame and include spring-hinged temples and a nose bridge with adjustable pads. These pieces make for a comfortable fit for anyone. the amber coating on the lenses is what reduces the eye fatigue and pre-focus images.
Many people who use these report less migraines and say you will notice a difference immediately even after only a few hours of gaming. The galsses also come with a limited warranty good for one year after purchase.
---
Gaming Adapter Accessories For Xbox One
IOGEAR KeyMander Keyboard And Mouse Adapter
This device allows you to bring the accuracy of your keyboard and mouse on your X-Box instead of a standard controller. Now you can have all the advantages of a PC gamer on your console.
You can setup and store multiple profiles in groups for different games so you can customize your advantages. it even has quick hotkey profile switching which you can do on the fly during live gameplay.
Another great thing about the IOGEAR adapter is that it is supported on PS3, PS4 , XB-One, XB-One S & XB-360. This device is a game changer for FPS style games.
PS3/PS4 to Xbox One Controller Adapter
If you hate the Xbox controller and prefer a PS3/PS4 dual shock the this is the perfect adapter for you. This little converter allows you to kook up a dual shock controller right to your XB1.
This device allows you to hot swap your controller right in the middle of the game and have vibration support and full button functionality on your dual shock controller.
Now your Playstation friends can come over your house and bring their PlayStation controllers with them and have the same comfort of gaming that they do at their house with no disadvantages.
---
Best Peripherals to Protect Your Console
Foamy Lizard Dust Cover
This dust Cover by Foamy Lizard not only protects against dust, scratches, UV, and dirt on your console, but it is also water repellent.
The dust cover fits nice and snug on you X Box and has a cut-away back panel that allows for you to put the cover on and not have to remove any of the cables from the back of the console. This product has a durable exterior and the interior has a soft lining. You can read more about it here in my Xbox One Dust Cover Review.
---
Nyko Intercooler
The Nyko Intercooler is the highest reviewed and highest rated intercooler on Amazon. Its purpose is to keep your console cool after long hours og game or movie watching.
The device has an easy clip-on installation and it reduces the air temperature on your console by pushing hot air away from it. It is powered by USB and does not require an AC adapter. It has a nice elegant design and matches the decor of the XB1 console perfectly and looks like part of the unit.
Overall the Nyko Intercooler is extremely quiet and helps your X Box maintain maximum performance. For more info you can read my Nyko Intercooler Review.
---
CTA Xbox 1 Carrying Case
The CTA carry Case for Xbox 1 is the solution I use to transport my console to corporate events. This case fits it perfectly and even has room for the Kinect and CD slots to hold your games.
The material is made from a durable nylon fabric and will hold up very well if you are traveling with your unit alot. For the storage inside it has 2 built in straps to keep your console securely in place, 5 disk pockets to hold your games, 2 external pockets and 2 internal pockets for accessories. If you pack it well you can get your controllers in it also. The case also comes with a removable pouch to transport your Kinect.
This is the perfect carrying case for bring your console to a friends house or on travel. for more info you can read my review of the CTA Carrying Case.
---
Console and Controller Stands and Mounts
Xbox One S Vertical Stand
This vertical stand for the X Box One Slim is made by Microsoft so it was built with the exact specifications for the console. if you want to set your gaming system upright then using a stand is the only way to do it so that it stays appropriately balanced.
This will keep you console secure in an upright position so you can move it out from underneath your TV stand into a better location. It is only compatible with the One S.
---
Controller Gear Controller Stand
This stand lets you put your gear on a nice display. Whats neat about it is that you can put your controller on the stand and then use it with one hand to navigate around through your screens. Its kind of like an alternative to owning the media remote.
Underneath the stand there is a small compartment you can use to store small accessories like a short USB cable or AA batteries. The stand has a nice polished matte black finish and will make your gaming setup look pretty official.
The stand also comes in various different editions like Halo 5 and Batman themed.
---
Wall Clip Controller Organizers
Wall clip Mounts are another great way to display your peripherals. They come with a screw and and an anchor for your wall for mounting, but really can be efficiently mounted to any vertical surface.
One of the best features of these particular wall clips is that the fit Xbox, Playstation, Wii, and most other gaming controllers, because the prongs are malleable. the setup is really easy, you just shape the clip to fit, mount the clip on the wall, and then hand pretty much any gaming peripheral from it.
You can find these wall clips in both black and white. I use these to hang my racing steering walls on display in my sim racing room.
---
Top Rated Accessories for Your Xbox One Console – Wrap Up
As you can when it comes to accessorizing for X Box gaming there are a lot of choices depending on what you are looking for. Everything on the list above I picked out with purpose…I either own them, have tried them, or read enough customer reviews to convince me that these were the best in class and need to be put on this list. I will continue expand this list as new products continue to come out!
Top X Box Gaming Accessory List
What is your favorite Xb One peripheral on this list or perhaps you have something that I have forgotten off my list. let me know in the comments below.