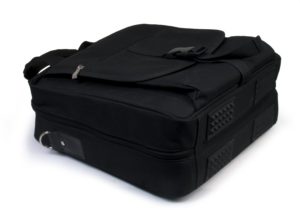 CTA Digital Carrying Case for Xbox One review

Multi Function Carrying Case for Xbox one / Kinect & XB 360 Slim

CTA Digital MultiFunction Carrying Case Xbox One

CTA Digital Multi-Function Carrying Case – PlayStation 4 and PS3

Check CTA Digital Multi-Function Carrying Case – PlayStation 4 and PS3 Top

Xbox One Carry and Play case

Universal Gaming Backpack for PS4 and Xbox One

Multi-Function Carrying Case for PS4 & PS3

Xbox Carrying Case by Doberman protective bag backpack

PS4 CARRYING CASE REVIEW HOT OR NOT!!!
Amazon Price:
$29.99
$23.77
You save:
$6.22 (21%).
(as of July 24, 2017 8:36 pm –
IF you have ever wanted to travel with your Xbox One, then you know its a pain in the ass!
The CTA Digital Multi Function Carrying Case for Xbox One is a solid solution and its super affordable.
It will hold you Xbox One nice and snug and can even fit your Kinect, games, and controllers. Everything fits nice in the carrying case and it feels pretty well protected and secure with foam padding and there are integrated straps inside to hold your Xbox in place. The bag itself is made of a nylon-fabric material that comes across as durable, kind of like a backpack.
The bag has a 48 inch shoulder strap so you can actually carry it like a cross body bag if you need to.
What Fits in the Xbox Carrying Case
There is enough room for storage for 5 games in disk slots, plus has external and internal compartments fthat can hold controllers, cables, an external hard drive, or any other item you might want to bring with your Xbox.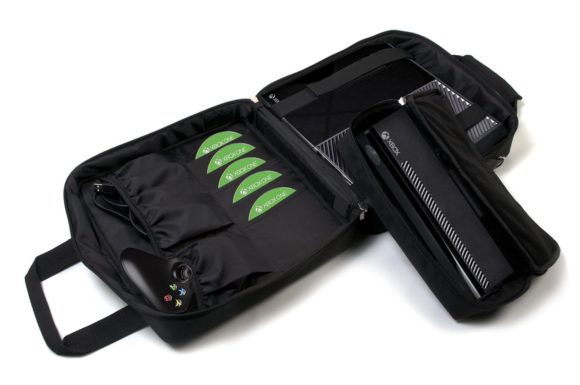 On the inside of the case there is a special padded pocket that can hold your Kinect. The pocket is actually removable so you can leave your Kinect connect to your Xbox inside of the case.
Pros vs Cons
Pros:
Can hold everything you need for Xbox gaming
Bag is really sturdy
I feel safe strapping my Xbox in it and carrying the bad on my shoulder
Priced to sell
Cons
The second controller doesnt fit very snug
I dont love putting games in the disk slots (scared they will fall out)
Not airplane friendly for checked bags
How I Use The Xbox Carrying Case
I use it for lite travel because recently I have been bringing gaming setups to corporate events and I needed a way to safely carry my Xbox One. It really is a great case and holds your Xbox secure. I typically only carry one controller with me and because of that I use the extra compartment to carry headphones.
When I pack the case I strap in the Xbox, then I put the power block and cords in, and then put my HDMI cable in a zipped pocket. I have put my games in the outside pocket that latches, but typically I only have 1 game with me so I sometimes just leave it in a game case.
I Recommend This To Anyone Who Needs A Reliable Case
I couldn't be happier with this purchase. It does what it says and I feel good about the safety of my Xbox when it's in the case. I don't think the Xbox would survive a fall down a flight of steps in this case, but its not built for that type of impact. This is perfect for lite travel, going on a vacation, or bringing your Xbox to your friends house.
For the inexpensive price of this case and its functionality its hard not to rate this item a 5!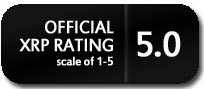 Check Out Xbox One Carrying Cases at Amazon
Customer Reviews
Works great for traveling to friends, not checked bag on plane friendly though
19 people found this helpful.
Surprisingly sturdy bag that will fit the Xbox One, power supply (in it's own zippered pouch), two controllers (if you sort of jam the second one in the elastic pouch), necessary cables, and then the outside pockets will hold games.
protects my Xbox perfectly and a nice carry on bag
5 people found this helpful.
UPDATED:
Great gift for him
My boyfriend absolutely loves this carrying case for his x box one, great quality and lots of storage space for games and controllers.
https://www.amazon.com/dp/B00I902D7Q/ref=cm_cr_ryp_prd_ttl_sol_2
It works reallu well I didn't have to use the kinect bag because I don't own one
Fits my XB elite & PS4 Pro.
2 people found this helpful.
Had it for a year now and kept my stored xbone elite perfectly fine. Bought the PS4 Pro and planned on traveling but didn't have a travel bag on-hand for it so I emptied the bag to see if it fits perfectly and it did, like a glove, just barely though. The dimensions of the PS4 Pro's 4 sides push the bag to its limit. Definently not a tight fit but pretty close and I still plan on using it for travel. Overall the bag is great but I would appreciate more padding protection for entire bag.
Compact, Organized, Safe & Efficient
I took this case on a monthlong vacation that involved changing multiple hotels and multiple flights. It kept everything nice, snug and safe. The case does have some padding but not a lot. Your device would probably be safe from a fall of about 3-4 ft but don't take the chance.
Perfect for day one edition xbox ones.
Works great for my day one edition, xbox one. It holds the xbox, my external hard drive, the power brick, all the cords, 2 controllers, as well as my headset.
Xbox one
Amazing. It's not exactly ideal for my Xbox one however if you have the Xbox one S this is perfect size for you.
Five Stars
fits everything well.
GREAT PRODUCT
worked great for transporting my Xbox, highly recommend it!!!