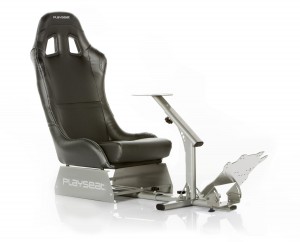 While a driving wheel determines how real a car feels in your hands, wheel stands and cockpits help put your body in a racing position to make your immersion experience more engaging.
Making the choice between a stand or a cockpit comes down to your budget, your available space, and your desire to upgrade.
Use the Guide below to help you understand the options.
Choosing The Right Wheel Stand Or Cockpit
Racing Wheel stands
Less expensive, compact, and most store easy in a coat closet but not all are upgradable to add on ancillary products later. Most Wheel stands have a center beam that comes up between your knees and places the steering wheel in front of you at a height and angle similar to a dash board. Many also feature the ability to hold your pedals into place. There are stands that offer some adjustability including steering wheel height and angle.
Simulator Cockpits
More expensive and are much bigger than a wheel stand. While there are some that have storage features like folding down chair backs this accessory will not fit in your coat closet. Cockpits do offer the best immersion experience because of the position they hold your body is most similar to the real-life version in a race car. These accessories normally have other additional hardware you can purchase for mounting other pieces like shifters and speakers.
Mounting
Before you make a purchase you should check to make sure it is compatible with the driving wheel you are choosing. Most contained pre-drilled holes for the most popular wheels and pedals on the market, but if the one choose doesn't you will have to drill into the frame to customize it to your wheel. For most products the moment you make any modifications to the frame, you void your warranty.
Customizing
If you really want to create a more simulated experience you can do some DIY customizations to add vibration to your gaming chair. Once you start customizing this setup, you will void your warranty, so be warned. Here is an example of a Playseat Evolution that vibrates,
Xbox Racing Cockpit Simulators
There are a lot of options. Depending on how serious of a racer you are you can choose a full seat that kicks back like an F1 race car or perhaps one that you can pull up to you couch and fold up when you are done driving.
These options featured here are all compatible with the Xbox one racing wheels and Xbox 360 racing wheels.
If a cockpit or stand is not right for you, perhaps reviewing our getting started page again may be helpful. If you have your wheel and stand/chair picked out, adding some audio is your next step.
Have you tried any of these? Let me know on my contact page or in the comment section below.