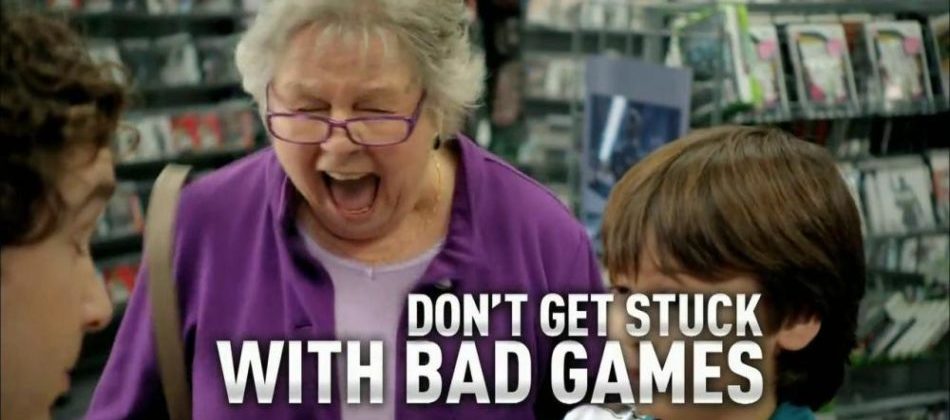 If you are simply tired of paying full price for games only to be let down, by the content, graphics, or glitches…it's time to make a move. The developers are straight up getting fat off our willingness to accept mediocre crap because they know we are gonna buy it anyway….
So how do you get new games without taking any risks?
I'll show you, but first…
Here's the problem with buying new full price games:
Cost: Games are expensive and it doesn't take a genius to figure out that 10 new games at $60 a pop is going to run you $600. That's a ton of money and you better hope that all 10 games are worth playing.
Bugs/Glitches: The game developers are taking full advantage of us as beta testers. We buy a game, then complain about the bugs and issues, and then hope the developer fixes them. After paying $60 for a game why should you have to complain about functionality that should have been addressed pre-release!
Can't Try Before You Buy: So much hype in the gaming industry that we get mislead as consumers to thinking a game is going to be awesome. The when the game comes out you find out the footage shown in trailers was not gameplay and they have stripped away all of the best game modes on content.
Resale Value Sucks: The Resale market costs you money. Sure you can go to GameStop and resell the games you don't want, but even on a good day you lose 50% of what you originally paid for the game. Of course if you have a digital copy you are even worse off, because you can't resell it.
If you are sick of the issues that come with unproven, untested, and unaffordable games
Try Gamefly Free for 30 days…
GameFly Review
If you are not familiar with their service, you can think of them like the Netflix of video games. They offer over 8000 games and movies for various platforms such as PS4, Xbox One, Wii U, and 3 DS delivered to your door on a rental basis, except with no late fees.
GameFly has an A+ rating with the Better Business Bureau and has been in business since 2002. They have hundreds of thousands of subscribers and are a great choice if you are looking for a game rental service.
How Does Game Fly Work?

First you create your free 30 day trial account and then you immediately get access to thousands of games and movies.
To add games and movies to the section called "My GameQ". As long as the games are available, GameFly automatically sends them to you. If a game is not available, they send it as soon as it becomes available. Once you get the game or movie you can keep it as long as you want.
If you decide you are done with the game, you just send it back to Game Fly using the pre-paid envelope. When they receive your returned game, they automatically send you the next available game on the top of your "My GameQ" list.
The whole process runs very seamlessly and is super easy.
The trick to controlling what games or movies you are getting next is to make sure you have them at the top of your que.
After the GameFly 30 Day Free Trial, What Does it Cost?

After the free trial Game Fly has two different subscription options.
Single Game or Movie: This subscription allows you one game or movie out at a time for a $9.50 for the first 3 months and then $15.95 per month after that.
Two Games or Movies: This subscription allows you two games or movies out at a time for $13.50 for your first 3 months and then $22.95 per month after that.
Before you do either of those options, I would highly recommend the Free 30 Day GameFly trial, just to make sure the service is right for you.
One of the best parts about Game Fly though is that is all they charge. There are no other costs, late fees or anything. You don't even pay for shipping, because everything is done with pre-paid shipping envelopes they supply the games in. So even when you ship a game, back you don't pay any postage.
Even better you can cancel anytime, with no cancellation fees. Only thing you need to do when you cancel is just make sure you have returned all of the games you had rented.
Is One Plan Better Than the Other?
If you play a lot of games then the two game will work out in your favor. If you do the math the 1 game per month plan would cost $192 (at full price) which is the equivalent of buying 3.2 new games per year.
The two game plan costs $275.40 (at full price) which is the equivalent of buying 4.5 new games per year.
Is a Credit Card Required to Sign Up?
Yes. When you sign up you need a credit card. This is to ensure that when you do the 30 day free trial that you will return the game should you decide not to use their service.
What are the Biggest Game Complaints?
While I am sure you will absolutely love GameFly there are a few things to note before you get started.
It's possible you may have to wait for newly released titles. The trick to avoid this is to add it you're your "My Games Q" as early as possible.
Not every game you rent will be in perfect condition, because other gamers will have used it. If the game doesn't work, send it back and they will give you a different copy.
Is GameFly Worth It?
Yes. If you buy more than 3 new games per year GameFly is worth it. It will save you money over the long run and reduce your risk of getting stuck with buying bad games.
When you get GameFly, you…
Stick your middle finger up to the following problems:
Paying $60 full price for games…Instead you just rent the new games
Dealing with bugs and glitches on new games…Instead return the game if it doesn't play as expected
Getting stuck with a games you don't like…You can try before you buy
Reselling your games at GameStop and losing your money…no more haggling for value
Going to the store for games…New games come right to you
If you are looking for a simple, easy, and inexpensive video game rental service, it doesn't get better than this.
Even better you get:
Access to over 8000 games and movies for multiple platforms like Xbox One, PS4, and Wii U, 3 DS and more
Free shipping on getting games and returning games
Keep the games as long as you want with no late fees
If you rent a game and decide you want to buy it, you get a special discount on it
A trusted service that has been in business 15 years
Verdict of My GameFly Review
While I absolutely love the money I am saving, this service has made getting mail fun again. I feel like a little kid checking the mail whenever I have a new game coming. There is some much excitement to get home from work and see if my next game in the que has arrived.
But when it comes down to it, lets face it…its all about saving money and not getting stuck with crappy games.
If you are tired of purchasing full price games and getting screwed, GameFly solves that problem. If you purchase 10 new games it would cost you $600. If you only like 3 of the 10, then you just wasted $420 dollars on 7 games you don't even like. This is exactly what I avoided by using GameFly last year. I got 10 new releases and only liked 3 of them…GameFly totally saved me from being stuck with bad games.
If you are plain sick of paying full price for games like Call of Duty, Battle Field, Madden, NBA Live, that you don't even play for more than a month or two, give the GameFly 30-day trial a try and get more money back in your pocket today.