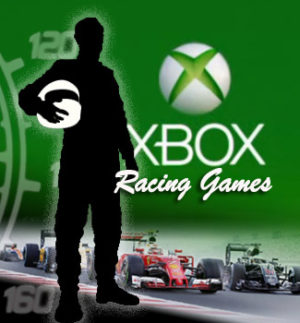 If you are gear head or adrenaline junkie and you love racing games, then these Xbox One titles are what you crave.
This list contains all Xbox One racing games released from arcade to simulation physics, from dirt roads to track, and championships to police chases.
All the games are compatible on your Xbox One and Xbox One S. Each game listed contains general info about the franchise, what kind of cars and handling physics the games feature, and follows with the current titles available for the Xbox 1 console.
Not every car driving game features wheel combatability so you can find more info on each title in the last section of the article below.
Race Car Games for Xbox 1
Top 10 Upcoming Racing Games 2017 – 2018 | PC PS4 Xbox One
Popular Racing Games on Xbox One
If you are new to racing games on Xbox One, then there are a few things to consider when choosing a car game.
Are you looking for a car racing game title that is arcade style racing simulated style racing? The difference here is in how the game developer designed the handling physics of the car. Arcade style racing games tend to have the car slide around more and even run through barriers, while simulated style games (sim racing) try to replicate a cars real life performance and include features like damage that will effect your cars ability to race.
Another aspect is tracks or open world racing. In driving games that feature tracks you are limited to a certain number of locations with fixed road maps. While in open world titles you can pretty much drive your car anywhere across a huge map without many boundaries or limitations.
Below is a list of racing games for Xbox One in alphabetical order and a brief description on what the game or franchise is all about.
Assetto Corsa
This game isn't called a racing simulator for nothing. Asseto Corsa ups the simulation stakes by emphasizing and concentrating on pure physics realism, with precision reliability across every aspect from the vehicle mechanics to laser-scanned tracks. The game has partnered with some of the most prestigious auto suppliers to license life-like versions of cars from Ferrari to Fiat, from McLaren to Mercedes, and Lamborghini to Lotus.
Sim racers are able to further advance their playing realism by fine tuning the handling and also race set up of every auto in-game, wherein automobiles could be separately tuned to cater for your personal racing design. The total racing experience can be further changed by adjusting your drivers attributes and collision damage. All these features together breed one of the the most authentic car racing games on the consoles.
Current Titles: Assetto Corsa
Checkout Assetto Corsa for free with a 30 day GameFly Trial.
Dirt Rally
Developed by Codemasters DiRT Rally is the ultimate rally experience. It signifies what makes rally experience a one-of-a-kind like no other game – that feeling of attempting to stay in control of your feelings, as you speed along harmful, dangerous roads at a breakneck rate, aiming to press everything from your rally car while trying to balance between the health of your car and a good stage time.
Every rally stage tests you differently, as you race on the edge of control across varying surface areas in an array of environments such as snow, ice, tarmac and also dirt. Stages string with each other and also each rally ends up being a marathon-like examination of concentration as well as skill as you rely on your co-driver, chasing after that ever-elusive excellent run.
Current Titles: Dirt Rally, Dirt 4
F1
Race like a champ in Formula One and get closest you have ever been to the experience of racing worldwide's most attractive, exciting as well as distinguished motorsport. The F1 series of games has been putting out titles yearly since 2010 and they recreate the blisteringly fast and extremely receptive racing cars of F1. This sim style racer submerses you in the special race day atmosphere.
F1 is officially licensed and showcases completely playable FIA Formula One World Champion reward content. Compete as your favorite F1 star in a Championship Season as well as press on your own in the difficult Pro mode. Develop your skills in the Practice mode, then challenge your friends and racing competitors from across the globe in Online Multiplayer.
Current Titles: F1 2015, F1 2016, F1 2017
Forza Horizon
In this series you take over the Horizon festival which takes place in various locations around the world. Each new verison of the game features an open-world racing experience from one exclusive location. Customize all aspects of racing like tuning and livery design and you can explore open environments in hundreds of cars from all over the globe.
The Forza Horizon game series is a celebration of cars, music, and the open road. It is an driving game that offers a lot of freedom and independence to go and do what you want and make your own destiny. This game combines arcade style racing on various terrains with the Forza Motorsport driving physics engine for simulation realism. Originally this title was an exclusive Xbox One racing game, but starting with Forza Horizon 3, it is also available via "Play Anywhere" compatibility which makes it also available on PC. All the titles in the series run at 30 FPS, but still deliver a high quality graphical performance.
Current Titles: Forza Horizon 2, Forza Horizon 3
Forza Motorsport
Gather and customize cars in one of the most attractive as well as comprehensive racing game of this generation. Contend in epic multiplayer races on world-famous tracks. Breathtaking graphics at 1080p resolution and also 60 Fps. Experience the phenomenon of night competing under the arena lights of Daytona and the extreme claustrophobia of racing with just headlights in the utter blackness of Le Mans' back stretch. Encounter the immersion of racing in the rain as functioning wipers barely clear the spray and also tires hydroplane across 3D puddles.
By learning to drive like your friends, Drivatar innovation and also the Xbox Live cloud deliver actual human behavior, giving you vibrant human-like challengers.Games feature world-famous locations with laser scanned tracks, all built from scratch for Xbox One. Forza has one of the best racing communities for racing, tuning and painting area in video gaming. Forza Motorsport was originally was an exclusive Xbox One Racing game, but there are now new versions for PC called Forza Apex.
Current Titles: Forza Motorpsport 5, Forza Motorsport 6, Forza Motorsport 7
Nascar Heat Evolution
After over a decade, Monster Games returns to the NASCAR franchise gaming business. This award winning developer made the initial NASCAR Heat and also the game NASCAR: Dirt to Daytona in the early 2000's, two of one of the most extremely ranked as well as best-selling NASCAR titles of all-time.
Monster games has created NASCAR Heat Evolution from the ground up to ensure a brand new racing experience. Race as your favorite NASCAR or Sprint Cup vehicle drivers throughout all 23 licensed NASCAR tracks in HD. Whether you're a newbie or racing pro this is your only officially licensed NASCAR game on the console that includes all the tracks and drivers. No other Xbox One racing games deliver that much NASCAR content.
Current Titles: NASCAR Heat Evolution, NASCAR Heat 2
Need For Speed
Need for Speed likewise known by its initials NFS, is a racing game franchise published by EA. The series released its first title, The Need for Speed in 1994. All installments of the collection contain competing autos on fictional tracks, with several titles including cops pursuits in races. This arcade style racing series has additionally incorporated car body modification right into gameplay.
With over 20 years of making racing games this franchise is one of the most popular on the market. It features tricked out cars that drift and jump in spectacular fashion across various terrains in both day and night settings.
Current Titles: Need For Speed Rivals, Need For Speed 2015, Need For Speed Payback
Project Cars
This game is one the most authentic, beautiful, intense, and technically-advanced racing video games. Create a driver, pick from a selection of motorsport disciplines, and chase historical Goals as well as get in the Hall Of Fame. Then check your skills online either in competitive fully-loaded race weekends, leaderboard-based time challenges, or continually-updated community events.
Project Cars has first-rate graphics and a ground-breaking vibrant time of day & weather condition system, as well as deep tuning & pit stop functionality.
Current Titles: Project Cars, Project Cars 2
Sebastian Loeb Rally Evo
Sebastien Loeb Rally EVO is an off-road rally racing experience that celebrates the historic career of legendary rally driver; Sebastian Loeb. Drive claasic rally cars spanning multiple eras and participate in rally events from around the globe. Learn about the career of Sebastian Loeb in the exclusive game story mode and compete for rally racing championships in this sim style rally game.
Current Titles: Sebastian Loeb Rally Evo
The Crew
With exploration, personalization, and also a vast, connected experience, The Crew redefines the norm regarding driving games and also takes you on a ruthless ride all throughout the United States. Seamlessly leap in and also out of a large network of fellow drivers, and also construct your team of close friends to take on heart-stopping goals. Personalization is the essential to success, however, and also a considerable tuning system will prepare your ride for any type of surface that lies ahead of you.
This arcade style racer follows a story line and its main focus is on the social aspects of racing with a crew.
Current Titles: The Crew , The Crew Wild Run, The Crew Ultimate Edition
WRC
The standard for rally games returns! Whether speeding up along dirt, asphalt, mud, snow or ice, for the very first time the road surface areas have a genuine influence on car behavior many thanks to a new physics and also rendering system. You also have to tune your vehicle to handle the weather.
The WRC game series features champion rally racers, various cars and unique stages from around the world. Drive with precision along the snow-covered roadways of Sweden and also the rough roads of Mexico, and also handle one-of-a-kind special phases in the totally revamped career modes.
Current Titles: WRC 5, WRC 6, WRC 7
Xbox One Games Compatible With A Racing Wheel
While most games will be built to work with a licensed Xbox One wheel and pedal sets, not all driving games offer steering wheel support. For example as of 2016 the Need for Speed titles don't offer compatibility.
These are the racing games that have wheel support on x box one:
Asseto Corsa
Dirt Rally
F1 2015
F1 2016
F1 2017
Forza Horizon 2
Forza Horizon 3
Forza Motorsport 5
Forza Motorsport 6
Forza Motorsport 7
Gas Guzzlers Extreme
Nascar Heat Evolution
Nascar Heat 2
Project Cars
Project Cars 2
Sebastian Loeb Rally Evo
The Crew
The Crew Wild Run
The Crew Ultimate Edition
WRC 5
WRC 6
WRC 7
As more Xbox One racing games release I will keep this list updated.
Xbox 360 Backwards Compatibility Racing Games With Wheel Support
In addition to Racing games on Xbox One several Xbox 360 games are available through backwards compatibility and also offer wheel support. For a list of X box 360 titles that are playable on the Xbox 1, you can read this article here. Not all the backwards compatible titles offer wheel support, but that may change over time as the developers add in patches.
Play Anywhere Xbox One Car Games
Certain Xbox one car games released after the summer of 2016 will also be compatible on Windows 10 on your PC, they will have an indicator on them that says Play Anywhere. This is particularly helpful if you have a racing wheel compatible on both your console and your PC. Now you will have the option of driving on your console or computer where you can get higher resolution graphics and much improved frame rates.
Whats the Best Racing Game on X box One
That is a hard question to answer and it really depends on what you find fun in a car and driving game. For example Forza Horizon games are one of the best selling games in the Xbox community, its a mix between sim and arcade style racing, but for some reason I don't love these games like everybody else. I am more drawn to the Forza Motorsport series which is much more simulated racing.
So really when it comes to deciding the best Xbox racing game, its a matter of what are you looking for. Are you looking for off road action with heavy drifting and limited damage or do you want something that makes you feel like a real race car driver?
Racing Games Xbox One
What makes a racing game great in your opinion? Which are your favorite racing games on Xbox One? Let me know in the comments below.