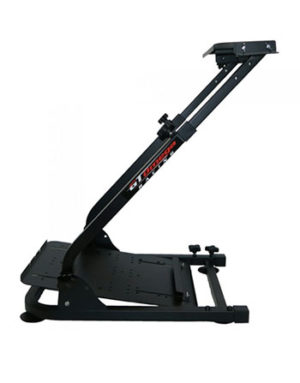 Getting a wheel stand can be a huge step up from a table clamp.
A wheel stand puts your body in a perfect racing position, costs less than a cockpit, and can be folded away for storage. While there are lots of options for racing wheel stands, one of the most recent wheel stands has really impressed me; The GT Omega Steering Wheel Stand.
This stand was released in the summer of 2016 and is compatible with all of the top steering wheel brands like Thrustmaster, Logitech, and Fanatec.
Check Out The GT Omega Racing Wheel Stand in Action
Quality Materials
This wheel stand is built from steel box tubing and has beautiful powder coated Gloss Black Paint. It weighs about 26 lbs (12 kg) and is extremely stable both when a wheel is mounted and when it is removed. The stand comes with 4 Non slip Rubber Pad Protectors that are removable. These are best for use on on floarboards and tiles.
The unit is extremely solid (with and without the rubber slip pads) and feels like you can put a beating on it and it will survive. You can feel confident strapping on your expensive racing wheel to this stand.
Great Design and Assembles Easily
I was able to put this together in about 30 minutes (including unboxing) without looking at the instructions. All you need to do undo the two knobs and lift the twin spar section to the angle you want (two angle options) then insert and re-tighten the knobs. Last, just loosen two knobs on the top of the twin spars and set the wheelbase to the height you want, then re-tighten the knobs.
If you are taking it out from storage and already have it assembled it takes less than 3 minutes to unfold it sand start racing.
Folds Up Easy and Quickly for Storage
The GT Omega Wheel Stand is a great choice if you are limited on space. The unit folds up quickly with the turn of a few knobs and reduces to a shockingly compact size. You can even leave your pedals and wheel base hooked up when you fold it up. Then just carry it to your closet or storage room where it won't be in the way. These are the dimensions when folded: Dimension (Folded) : 78 x 45 x 19 cm compared to when unfolded Dimensions : 61 x 45 x 78 cm.

Good Bye Table Clamps, Pre-Drilled Holes for Hard Mounting
Not trying to hate on table clamps, but they are not the most stable racing wheel mounting solution. Hard mounting your wheel is significantly better than table clamping to a desk because a clamp constantly needs to be re-tightened. With the GT Omega Wheel Stand, you get pre-drilled holes for hard mounting both your wheel and pedals. These holes are designed to that match all of the popular steering wheel brands. With the GT Omega Stand your wheel will be as stable as mounting to a full sim racing rig.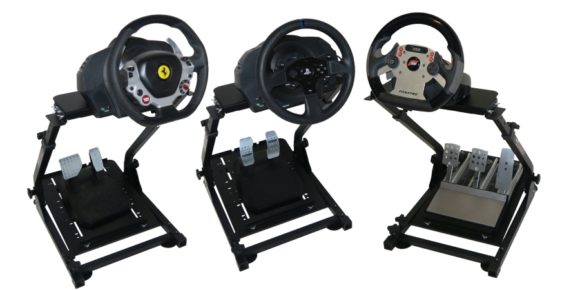 The pre-drilled wheel plate holes will match the following products:
Thrustmaster TX, T300RS, T500
Logitech G25, G27, G29, G920
All Fanatec Wheels
The pre-drilled pedal plate holes will match the following products:
Thrustmaster T300RS, TX, T500RS, T3PA-PRO (F1/GT)
Logitech G25, G27, G29, G920
Fanatec Clubsport and CSR pedals
Adjustable and Puts You In the Perfect Racing Position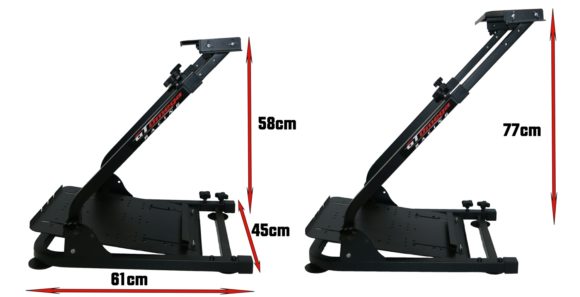 The GT Omega stand offer two great adjustments. The wheel plate is adjustable at 2 different angles and you can even adjust the height of your wheelfrom 58cm up to 77cm. The pedal plate angle is a solid compromise and while not adjustable feels comfortable even when driving from very low or high seats.
One of the keys to racing game immersion is feeling like you are in a car. The design of this wheel stand puts your body in the perfect driving position no matter if you are sitting in an office chair or on a couch.
No Center Column Makes It Great for Using a Heel Toe Technique
Without a center column like you get on products like the Wheel Stand Pro, your legs fit freely underneath your wheel just like they would in a real car. This make this stand ideal for using a heel toe technique because you have such great access to the pedals. It's other advantage over the Wheel Stand Pro is that you can set it up comfortably in front of a desk if you race with a computer monitor.
Comes With Everything You Need…Even 2 Free Shifter Mounts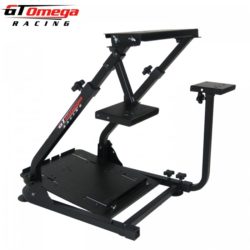 Alot of wheel stands don;t come with mounting bolts, but this one does. It ships with 6 x M6 bolts to hardmount your wheel and pedals. This is helpful considering some wheels don't come with mounting bolts.
In addition you get 2 Gear shifter mounts. This will allow you to mount your shifter on the left or the right side of your steering wheelstand and you can choose which mounting style you prefer. For most other stands you need to purchase a shifter mount separate, I love that they included this with the package!
GTOmega Racing WheelStand Review – Verdict
If you are tight on space or don;t wanna spend top dollar for a racing cockpit, the GT Omega steering Wheel is a great choice. You won't have to worry about tightenting a table clamp, it keeps you wheel and pedals in place and secure, it folds up easily, it's comfortable, and has multiple adjustments. This wheel stand by GT Omega really surprised me with how well it was built.
"The Gt Omega Wheel Stand is the absolute best choice if you are looking for a stand without a center column"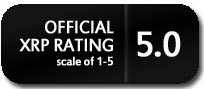 While you can purchase this wheel stand at Amazon, you can get it for about $10-$15 cheaper directly from GT Omega, which also has free shipping. The Buy Now Button above takes you directly to the wheel stand on the GT Omega website.
Get A Wheel Stand at Amazon
Gt Omega Steering Wheel Stand
Rated
4.5
/5 based on
1
review
What are you mounting your steering wheel on now? Let me know in the comments below.