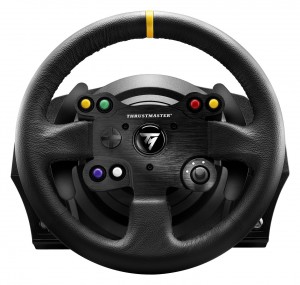 The Thrustmaster VG TX Racing Wheel Leather Edition Premium isn't a new product offered by Thrustmaster, but a new bundle of some of their highest rated products.
This package includes the Thrustmaster Servo Base, the T3PA Wide Pedal Set, and the 28 GT Leather rim. All 3 of these products are already reviewed on this site and when combined aveage over 4.5 stars.
This package is by far the most complete bundle put out by Thrustmaster and was most likely offered in response to the Logitech G920 racing wheel which offers a leather rim and a 3 pedal set also. If you are wondering how the Thrustmaster VG TX Racing Wheel Leather Edition Premium compares to the Logitech G920, I will cover that by the end of this review.
Lets a take a good hard look at the latest Thrustmaster Wheel: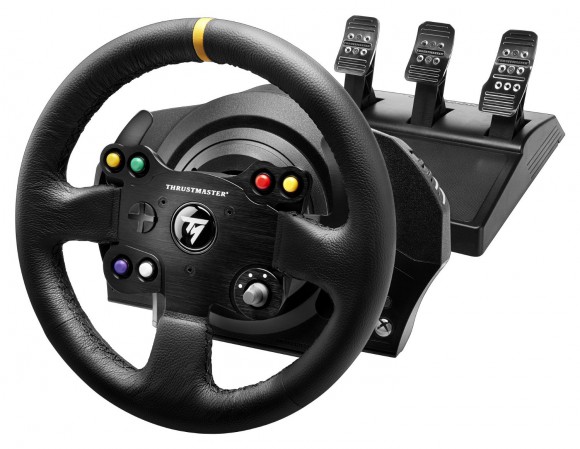 VG TX Racing Wheel Leather Edition Premium Specs
As this is a combination of 3 products let's break it into 3 sets of specs:
TX Servo Base Specs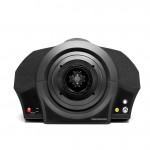 270 to 900 Degrees of Rotation (DOR), compatible with Xbox One and PC, compatible with the Thrustmaster eco-system (wheel-rims, pedal sets, and shifter), force feedback, vibration, upgradeable firmware (via PC compatibility), no latency, heart technology (friction free), Xbox One guide button, table clamp, and pre-threaded holes for mounting on all major cockpit and wheelstand brands. This Wheelbase is XRP rated 5.0 in our previous review.
T3PA Wide Pedal Set Specs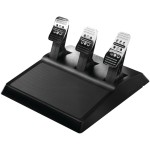 3 pedals (gas, brake, and clutch), metal face plates, optional conical brake module for simulating progressive brake pressure, adjustable face plates (both vertically and horizontally), and compatible with Xbox One and PC. While this pedal set is not inveratble like the Pro set, it is a solid set of pedals. This pedal set is XRP rated 4.0 in our previous review.
28 GT Leather Wheel Rim Specs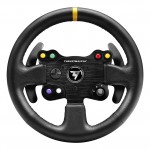 Premium wrapped hand stitched leather, Internal steel hoop, lite weight design for max force feedback delivery, 6 action buttons, a 3-way tact switch with a push in button, multi-directional d-pad, 2mm thick black brushed meatl center column, and 2 brushed metal paddle shifters that move with the rim. The rim is compatible with both Xbox One and PC. This rim was XRP rated 5.0 in our previous review.
Feels Awesome To Race With
I have this racing setup mounted on my Playseat Evolution and everything about the TX Premium leather edition is awesome. The force feedback is strong, smooth, quiet, and feels fantastic delivered through the leather wrapped rim. The paddle shifters make a nice "click" when engaged and spring back really strong into place.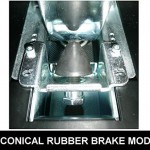 The pedals are extremely responsive and you can really feel them pushing back against your feet. I have the conical rubber brake module hooked up and engaged at about 85% and it does a great job of simulating real brake pressure. My only complaint with the pedals is that the throw is a bit long on the clutch, but all in all…
"The immersion factor is easily a 10 out of 10 with this setup!"
Multiple Compatibility – Xbox One and PC
Thrustmaster Wheels always does a great job adding value by making their products have multiple compatibility. This driving setup will work for both Xbox One and PC and all racing games that support steering wheels.
This set is also compatible with the Thrustmaster TH8A Shifter, the T3PA Pro Pedal Set, the Ferrari F1 Rim, the Ferrari EVO 599XX Rim, and the Ferrari GTE Challenge Rim. That's what makes this package so dynamic it comes standard with premium components, but is still upgradeable should you want to add to it.
Bundle and Save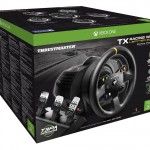 This package is a GREAT VALUE because if you were to buy these products separately it would cost you more money. When you buy them as the VG TX Racing Wheel Leather Premium Edition you save a few bucks for sure. I definitely commend Thrustmaster for recognizing this and putting this consumer friendly package together.
Pros and Cons
Pros
Comes standard with a 3 pedal set
Best wheel base for mid-priced wheels
Strong, smooth, & quiet force feedback
Built to last a longtime with contactless sensors
28 GT Rim feels great in your hands
Adjustable conical Brake mod to simulate progressive resistance
Comes With quick release system to change out steering wheel rims
Saves you money when you buy this package
Has upgradable firmware to keep current on your Xbox One and PC
Cons
The pedals can't be inverted
The pedals are mostly made of plastic
The VG TX Leather Edition vs The Logitech G920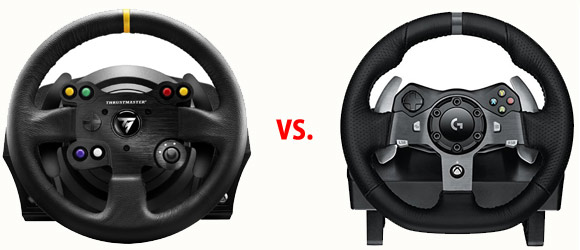 These two steering wheels have a lot more in common then there Xbox One and PC compatibility. They both have leather rims, 3 pedal sets (gas, brake, & clutch), both have true force feedback, and they both are in the mid-price range for racing wheels.
So what are the differences between these two racing wheels?
Well the major difference is that the Thrustmaster wheel has lots of upgrade options, while the Logitech only offers a six speed shifter add on. The Thrustmaster pedal set also has a 16 bit input, while Logitech only has an 8 bit. This gives the Thrustmaster pedals much more accuracy and feel. Lastly the Thrustmaster force feedback feels slightly stronger and it has better internal components using sensors instead of helical gearing like the G920. This will make the TX feel stronger, last longer, and be a bit more durable.
"All in all I think the TX Leather Edition is a better value than the Logitech G920, more bang for your buck and a better overall experience"!
I have been extremely happy with my TX wheel on the Xbox One and it is such a great value for the performance it delivers.
Thrustmaster TX Racing Wheel Leather Edition Premium Review
When Thrustmaster released the TX in 2013 I rated it 4 stars and I had said if this package included the T3PA Wide Pedal set it would make it 5 stars. Well now this is essentially that package with the T3PA wide pedals and one of the top rated Thrustmaster wheel add on rims.
This is easily the best mid-priced racing wheel package on the market and the very first racing peripheral we have rated 5 stars on our blog.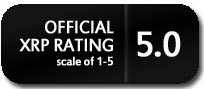 Check Out Thrustmaster Xbox One Products at Amazon
Thrustmaster VG TX Leather Premium Edition
Rated
5
/5 based on
1
review
What do you think of Thrustmaster wheels for the Xbox One? let me know in the comments below.