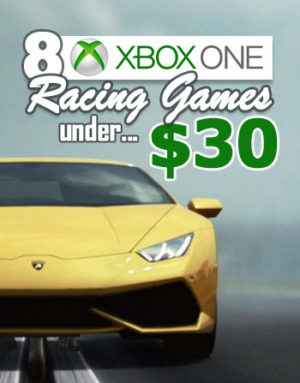 There are a ton of Xbox One racing games out and some of them have been on the market for a considerable amount of time. I was looking around Amazon to see if there were any cheap racing games I could get my hands on and I found 8 racing titles all marked under $30.
Considering these driving were originally $60 its crazy to think you can grab them now for a 50% discount or more. Games like Forza Horizon 2 are highly acclaimed and then there of course some like Sebastian Loeb Rally Evo that missed the mark. The good news is that no matter how the game was received they are now cheap enough to spend a few bucks on to take a peak.
If it's time to shake things up in your car driving game catalog then check out the 8 titles below.
Some of these games may come back up in price after the Holiday season, so if you are interested you should grab them now. So without further ado…Here is our list as of (Nov 2016) of Xbox Racing Games Under $30.
Xbox One Car Racing Games Under $30 at Amazon
It's worth noting that all of the games have Xbox One racing wheel support.
Pro Tip
: If you are not sure about WRC 6, check out how I get games, save money, and avoid getting stuck with bad games.
Click Here
.
Xbox One Racing Game Reviews
If you want to read our initial XRP reviews click the links below. All of our ratings are based on a scale of 1 to 5:
Xbox One Racing Wheels at Amazon
As always if you have any questions let me know in the comments below.