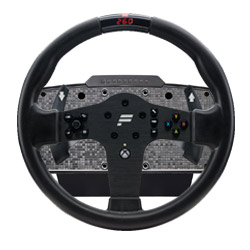 The Fanatec CSL Elite Racing Wheel Bundle is the first consumer friendly price option from the brand known for making high end sim racing products. This bundle from Fanatec is one notch below their ClubSport V2 product line and made compete with the mid priced steering wheel options for the Xbox One offered by Thrustmaster. So you are probably wondering…
How much did Fanatec downgrade the ClubSport V2's? and…How does it compare against against the Thrustmaster TX?
By the end of this review I will have both of these questions answered as well as whether or not the Fanatec CSL Elite bundle is worth a look for racing on your XBox One console.
Fanatec CSL Elite Steering Wheel and Pedals Review

The CSL Elite is the second bundle offering from Fanatec, the first is ClubSport V2 a super high end wheelbase, rim and pedal set, goes for a whopping $1,400. The CSL Elite offers a mid tier option with a wheel, rim, and pedal set for $640. So the CSL bundle costs 55% less the V2 bundle, but it is not 55% less of product…
Unboxing, First Impressions, and Video Review
While I mainly focus on this bundles ability to deliver a quality racing experience on the Xbox 1, it is also compatible on the PC which I did not test. I ran all of my testing with Forza Motorsport 6 and Assetto Corsa on the X Box One console
Lets break down and review each piece of the bundle.
CSL Wheelbase Review for Xbox One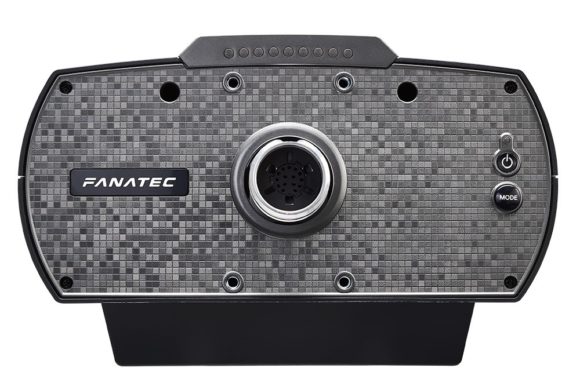 Specs
1080 degrees of rotation, Rev lights (which don't currently function on Xbox One), brushless servo motor, quick release system, single belt drive, 1080 degrees of rotation, 2 shifter ports, a pedal port, a handbrake port, mode putton for switching between Xbox One and PC, a power button, upgradeable firmware, and a table clamp.
Good Quality and Durability
The CSL wheel base is encased in plastic with a nicely designed front cover. While the plastic feels thin and inexpensive it does the job for protecting the wheel motor and at this price point you can't expect the same aluminum encasing on the ClubSport V2.
The wheel base is fairly heavy and has a nicely machined metal mechanism for connecting your steering wheel rim.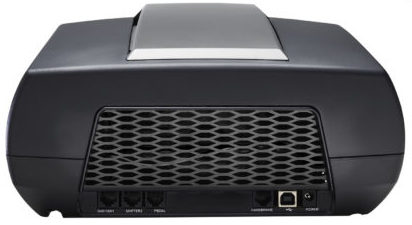 There is a vent on the back of the wheel base (pictured above) and two slits on the top to push air out when the fan is running to prevent the motor from overheating.
After racing for an hour or two I was surprised at how loud the fan was and how long it stayed on. The wheel base itself stayed very cool, but It makes me wonder about how long the fan inside is going to last if it is under duress. While I did not see any performance issues it's certainly something I will keep my eyes on.
Great Force Feedback and Decent Vibration on the Xbox
The force feedback is strong and smooth and you can tell that there is quality technology inside. Overall the motor does a great job of simulating the traction forces through cornering and gives off a nice feel of how your car is performing. I would say that you get 80% of the feedback strength of the Fanatec V2, 15% stronger than the Thrustmaster TX, and 25% stronger than the Logitech G920.
"Overall the CSL Elite has stronger and smoother force feedback than the Thrustmaster TX and Logitech G920"
Although force feedback was fantastic there were instances when cornering at high speeds I felt the wheel didn't return to center the way I felt it should. It's not that it didn't rotate back, but on a wheel like the Thrustmaster TX the wheel snaps back on you to center just as it would in a real car in certain situations/
The movement of the wheel while smooth didnt always feel natural, which was especially noticeable is Assetto Corsa. The best way I can describe it is at times I felt like I was moving the wheel back towards center instead of the motor giving me a centering spring effect.
The amount of vibration given off by the CSL wheel base leaves a bit to be desired, but in all fairness all the competing wheels at this price point I have the same complaint about. The one difference here on CSL Elite though was that I felt the vibration was a bit loud and at times felt choppy. The wheel base was slapping against my wheel plate on my cockpit, but that might be my fault for how I mounted it (I used two screws instead of 3).
Rev Light Functionality is Limited on Xbox One
The Rev light meter does not show revs or shift indicators on the Xbox One and only works on PC. The only time the rev light indicator works with your Xbox One is when you are setting your brake force on your pedal set. This is not an issue with the Fanatec wheel itself, but the Microsoft protocols in the Xbox don't currently allow for that functionality.
If you are only racing on Xbox One, you will never need to hit the "mode" button. The wheel starts off in Xbox mode and you will never need to change it unless you are updating your drivers on the PC.
Mounting Options – To Hard Mount You May Have to Drill
I used the pre-drilled holes in the bottom of the wheelbase to mount it to a PlaySeat Evolution. I actually had to drill into the wheel plate in order to mount it correctly. I only drilled two holes (left and right), however there is a third hole I would recommend drilling which is the mounting hole in the front center. This will help you not get the slapping noise like I experienced.
Aside from hard mounting the CSL Elite comes with a table clamp. This will allow you to mount the wheel base to a table or desk. While I did clamp it to a table, I did not test it with racing. I would imagine like most table clamps it will require tightening between races especially given the strength of the force feedback from the motor.
"The CSL comes with a table clamp, but would be best if you hard mounted it"
My best advice is to always hard mount your wheel base if you have the ability to. Of course with this wheel though it may require you to drill. For me the holes didnt line up on any of my seats or wheel stands.
Compatibility
The CSL Elite Wheel Base works on both the Xbox One console and the PC. It is compatible with all of the Fanatec rims, pedal sets, shifters, and add-ons when you run it on a PC. If you are running it on an Xbox, you must have an Xbox One rim.
For shifters and handbrake options on the Xbox One, the functionality will be dependent upon the game. For example Forza Motorsport 6 does not have handbrake support, but DiRT Rally does.
Price for the Wheelbase
This wheel base goes for $300 on the Fanatec website when purchased individually. You can read more about it here.
---
Fanatec P1 Steering Wheel Rim Review

Specs
30 cm diameter, LED digital display, can store 5 different pre-sets, Xbox home button, Xbox buttons (A,B,X,Y, menu, settings, RSB, LSB, RT, LT), analog Stick D-pad, settings button, 2 large metal paddle shifters, rubber texturized grip, and quick release system.
Good Quality and Durability
The wheel is built very strong and has a nice metal center column. The buttons are labeled for Xbox and pertrude slightly off the metal. The LED display at the top of the rim has a plastic cover and in inlayed into the rim. The textured rubber rim isn't very impressive, but it is servicable and does the job. The type of material they used will probably make your hands feel a bit sweaty after an hour of racing.
The analog stick d-pad moves nice, my only worry is that because it's a stick and not a traditional d-pad you could easily catch your clothing on it and break it.
My biggest concerns around the quality and durability are with the quick release system. This is a simplified version of what Fanatec uses on their ClubSport V2. I found it required some extra strength to get the wheel rim on the wheel base…
"For a quick release it is not very quick"
I wasn't sure if I pushed the wheel all the way on or perhaps maybe I pushed it too far. After some troubleshooting I tried tightening all 5 of the Allen screws on the center column and the 4 allen screws on the back of the wheel where it connects with the base. After that the P1 wheel rim started working and getting power. I spoke to Fanatec about this issue and the said it was an issue with a material they used in the pre-production models (like the one I received) and it is already resolved in the production wheel bases.
All in all for a quick release system it wasn't very quick and requires some strength, but how often do you change your wheel rim though?…probably not too often anyway, so not that big of a deal.
Force Feedback Effects
The wheel rim is pretty light which means it reacts well to force feedback. You can feel some micro-vibrations in your hands through the rubber grip, but not as much as you would get with a padded leather rim.
Innovative Functionality with Custom Settings

I love the LED display and the ability to store 5 custom settings. I was able to save settings for both Assetto Corsa and Forza 6 without having to worry about writing any of my settings down. I found myself adjsuting the force feedback and brake force in the middle of races which was AWESOME. This is a great feature because you can make on the fly adjsutments without having to leave a race to change your game settings.
"This feature would allow you to save setting for different games or settings for different people"
The paddle shifters are at the perfect distance from your fingers, maybe the best placement I have felt on a mid priced wheel. The one thing I don't love is they dont make a nice click sound when engaged. I found myself missing some downshifts on corner entries when I had thought I had engaged the left paddle shifter.
The button placement is fine and accessible, but I much rather prefer higher button placement so you can move your thumbs horizonatlly to press a button while racing. For these you need to move your thumb horizontal and then down…this makes accessing the handbrake button difficult in certain types of turns.
Compatibility
The Fanatec P1 Xbox One Steering Wheel Rim is compatible on the Xbox One and PC. It will work on both the CSL Elite and ClubSport V2 wheelbase.
Fantec Racing Wheel Alternatives
Fanatec offers a wide range of rims compatible with the CSL wheelbase. You can check them out here. If you are planning on using it for Xbox One, you much get an Xbox One wheel.
Price of the P1 Steering Wheel
P1 Racing Wheel rim is $140 on the Fanatec website when purchased individually. You can read more about it here.
---
CSL Elite Pedals with Load Cell Brake Review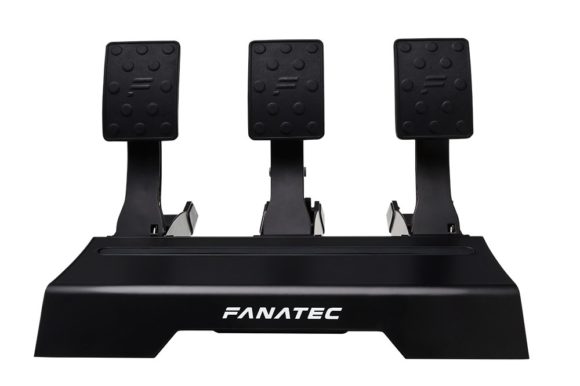 Specs
3 pedal set (gas, brake, clutch), 16 bit resolution throttle, 16 bit resolution clutch, 12 bit resolution load cell brake, Each pedal features its own unique resistance, pedal spacing is adjustable, removable rubber pedal covers, metal Titlon style pedal plates (when rubber cover is removed), all metal construction, adjustable load cell brake, optional Elastomer spacers for Load Cell (45Kg, 65kg, 85kg, 95kg), holes for hard mounting pedals, and 3 stickers you can add to the pedal face plates for additional grip.
Pictured below are your three options for pedal facing: Rubber cover, grip sticker, or smooth metal plate.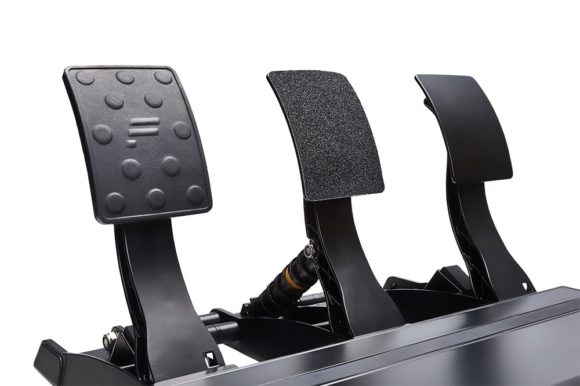 Top Quality and Durability in Mid-Price Pedal Set
The pedal set is the shining star of the whole CSL Elite bundle. They are built very well, they have good weight to them, and the all metal construction gives me the utmost faith that these pedals will withstand my lead foot stomping on them.
At first I didn't love the rubber grip pedal covers, but discovered they are nice when you are racing with a pair of socks on because they don't make the pedals feel hard on the balls of your feet.
On the bottom of the pedal set there are a few grip pads to help get traction on your carpet if you are not hard mounting them. I easily peeled off the grip stickers and when I tested the pedals on the floor the grip stickers came off under duress.
Functionality – With a Great Modular Design
Fanatec used a modular design so that you could change the spacing between the pedals. There is no other pedal set for Xbox One that lets you do this. This is really advantageous for people who want to use a heel toe technique, you can slide your brake pedal right next to your throttle. Other sets like the Thrustmaster T3PA Pro's only let you move the pedal face plate which is not the same.
Having 3 different resistances on the throttle, brake and clutch is fantastic. The clutch and throttle both have good travel distances, I only wish the throttle was a little bit stiffer. Unfortunately that is not adjustable. The clutch on the other hand has a nice resistance to it and really kicks back at you after it's compressed.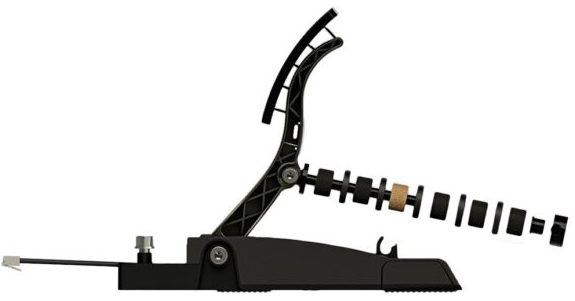 The load cell is great and it is easy to change out the amount of pressure you like. You can mix and match the Elastomer spacers to get the brake pressure set to your preference. I changed out the spacers a few times to find my best brake pressure and each time only took me about 30 seconds to make a change.
"The ability to change the load cell pressure without removing the pedals from your cockpit is outstanding"
Mounting was Easy
The pedal set had two holes in the bottom which mounted perfectly on my PlaySeat Evolution and didnt require any drilling. There are grips on the bottom for a carpet, but my best advice would be to hard mount them.
Compatibility
This pedal set is compatible on the Xbox One and PC. It will work on both the CSL Elite and ClubSport V2 wheelbase.
Fanatec Pedal Alternatves
Fanatec also offers a two pedal version of Elite pedals without a Load Cell Brake for $80. You could grab these pedals and then upgrade later or you could check out the Clubsport V3 Pedals which are a very nice higher end set.
CSL Elite Pedals With Load Cell Price
The CSL Elite Pedals with the load cell brake are $200 on the Fanatec website when purchased individually. You can read more about them here.
---
How Does CSL Elite Bundle Perform as a Total Package
This is a solid racing setup for Xbox One. The driving experience is immersive and between a quality motor in the wheelbase and a very well done pedal set it's worth taking a look at. More than anything I am impressed with the pedal set as a whole and the strength and smoothness of the force feedback motor. I don't love the P1 rim, but I can live with it for the price.
Pros vs Cons
Pros:
Strong and smooth Force Feedback (best available on Xbox)
Multiple ports on wheel base (2 shifters, pedals, handbrake)
Change wheel settings on the fly and save pre-sets
Priced well to the market
Swap out Fanatec rims
Pedal set is all metal
Load cell brake pedal
Adjust and fine tune the resistance of the load cell
Each pedal has unique resistance
Adjust the space between the pedals
Cons:
Hard mounting may require drilling into your rig
Does not feature an auto centering spring for Xbox
Action buttons should be located higher on the wheel rim
Rev lights do not work on Xbox One (only PC)
Pedal set is not invertable
The Quick release system is not very quick
Fanatec CSL vs Thrustmaster TX
So lets set all things equal. The Fanatec CSL wheel base with the P1 rim costs $440 USD and the Thrustmaster TX wheel base with the 599XX Evo rim also costs $440 USD.
Which is better Fanatec CSL with the P1 rim or Thrustmaster TX with the 599XX Evo Rim?
What the CSL and TX Have in Common?
Both motors are brushless and encased in plastic, have smooth and strong force feedback, Xbox One and PC compatiblity, come standard with a table clamp, have pre-drilled holes for hard mounting, have quick release systems, have peripherals like rims, pedal sets, and shifters that can be added, both have 30 cm diameter wheel rims.
What are the Differences Between These Racing Wheels?

The Motors: The CSL wheelbase has slightly stronger and smoother single belt drive force feedback motor, but the TX has a better auto-centering mechanism for a more simulated feel when cornering and the force feedback is driven by a dual belt drive. The CSL required me to drill holes in my rig to hard mount, while the TX fit standard holes on all of my cockpits and wheel stands. The CSL-Elite is encased in thin inexpensive plastic, while the TX is encased in a thick solid plastic shell. When the CSL starts up it auto-calibrates very smoothly, when the TX starts up it auto calibrates in a very herky-jerky type of way.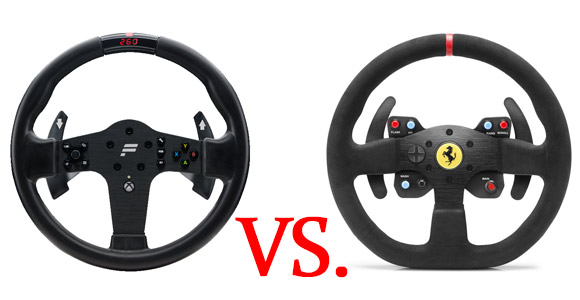 The Rims:The P1 rim has larger paddle shifters which are the perfect distance from your fingers, but the 599XX rim paddle shifters while smaller offer a better click sound for engagement and the button layout is much more accessible. The P1 rim is made of texturized rubber and its very thick while the 599XX Evo is wrapped in hand stitched Alcantara from the Ferrari factory in Italy and has a nice soft padded touch. The P1 is light and delivers nice force feedback effects, but the 599XX Evo rim is even lighter and transfers micro-vibrations much better. The P1 has a bit of a toy look to it, while the 599XX Evo is a Ferrari replica rim and looks like its from a race car.
Which is Better for Racing on the X Box
All things considered I would say they are about equal with both having their good and bad points. In the scenario above Fanatec has the better wheel base, but Thrustmaster has the better rim. It comes down to what your preferences are, better force feedback or a more immersive feeling wheel. For me it's a toss up as they both are really good driving experiences at the price point.
If I was to bring in the ClubSport V2 into this conversation it is better than both the Elite and TX, but of course it also 2X the price.
Fanatec CSL Racing Wheel Review Wrap Up
All together the Elite bundle is really good. I would say that given the price, quality, and durability it is on par with what I expected…not quite the ClubSport V2 and competitive with the Thrustmaster TX.
I am truly excited to see a high end sim racing company like Fanatec offing a mid-priced product for console racers. I think this bundle is worth a look especially if you have been eyeing a Fanatec product. This bundle would be more geared to someone who has the ability to hard mount it though as I wouldn't trust the table clamp to keep a wheel this strong very stable for long periods of time.
The CSL Elite bundle is only available on the Fanatec website and is currently going for $640 and comes with a free copy of Assetto Corsa for the Xbox One. You can start your sim racing career today, by clicking the buy now button…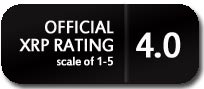 Checkout Racing Games At Amazon
What are your thoughts on the first mid priced offering from Fanatec? Let me know in the comments below.
CSL Elite Bundle
Rated
4.0
/5 based on
1
review