WRC 6 (PC PS4 XBOX) – Total Reviews

Dirt Rally Review

WRC 6 – First Impressions – RALLY is BACK!!

WRC 6 Review – Dirty Driving

WRC 7 Review

WRC 6 vs Dirt Rally

DiRT 4 vs WRC 6 – Gameplay Comparasion (HD) [1080p60FPS]

WRC 6 vs DiRT Rally – Graphics, Sound and Gameplay Comparison (all 5 shared countries)

DiRT Rally vs WRC 5!!! [Xbox One] – (Car List, Gameplay, Graphics Comparison)

WRC 6 FIA World Rally Championship 2016 PS4 gameplay first 13 min
Amazon Price:
$21.99
$21.99
(as of February 24, 2018 7:55 am –
WRC 6 is the official video game of the 2016 FIA World Rally Championship (WRC). It includes the 14 WRC events, all the official WRC drivers and teams, as well as a wide selection WRC drivers.
If you are trying to find a game on par with Codemasters DiRT Rally you are not gonna find that here, but to be honest you are not gonna find that anywhere. WRC 6 however is solid rally game with a thorough career mode experience, well thought out stages, and a nice handling model that makes the game WAY MORE driveable for the casual racer than DiRT Rally.
The graphics arn't gonna blow you away and it is not jam packed with cars and tracks…but this is by far the most fun I have had with a WRC title in a long time.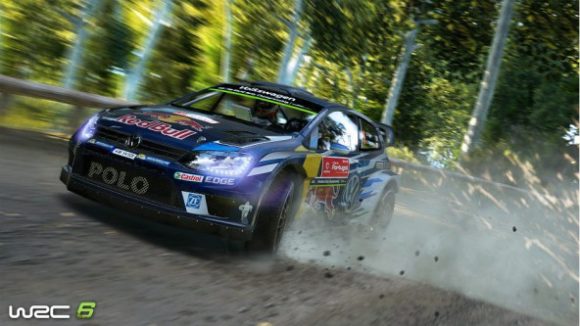 WRC 6 Best Features
What stands out the most about WRC 6 is the length of the stages and the narrow driving paths. Because the driving lane is so tight and laden with obstructions you feel a great sense of speed as trees, rocks, and road hazards are missing your car by inches. The stages are split out amongst 14 countries featured in the 1016 World Rally Championship and there is a bunch of two car special stages mixed in (although no rally cross).
In each country you are not getting a large amount of stages, but in comparison to DiRT Rally you are getting 2X the amount. Where the stages lack though compared to DiRT is in the looks…they are just not as polished and lack the flair like dirt kick up and water splashes.
Pro Tip
: If you are not sure about WRC 6, check out how I get games, save money, and avoid getting stuck with bad games.
Click Here
.
Split Screen
Another great feature added was the ability to race in split screen. Now you and a friend can race at the same on the same console. That is a ton of fun and gets your heart racing at 100 mph.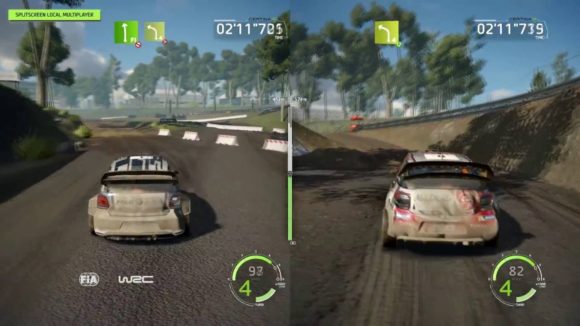 Not Enough Drama
Where WRC 6 lacks from a driving experience is the dramatic crashes and effects. Its just not hitting on all cylinders when it comes to things you would want to play back on replay and say "I can't believe that just happened".
Rally Cars
All of the cars in the game are nicely done and well detailed. Throughout the course they take on some visual damage and scratches. Where the cars lack though is in the sheer number available in the game. Unlike Sebastian Loeb Rally Evo where you can drive some iconic rally classics, WRC 6 just gives you the current 2016 Rally cars which all look pretty much the same. They do handle well though so that is a big plus.
Good Handling Model
All of the cars handle well and are pretty newbie friendly. Don't get me wrong here…I'm not talking full on simulation feel, but a game that is casual friendly, yet still requires some driving finesse. All of the vehicles give off a nice sense of weight which is really important for rally racing because turning is all about proper weight distribution. The cars also give off a nice feel for the terrain under your tires particularly when your cranking up the handbrake and pushing your car through a hairpin. Overall I would say the cars are bit more grippy than loose and the handling is forgiving, but not quite like an arcade game.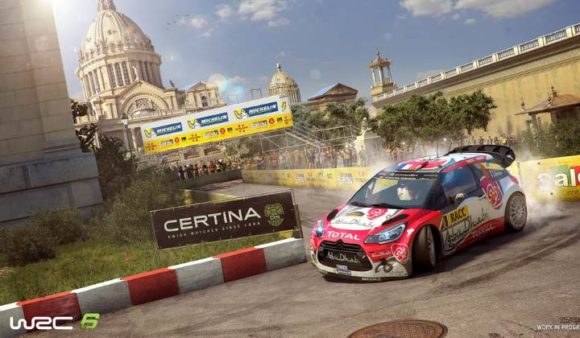 Game Audio
I love loud engines, squealing turbos, and lots of racket when I race, and WRC 6 is a bit lacking in this department. By default the sound is turned down low and if you grab the game the first thing I would recommend is turning it up. The cars still wont growl enough and the gravel kicking around in your tire wells will still be hard to hear, but the audio is fine for what it is and its just not gonaa knock your socks off.
WRC 6 Pace Notes and the Co-Driver
The pace notes are servicable, but are delivered in a robotic fashion with not much intonation or personality. You can choose between simple pace notes or more complex and its vintage rally in the execution of them. Sometimes in a stage with multiple corners tied together the pace notes overlap themselves which is weird, but overall they are fine.
Your Rally Career
The career mode is a lot of fun, but nothing new really being added to the rally racing genre here. This mode does the job of getting you in between stages and giving you just enough background and story line to carry you from Junior WRC up to the big show without driving you through lots of boring menus. If you are looking for a great career mode like F1 2016 features, WRC 6 falls short, but its a bit more polished to me with race day flavor than the career mode featured in DiRT Rally.
WRC 6 Review Xbox One Wrap Up
The game is decent and is much more playable for the casual racer who wants a rally game and has become frustrated with crashing in DiRT Rally. It does a good job of representing the WRC brand and it captures the essence of what rally racing is all about.
The driving is a ton of fun thanks to the narrow tracks, sense of speed, and solid car handling physics. It is a big upgrade from WRC 5 and I think that this re-instills my faith that this franchise is worth keeping around. If you are looking for a more driving friendly rally game that isn't gonna make you wanna through your controller at the screen or rip your Xbox racing wheel from the wheel base…this game is worth a look.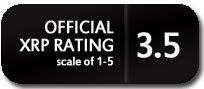 Get WRC 6 or Other Racing Games at Amazon
Have you checked out WRC 6, what do you think of the game? Let me know in the comments.
WRC 6 Xbox One
Rated
3.5
/5 based on
1
review
Customer Reviews
Five Stars
awesome