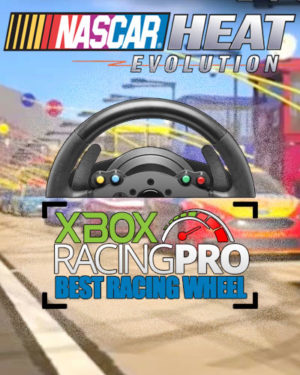 NASCAR Heat Evolution (NHE) is more immersive when you are playing with a steering wheel. A wheel also helps smooth out your turning on the sweeping ovals which will quicken up your lap times.
If you are a NASCAR Heat Evo gamer and you are looking to purchase a wheel for the Xbox One or the PC there are a lot of options. There are alot of brands that make wheels compatible with NHE such as Thrustmaster, Fanatec, and Logitech with prices ranging from about $100 up to about $1400.
I have tested out several wheels the with game and surprisingly have come to the conclusion that one of the the wheels that performs best also happens to one of the least expensive.
Best Racing Wheel for NASCAR Heat Evolution
Thrustmaster TMX ($200)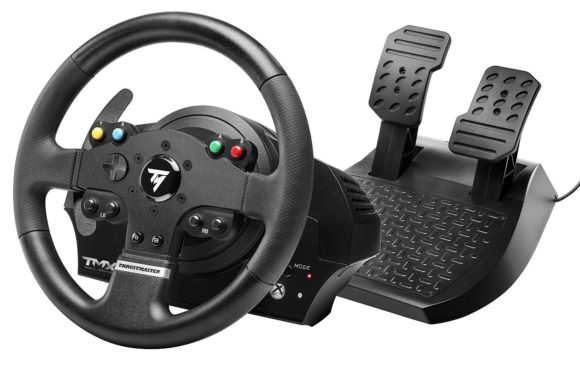 The Thrustmaster TMX is a great steering wheel for Nascar Heat Evo. It's certainly one of the most affordable options and it even outperforms a mid priced wheel the Logitech G920. The TMX is considered an entry level racing wheel and does have a few limitations, but I will break all of that down for you by the end of the article.
Thrustmaster TMX Specs
Up to 900 degrees of rotation (changeable in race), belt drive motor, throttle and progressive brake, paddle shifters, D-pad and 8 action buttons, a table clamp for mounting, compatible on Xbox One and PC, and the ability to upgrade your pedal set and/or add a shifter.
"For the price point this wheel provides as much performance as some mid priced options"
Force Feedback with the Heat Evolution Game
While the handling physics of NHE leave a bit to be desired the TMX force feedback feels solid and provides a nice bit of resistance. With the right wheel settings you can get really good smooth and quiet force feedback and a good bit of vibration with the Impact Effects turned ON in the game.
The turning radius of the TMX feels precise and can help you smooth out your corners, weave your way through traffic, and react more naturally when trying to avoid an accident.
There are wheels like the Thrustmaster TX that have stronger force feedback and a better wheelbase motor, however in NASCAR HEat Evolution the difference feels negligible.
The TMX 2 Pedal Set
You may be wondering why am I recommending a wheel with a 2 pedal set for a NASCAR game…good question. The reason is that despite the fact that the game has an option to set your clutch to ON, it makes no difference. The clutch has no effect on your shifting in this game. You can just shift without hitting the clutch and there are no consequences and I have tested on multiple pedal sets.
The TMX has two pedals a throttle and a brake. The brake pedal has a built in progressive resistance to simulate the feel of brake pressure. The pedals are made of plastic and sit on a plastic base. The good news is that you can get an upgrade to a higher end pedal set and even add the clutch if you feel like you want it anyway.
TMX Upgrades with the Thrustmaster Eco System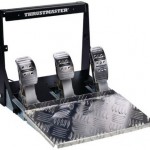 There are a few upgrades you can get for the Thrustmaster TMX that will make your experience much more tailored to NASCAR. My first recommendation would be to add the T3PA Pro Pedals. This pedal set is made of metal and has an adjustable brake mod, but more importantly allows you to invert the pedals to GT style which is how they would be in a real race car. There are also options available from 3rd party vendors to add a load cell brake.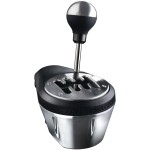 My next recommendation would be to add on the TH8A Shifter. While you should be spending a majority of your time in top gear, shifting is still alot of fun and really adds to the immersion factor. The TH8A shifter is one the most robust shifters on the market and is made of 90% metal parts. You have the option for a 7 speed H-pattern or sequential shifting. This shifter is one of my favorite racing peripherals and you can even change out the shifting knob to something your favorite driver uses.
"Getting a wheel than can be upgraded is great, because you don't have to spend all of your money at one time"
All in all if you were to pick up all three products the TMX ($200), the T3PA Pro Pedals ($150), and the TH8A Shifter ($150) you would be spending a total of about $500. Thats not to bad considering you will have a complete driving setup when you are done.
Mounting
The Thrustmaster TMX comes with a table clamp for mounting and you can easily attach it to a desk or a table. If you want to get a wheel stand the Ultimate Wheel Stand is one of the only stands designed to mount a wheel with a table clamp.
There are also adapters made by third party vendors that allow you to hard mount a TMX wheel to a cockpit or more advanced wheel stand. Hard mounting is truly the best solution and one of the most popular solutions is using the Ricmotech adapter and mounting the TMX on a Wheel Stand Pro Deluxe which also has a stand for the TH8A shifter.
Xbox and PC Compatibility
The TMX is compatible on both the Xbox One and PC. So you can play NASCAR heat Evo or any other racing game on either platform.
Why the Thrustamster TMX Wheel is My Best Recommendation
There are 3 things that make the Thrustmaster TMX a great buy for NHE: the price, the performance, and the Upgradablity.
The price certainly falls on the lower end of the racing wheel spectrum and it sits between the Thrustmaster Spider ($100) and the Logitech G920 ($350). It out performs both of those wheels and while it doesn't come standard with a 3 pedal set like the G920, you can add on the nicer T3PA Pro pedals for the same cost.
Now truth be told I didn't test out the 458 Spider wheel with NHE, but this wheel is not in the same league as the TMX. The spider uses an internal bungee cord mechanism to provide linear resistance, but it's not the same as true force feedback. The extra $100 bucks for the TMX adds a lot more bang for your buck and is worth the extra money. You can read more about it here or get your NASCAR racing career started right now…


If you are looking for a more substantial racing wheel in the mid priced range you can check out my #1 recommend steering wheel for Xbox One. It is a lot of fun on NHE as well as other racing titles, but it also comes with a heavier price tag. If you are curious about the differences between the TX and the TMX, check out this article here.
NASCAR Heat Steering Wheels and Related Items at Amazon
Have you been shopping around for a steering wheel for NHE? If so, let me know which ones you have been looking at in the comments below.