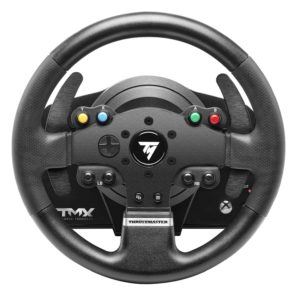 The Thrustmaster TMX Force feedback Racing Wheel is a fantastic entry level wheel that delivers an outstanding racing experience and an affordable price.
The package includes the racing wheel and a 2 pedal set (gas and brake). It does have the ability for adding on some components in the Thrustmaster eco-system, but we will touch on that more below.
Thrustmaster Steering Wheels for Xbox One
If you are not familiar with Thrustmaster they have been making wheels for consoles and PC's for a long time. They have a reputation for making high quality mid priced driving wheels. The TMX is not their first offering on the Xbox One, but it is their first at this price.
The TMX steering wheel's price point puts it just below the Thrustmaster 458 Italia edition ($300) and just above the Thrustmaster 458 Spider ($100). It is Thrustmaster's answer to the T150, a similar product that is made for PS4.
Lets a take a hard look at the TMX and see what Thrustmaster has to offer…
Thrustmaster TMX Video Review
>> CHECK OUT THE TMX AT AMAZON <<
TMX Force Feedback Racing Wheel Specs
270 to 900 degrees of rotation adjustable on the fly, force feedback, 12 action buttons, d-pad, 2 5 inch brushed metal paddle shifters, hybrid belt-pulley and gears system, metal ball-bearing axle, 11″/28 cm in diameter, rubber grips on the rim, Xbox One certified embedded software: the racing wheel is automatically recognized by the Xbox One, Pedals with wide foot rest, each pedal's angle of inclination can be adjusted to 3 positions, brake pedal features progressive resistance.
A Great Racing Experience
When I received this wheel I tested it mounted to a Playseat Evolution using the TMX Mounting Adapter and I also tried it with a Ultimate WheelStand…I was SERIOUSLY surprised for the price how good this wheel feels in games like Forza 6, DiRT Rally and Project Cars. Its worth noting that the TMX does not normally mount to a cockpit, you need a mounting adapter.
Force Feedback Engine is Quality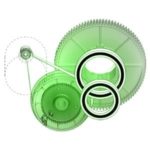 The force feedback is smooth, strong (but not over powering), quiet, and does a good job of translating the feel of the road. It reacted great to my driving inputs and had a nice pull back as I was drifting through corners.
For a belt and pulley mechanism this is a big upgrade from the bungee cord mechanism inside the Thrustmaster Spider. It's not quiet as strong as the TX, but it delivers a great simulated racing feel that is immersive!
"I could really sense the cars loosing the back end and the force feedback begging me to react like a race driver"
From a quality perspective the TMX wheelbase is built as well as my TX servo wheelbase and is less clunky than the Logitech G920 which costs more money.
>> CHECK OUT MY #1 RECOMMENDED XBOX ONE WHEEL HERE <<
The Wheel Rim Center Column is Well Designed
The rim on the TMX is similar to other rims Thrustmaster has designed and because of that it has a nice layout with all of your buttons easy to reach while racing.
A good button layout is helpful because in most games you will need to use your right thumb while driving to hit the "A" button for the handbrake. For example in DiRT Rally you need to use the handbrake a lot and you will be thankful you can hit the button without letting go of the rim. You simply can reach over with your thumb and hit the button while you steer.
I don't love the "TM" emblem or colored buttons on the center column, but I can live with not loving the aesthetics because what it lacks in looks it makes up for in performance and price.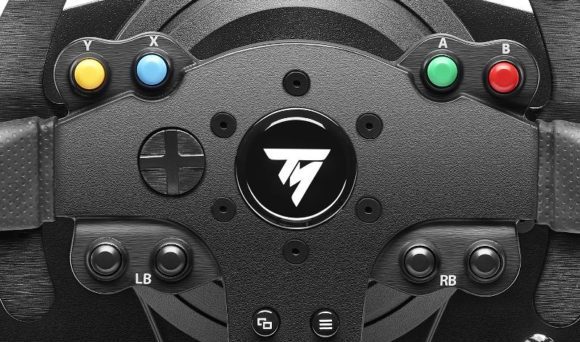 I also am a big proponent of the D-pad on the center column, which makes navigating menus much easier. The paddle shifters are a comfortable distance from the rim, they move with the rim as you turn, and they make a nice click sound and spring back into place when they are engaged.
The Rubber on the Steering Wheel Rim is Grippy
The rim has a rubber grip on it which helps your hands hold the wheel through the force feedback.
I wish they covered the whole wheel with the rubber that they have at the 9 and 3 positions, but its still pretty good. For me since I drive with the TH8A shifter I normally one hand the wheel at the 12 O'clock position in games like Forza. When using the paddle shifter your hands are right on the rubber and its got a nice feel in your hands. I actually like this rim better than the stock rim on the TX Italia Edition although that is an overall better wheel.
>> Want A Detailed Comparison of the TMX vs the TX Italia <<
It Comes Standard With a Progressive Brake
If you have never raced with a wheel and pedal set before, then you perhaps can't appreciate what it means to have a progressive brake. A progressive brake simulates the feel of real braking…the further you push the brake down in distance the harder it gets to push down.
The progressive brake does a good job of simulating real brake pressure…not quite as good as brake mod on higher end pedals, but it gets the job done.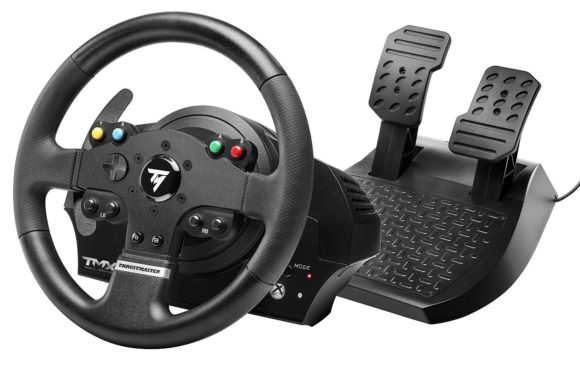 The pedals are responsive and they offer a nice push back under your feet. I didn't try to adjust the pedal angles at all, but doing so looks to be really easy.
The Throttle pedal throw distance is a little bit long for my taste, but that is a normal complaint for me with all the Thrustmaster pedal sets. Whats cool about the TMX though is you can add on an upgraded Thrustmaster 3 pedal set separately. I hooked up the T3PA wide pedal set and it really took the TMX to the next level.
While I don't immediately love the plastic laden pedal set on the TMX, they are serviceable without upgrading and the fact that they have a progressive brake makes me forgive them alot. Considering the price point these pedals are as good as can be expected.
The Thrustmaster TMX is A Great Sim Racing Entry Level Wheel
One thing I like most about the Thrustmaster TMX wheel is it's ability to use the eco-system from Thrustmaster. The TMX allows you to add on the TH8A shifter, and a 3 pedal set (T3PA Wide Pedals or T3PA Pro Pedals). This is something that you don't get with the 458 Spider. This makes the TMX a really flexible solution for racers on a budget. You can always get the TMX now and then add on the components as your money allows.
"The TMX is a perfect entry level wheel that leaves room for upgrading your experience when you are ready for more"
In the diagram below you can see the components currently compatible with the Thrustmaster TMX on Xbox One and PC: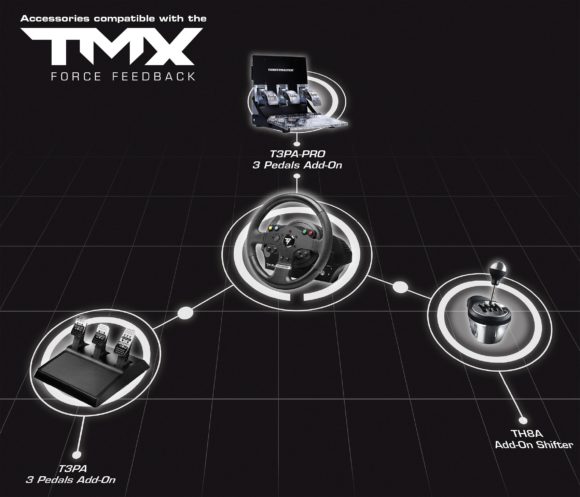 The TMX driving wheel however does not allow you to change out the actual wheel rim like the Thrustmaster TX. The TMX wheel rim is permanently attached and does not include the Thrustmaster Quick Release System. If you were looking for the ability to change rims, you would need to look at other options like the TX.
TMX Mounting Options
The TMX comes standard with a table clamp for mounting on a desk or table. There are wheel stands like, the Wheel Stand Pro, that also can mount a table clamp wheel.
Mounting Adapter for Cockpits
The wheel doesn't naturally mount to cockpits or high end wheel stands, but there is a simple adapter you can get for like $25 that allows you to hard mount this wheel. The simple adapter screws into the bottom where the table clamp normally goes and then all of the standard Thrustmaster pre drilled holes will line up on your wheel mounting plate. Hooking up the adapter is super easy and is a great solution for mounting.
Multiple Compatibility – Xbox One and PC
Thrustmaster wheels always offer a great value by making their products have multiple compatibility. This racing wheel setup will work for both Xbox One and PC (Windows 10/8/7/Vista) and all racing games that support steering wheels. The Microsoft embedded software makes the wheel natively compatible in the Xbox One console's menus.
Thrustmaster Compatible Components: T3PA Wide Pedal Set, T3PA Pro Pedal Set, TH8A Shifter
Pros and Cons
Pros
– Priced to sell, perfect for console racers
– Strong, smooth, & quiet force feedback
– Built with Thrustmaster quality
– Allows for add on shifter and 3 pedal set
– Good vibration engine
– Has a progressive brake pedal
– 1 year warranty
– You can get an adapter for cockpit mounting
Cons
– The pedals are mostly made of plastic
– The steering wheel rim can't be changed out
– It looks a bit toyish with the TM emblem and colored buttons
My Best TMX Setup Recommendation
If you are in the market for a Thrustmaster steering wheel then chances are you are looking for a nice racing experience, more than a casual racer, but something that isn't going to make you broke. The TMX is your best option for about $200.
My best recommendation for a starting set up would be this TMX Thrustmaster wheel and The T3PA Wide Pedals. That will get you the wheel and a solid 3 pedal set (gas, brake, clutch) for just under $300. This would set you up with a decent rim, a good performing motor, and a 3 pedal set that includes a conical brake mod.
"All in all I think the Thrustmaster TMX alone is a GREAT value and even rivals the more expensive Logitech G920"!
Thrustmaster TMX Racing Wheel Review – Wrap Up
I am really impressed with the TMX. The build quality and the racing experience are impossible to beat at the price point.
This Thrustmaster wheel is significantly better than the 458 Spider because of its adjustable rotation, true force feedback, and ability to utilize the Thrustmaster eco-system. I actually think the motor is even better than the Logitech G920 which is a mid price wheel and performs a bit clunky due to its helical gearing. Ideally you can spend $200 now and then upgrade your pedals and shifter later, for a more immersive experience.
The TMX is no slouch when it comes to a good driving experience and I would highly recommend this as an entry level sim racing wheel for the Xbox One or PC.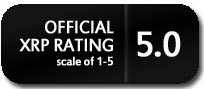 Check Out Thrustmaster Products at Amazon
Thrustmaster TMX Force Feedback Racing Wheel
Rated
5
/5 based on
1
review
What do you think of this Thrustmaster wheel? Let me know in the comments below.