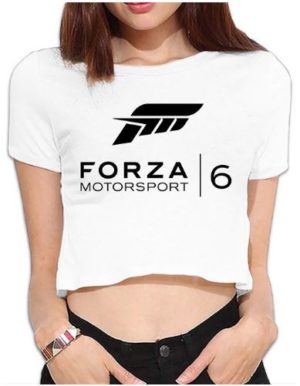 If you are like me, then you are a huge fan of Turn 10's game Forza Mortorsport and Forza Horizon. Sometimes though playing the game just isn't enough, you wanna wear your Forza pride out in public. Well now you can with these awesome t-shirts, hats, hoodies, and apparel that proudly display the logo of our favorite racing game. Or maybe it will get you jazzed up to see your girl wearing one!
Along time ago on ForzaMotorsport.net there used to be a few choices for some shirts and mugs in the store, but they don't have them anymore. I had bought one for my brother at the time, but never got one for myself which has now lead my to find these great clothing choices on Amazon.
I dug through the selection and picked out some of the best men's and women's tee shirt options, a few hats, hoodies, and other accessories (even found flip flops) that I thought were interesting. Take a scroll down the page and see if any of these are winners for your fashion style. If you ask me as long as it is a product that involves gaming or racing than it's in fashion!
Here are a few of my favorites that I found, but there a lot more choices…
Forza Racing Shirts for Men
These 8 are just a fraction of what is available. There are many other color choices and you can even find some going back to FM3. For these shirts and the women's Tee's below I would imagine these are made to order and are not sitting on a shelf somewhere. If you look at the pictures closly you can kind of tell that the logo is made to look like its on the shirt.
Forza Motorsport Shirts for Women
The women's selection is not quite as big as the men's, however there are still some nice choices for t-shirts and mid-drift shirts. Now I don't think my girlfriend would be down with wearing a shirt that has anything to do with my racing game addiction, but that doesn't mean shes not getting one a a Christmas gift…LOL!
Motorsport and Horizon Hats
The hat selection is limited in numbers, but there are a few caps above that I really like. I tried looking around for some skull caps, but couldn't find any with the FM or FH logo on it. Most of these hats although they look fitted have an adjustable snap in the back, so make sure you look at the pictures on Amazon, before committing to your purchase.
Forza-Motorsport Hoodies, Sweatpants, and Shorts
The one that stands out to me her is the nice blue hoodie. The color has a lot of pop and it reminds me of the 2017 Ford GT color thats on the cover of Forza 6.
Other Forza Game Gear and Accessories
This was just some other fun Forza Motorsport accessories i found. I think the backpacks are pretty cool and I was surprised to find flip flops.
Buying Forza Merchandise
While there is quite a variety of FM racing game apparel above you never now what you'll find till you look around. Make sure you do your due diligence and check sizes and colors before you purchase. While almost all of these products sell for less than $25 It'shard to get a fell of the quality without a substantial amount of reviews to read.
Also i imagine only a handful of the products listed above are sanctioned by Microsoft and/or Turn 10…I don't know if that matters to you, but I thought it's worth mentioning.
Whats your favorite piece of gear above? let me know in the comments below.