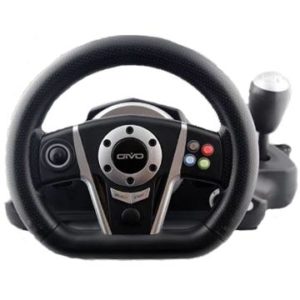 The Megadream Driving Force USB Wired Vibration Feedback Racing Wheel with Foot Pedals is one of the few wheels that is compatible with Xbox One, PS3, and PC's. It is priced under $200 and works natively on Xbox One, PS3, and PC.
This package includes the steering wheel and motor, a 2 pedal set (throttle and brake), and an attached gear shifter. It connects via USB to your PC or console.
This racing wheel by it's price point should be considered an entry level racing wheel, but it comes across as a more of a toy. I tested the wheel and pedals of with some sim racing titles to see how it performed racing and I'll cover how it performed by the end of this article.
It reminds of the Mad Catz Wireless Steering Wheel for the Xbox 360. It is the first racing peripheral offered by Megadream for the XB1 and XB1 S consoles and the company is primarily known for manufacturing inexpensive peripherals like controller chargers and headphones.
Lets see what the Megadream driving system has to offer: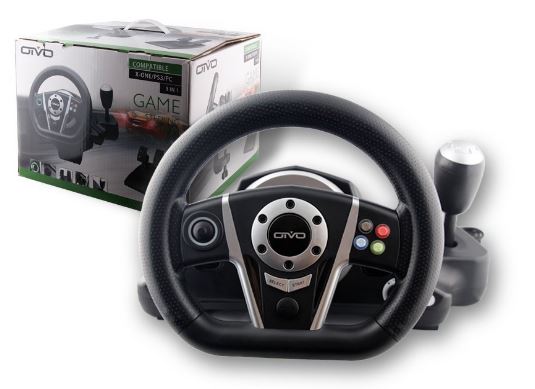 Megadream Driving Force Wheel Specs
170 degrees of rotation, Fully rubberized grip D-shaped steering wheel, Dual Force feedback motor, helical gearing, vibration, adjustable steering sensitivity, auto-centering, 2 D-pads, 6 action buttons, table clamp, metal throttle and brake pedal face plates, adjustable pedal incline angles, progressive resistant brake to simulate real brake pressure, sequential paddle shifters, and manual shift stick.
Plays More Like A Toy Than A Sim
This wheel is predominately constructed of plastic and lacks the realistic race car look that other products on the market have. The wheel-rim, pedals, and shifter feel very small and do not provide much of a sense of immersion via look and feel. the pedal face plates are metal, the pedal base is made of plastic.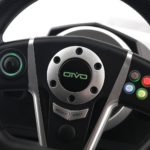 I mounted it to a standard desk and tried out Forza 6, F1 2015, and Horizon 2. The force feedback is semi-quiet, but because it uses helical gearing it delivers it a bit choppy. The force feedback is mild to weak at best and the limited wheel rotation of 170 degrees creates alot of understeer in tight corners.
While the buttons were very accessible on the center column the layout is not conducive to using your handbrake.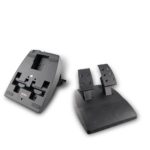 The progressive brake is serviceable and is comparable to the pedals that come with the Thrustmaster 458 Spider. Overall the pedals are fine, but look and feel like a cheap pedal set, which is very common for racing wheels at this price point. The bottom of the pedals also does not have any gripping mechanism which means if you have them on carpet they will slide around a bit…you need to secure them against something to prevent them from sliding.
The paddle shifters are small and located directly behind the wheels center column. They are plastic, about 3.5 inches in length, and move with the wheel when you turn.
"This wheel is more suited for Farming Simulator than Forza Horizon!"
The rim feel small and the plastic parts creak a little bit during gameplay. Overall the wheel just doesn't translate the terrain, bumps, and back end of the car like other wheels. It does vibrate and the force feedback works, it just doesn't feel immersive. I do appreciate the shifter, but being that is is attached permanently to the wheelbase you don't have any options for adjusting it's height or distance.
SEE THE HIGHEST RATED RACING WHEEL UNDER $200




Multiple Compatibility
The one thing the Megadream racing wheel does have going in it's favor is that it has compatibility with multiple systems such as Xbox One, Xbox One S, PlayStation 3, and any PC running Windows 7, 8, 9, or 10 in Direct- X Mode and X-INPUT. it also auto-identifies when plugged in to each system.
To connect the wheel you must:
XBOX One and Xbox One Slim:
Before connecting the steering wheel to your game console, you need to turn off the console. Plug the white color USB connector of the wheel to the XBOX one console for XBOX one Playing.
PS3:
Before connecting the steering wheel to your game console, you need to turn off the console. Plug the black color USB connector of the wheel to the PS3 console for PS3 playing.
PC-USB (Direct-X and X-INPUT):
Plug the black color USB connector of the wheel to your PC for Direct-X and X-INPUT playing.
Pros and Cons
Pros
True Forcefeedback
Progressive Brake
Has paddle shifters and manual shifter
Cons
90% plastic parts
looks and feels like a toy
Priced too high compared to market value
Force feedback is mild to weak
Only 170 degrees of roration
Megadream Wheel vs Thrustmaster TMX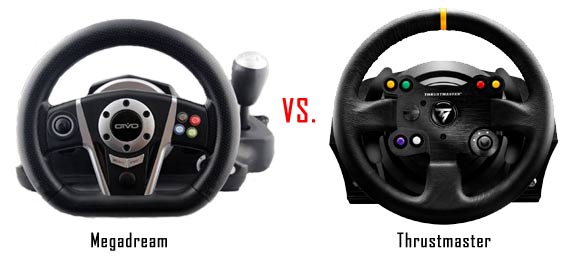 The price of these two wheels is almost exactly the same, but that is where the comparisons end.
So what are the differences between these two racing wheels?
The Thrustmaster TMX is considered an entry level racing wheel because of it's strong force feedback and ability to add on components like a 3 pedal set and a 7-speed shifter. It has much more of a realistic look and it does a much better job of translating bumps and terrain for a better racing experience. The stock pedals on both of these products leave a lot to be desired, but the TMX has two different 3 pedal sets sold separately that offer a much more simulated feeling.
"The TMX wheel leaves the Megadream wheel in the dust"!
At this price point the TMX is a much better value and would be my highest recommended wheel if this is the top of your budget. You can read more about the TMX here.
MegaDream Steering Wheel Xbox One Review Wrap Up
While the price of the Megadream driving setup looks attractive, it is hard to recommend this wheel with all of it's short comings. The driving system just doesn't have the same output as the Thrustmaster TMX which sells for only $10 more. I know some folks still may feel like the fact it comes with a shifter makes it a bit more desirable…I assure you, it's just not up to par with standards set by the competition.
If you are playing Farming Simulator or Truck Simulator I suppose this product will work fine, but for racing games I would not recommend this wheel. You can check out my best recommendation here.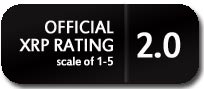 Check Out Steering Wheels at Amazon
MegaDream Racing Wheel
Rated
2
/5 based on
1
review
What do you think of the Megadream USB Driving wheel? let me know in the comments below.