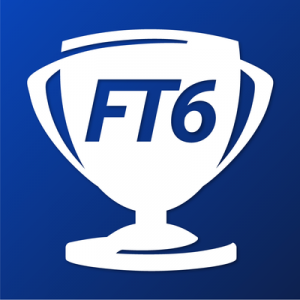 People who tune cars for fast laps Forza Motorsport 6 do two things really well:
First they know how to setup a car to handle smooth through the turns.
Second they know how to set their gearing to squeeze every last bit of speed down the straights.
But you're probably wondering:
"Who has the time to to make all of these fast tunes"?
Introducing ForzaTune 6
ForzaTune is a one of a kind app that is geared towards rev heads who tune cars for the game Forza Motorsport. Ultimately it is a gearing and tuning calculator that is designed to give you a quick baseline tune without the hassle of guessing and trial and error. Even better it will only cost you $2 at the Apple Itunes Store and save you countless of hours of tuning.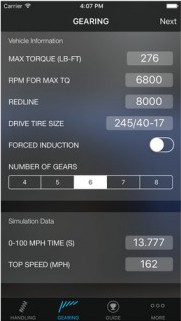 Most recently, support for Forza 6 has added the ability to tune for rain and drift setups, customizing your preferences for balance (oversteer/understeer), choosing if you want your car to handle soft or firm, and it also boasts a well laid out new interface with a detailed help section.
Amid the changes, however ForzaTune also maintains its core functionality. ForzaTune 6 still lets you put in all your cars key metrics and it spits you out a great starting point for tuning both handling and gearing. Unfortunately, it does not tell you what specific parts to upgrade, but only what part types to upgrade in order to tune. For example in order to tune handling you need to upgrade your brakes, springs, and differential, but it does not tell you specifically to get the race brakes.
Built By a Forza Tuning Legend
Car physics are complicated and they require expert knowledge to be able to get a car to its optimum performance. The ForzaTune 6 app takes all of the handling formulas from Forza tuning legend Feurerdog and puts actual suspension physics and equations right into your hands.
If you're not familiar with Fuererdog he specializes in stable all-purpose, no-assist, simulation steering and controller played tunes that can be used on any track and has been making tuning calculators for Forza since 2009.
Baseline Tunes In 15 Minutes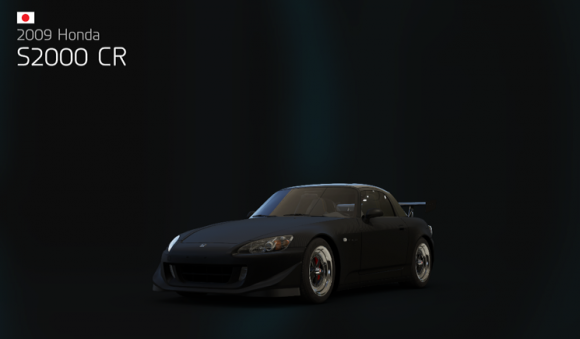 While I was testing it the ForzaTune 6 App I was the mood for some C Class driving so I decided to upgrade a Honda S2000 to see what I could do. In order to use the app you need to upgrade brakes, springs, and/or differential and for gearing you need to upgrade the transmission.

So added some parts and went for a test drive on Long Beach Full to see how the car felt without a tune. Overall it was pretty sloppy in the corners and slow on the straights…
SoI headed into my ForzaTune 6 app….
Gathering Information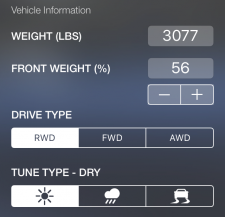 I went into the Guide section (that's their help section) on the app and took a quick look at where to find all the info the app needed. What I found was a very detailed explanation with pictures of exactly where to look in Forza 6 in order to get my calculator inputs. I followed the instructions and entered all of the key metrics for my car. What was amazing was that for handling I only had needed to get 10 pieces of information and for gearing 8. All in all this took about 7-10 minutes.
I also selected well balanced (for oversteer/understeer) and 90% on the soft side for stiffness. Was definitly intriqued by the fact that this could tailor the tune to my driving style.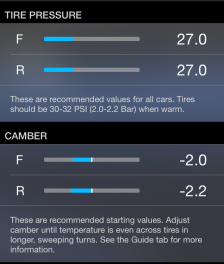 Once my information was entered, I hit the Next button and BOOM, it gave me a list of values to enter in to my tuning setup. I quickly scrolled through the values and also noticed they include quick tips next to some of the metrics.
For example, Camber says "These are recommended starting values. Adjust camber until temperature is even across all tires in longer sweeping turns".
If you are new to tuning like I am, then advise like this really stands out to add more depth to the baseline values and help teach you what to look for when test driving.
Tuning Your Car
Once you have the tune suggestions all you need to do is enter them into Forza 6 as your cars tune. This took me about 5 minutes to take all of my gearing and handling info from the app and enter them into the game. I didn't make any changes or second guess the suggestions, just simply entered whatever the calculator told me.
So when all is said and done, it took me about 15 minutes. So how does it perform now…
A Well Oiled Machine
I took my Honda S2000 back out on the track, it was unbelievable how much better the car handled. It was well balanced and setup soft on the springs, just like I asked it. The corners felt smooth and the car was staying on the track. The straights were quicker and I could tell that my gearing was keeping me in the power band longer.
If you had asked me to tune this car without ForzaTune 6 I would have made a car fast as hell that would dart off the track right into the wall…believe me I have done it!
Newbie Tuner Top 1% Leaderboard Time
Look the proof is in the putting…I dont tune cars, simply because I don't know what I am doing, after all I did write an article 17 tips for Faster Lap Times In Forza Without Knowing How To Tune, but know ForzaTune 6 gives me an edge.
"With my very first tune I ranked Top 1% on Long Beach Full For C Class with my ForzaTune 6 App"!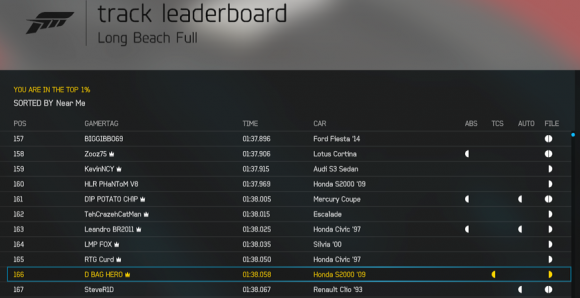 Fine Tuning the Results
This app is not a tuning problem solver for a newbie tuner who is looking for a miracle tune that will automatically produce a result that will propel you to the top of the leaderboard. This app just gets you started in the right direction and it does it quickly.
Once you do some test driving it's best to come back to your tune and tinker with it to see how many seconds you can shave off your laps. Ultimatly though it takes the headache out of getting to a good starting point. Not only that, but I really got a little more charged up about tuning!
ForzaTune 6 Pros vs Cons
Pros
– Has detailed Instructions
– Can perfrom Normal, Rain and Drift tunes
– Gives you a great baseline tune
– Offers tips and insights for fine tuning
– Easy to use interface
– Saves you tons of time
– Easy to customize tunes to your driving preferences
– it is super inexpensive
Cons
– It does not tell you specifically which parts to upgrade
– it is a little vague around tuning aero
– it gets a great baseline tune, not a perfect tune
ForzaTune 6 Review Wrap Up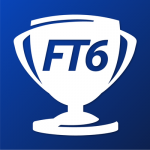 ForzaTune 6 is designed for Forza fans of any level with an interest in tuning. The baseline tune it will produce is not only a great starting point, but a huge time saver on trial and error. Although I am not an experienced tuner or a huge fan of tuning cars in Forza (I mostly download tunes), I give this app a 5. The proof is in the results, one baseline tune and a bit of fine adjustments after and I even I tuned a car that put up a Top 1% leaderboard times in rivals.
You can check out my tune: Gamertag D Bag Hero for the C Class 2009 Honda S2000 in the game and then be sure to download the ForzaTune 6 app at the Apple Itunes Store.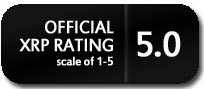 Check Out ForzaTune 6

Have you been tuning cars in Forza? What tips and tricks can you share to help speed up the time it takes to get a baseline tune? Let me know in the comments below.
ForzaTune 6
Rated
5
/5 based on
1
reviews