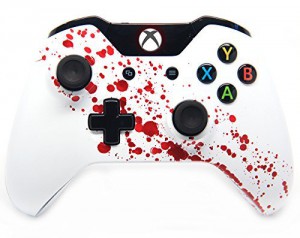 There is nothing that makes your friends more envious than an awesome Xbox One custom controller. I have always been fascinated with the designs, looks, and creativity of the people who make these.
However, I have always felt a little uneasy buying custom controllers from some random dude on the net. Often times you get one with buttons that stick, paint scratching off, or put back together incorrectly.
If you are gonna get a custom controller for your Xbox 1 and spend a few bucks, you might as well get one from Amazon, where you can have a higher trust factor for your seller.
Below are 21 of my favorite Xbox One custom controllers found at Amazon. These bad boys make awesome collectibles to impress your buddies, but I find the make the best Xbox One gifts for gamers.
"What better way to tell your friend you know them, than with a controller that fits their personality"
Which one is the best?…well i guess that depends on your graphic preferences. Really it's up to to decide and let me know which ones you like in comments. I have listed them in order that i rank them, based strictly on the way they look!!
Check out these Xbox One Custom Controllers at Amazon
So that's the list of the best Xbox 1 custom controllers on Amazon. 21 total hand picked from a wide variety available. If you are looking for a way to charge them up, check out the Top 5 Xbox One Controller Chargers.
Now as you may now…I don't use a controller to much, because I am heavy with the Xbox One steering wheels, however these may make me want to play a bit more FPS.
Do you own an Xbox One Custom controller, if so which one do you have? What's your favorite controller from the list above? Let me know in the comments section.