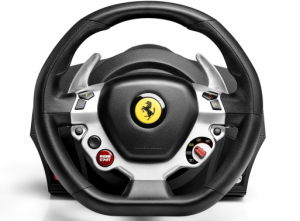 I often get asked about my Forza 5 settings for the Thrustmaster TX steering wheel. So here it is, just a quick post giving you the exact settings I use for Forza Motorsport 5 on Xbox One with a Thrustmaster wheel.
The games doesn't offer you a lot of customization options for your wheel, like Project Cars does, but the racing experience and simulation experience is awesome. So let's get into it…
Forza 5 Race Settings For The Thrustmaster TX Xbox Racing Wheel
These are the settings I use for my setup with Thrustmaster TX wheel base and T3PA Pro Pedals. If you are using something different, like the factory TX pedals, you may need to make some adjustments. Hopefully these can start you off with a good baseline measurement to get started.
Steering Wheel Settings:
Steering Axis Deadzone Inside: 0
Steering Axis Deadzone Outside: 100
Acceleration Axis Deadzone Inside: 0
Acceleration Axis Deadzone Outside: 100
Deceleration Axis Deadzone Inside: 5
Deceleration Axis Deadzone Outside: 100
Clutch Axis Deadzone Inside: 0
Clutch Axis Deadzone Outside: 20
Handbrake Axis Deadzone Inside: 10
Handbrake Axis Deadzone Outside: 100
Force Feedback Scale: 85
Wheel Rotation: Varies by car
These are the setting that I always use and I find that the help me get faster lap times in Forza. I actually originally discovered them watching this video of Darin from Inside Sim Racing:
If you own the Thrustmaster wheel in the T-series, you may also want to check out the other Thrustmaster add-on rims. They really offer a nice upgrade to most Thrustmaster rims.
Check out These Thrustmaster Products At Amazon
What settings do you like on Forza Motorsport 5? Let me know in the comments below.