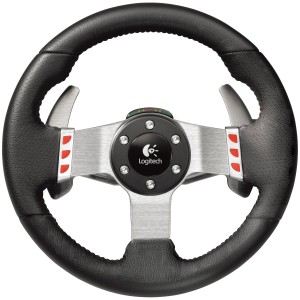 Logitech G27 Racing Wheel Review

Product Review – Logitech G27

Logitech G29 Driving Force Racing Wheel vs Logitech G27 Force Feedback Wheel – Full Comparison

Logitech G27 Review

Logitech G29 Review and Compared to G27

Logitech G27 Racing Wheel Overview – Newegg TV

Logitech G27 Force Feedback Racing wheel review with Race-On

Logitech G27 and iRacing – Demo and Real Life Comparison

Logitech G27 Review & Impressions

Logitech G25 review & Force Feedback Demonstration
Amazon Price:
$999.95
(as of July 24, 2017 12:37 am –
The Logitech G27 Racing Wheel is a simulation grade racing wheel and made to provide an immersive racing experience on the PC and PlayStation 3.
The G27 is built like a tank and comes standard with a 3 pedal set, force feedback, an 11 inch leather wrapped rim, and 6 speed manual shifter with a push in reverse. This steering wheel delivers a great racing experience and continues to be a popular mid priced racing wheel.
Logitech has been making gaming steering wheels and gaming peripherals for a long time, but this by far is one of their BEST items ever. Even despite the fact they have released newer racing wheels like the G29 for PS4 and the G920 for Xbox One, the G27 still holds it's own as the classic racing wheel model that all new products get compared against.
What makes the G27 really standout against the new products is that comes standard with a 3 pedal set and a shifter, while none of the newer racing wheels offer that for the price of the G27.
Lets review the specs on the G27…
Logitech G27 Specs
Dual-motor force feedback mechanism, Helical gearing, metal paddle shifter, 6 speed shifter w/ push-down reverse, RPM/shift indicator LEDs that integrates with racing games, 11-Inch leather-wrapped rim, Steel gas, brake, and clutch pedals.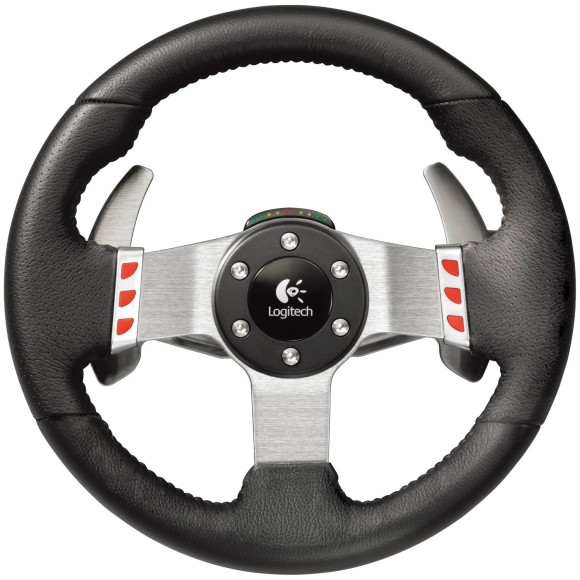 Pros vs. Cons
Pros:
Force feedback motor is smooth and accurate
Does a good job of simulating traction loss
The RPM light integrates with racing games and tells you when to shift
Leather wrapped rim feels like its from a high performance sports car
Steel plates on the pedal faces
Comes standard with 3 pedals and a shifter
Cons:
Pedals are 8 bit resolution and leaves a bit to be desired in accuracy
The paddle shifters are ok but a downgrade from the Logitech G25
The clutch pedal has a large amount of throw (need to press all the way down to engage
The push in reverse, would be better as a 7th gear
G27 Compatibility
Alot of people as if this Racing wheel is compatible with the PS4 and Xbox One. Natively it is not…meaning you can just hook it up to the new consoles and race. To use the Logitech G27 with a new console you need an adapter like the CronusMax in order to make the wheel work. The only draw back to using an adapter is that the force feedback will no longer work, but the wheel itself will work with the game.
My personal advise if you own a G27, then perhaps an adapter is worth it. If you are are purchasing a G27 for the Xbox One or PS4, its much better to get the new models G29 for PS4 or the G920 for Xbox One.
I do think the Logitech G27 is still a solid choice though for PS3 and PC.
Mounting The Racing Wheel
While the G27 does have two clamps on the front of the wheel base for mounting on a table or desk, there are better options for wheel mounting. Most of the big name brands of racing seats and wheel stands support the Logitech G27 simply because it is one of the best selling wheels of all time.
For a racing seat you can checkout the Play Seat Evolution and the Open Wheeler Racing Seat, which come pre drilled with mounting holes for the G27. If you are in the market for a wheel stand then the Wheel Stand Pro is the best choice in my opinion.
Logitech G27 Steering Wheel is a Best Seller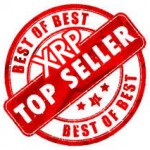 This steering wheel is one of the most well reviewed and popular wheels on Amazon with over 1200 reviews, a 4.5 star rating, and a listing on Amazon's best seller list. There are many sim racers who regard the Logitech G27 as one of the best racing wheels of all time because of it's force feedback and excellent price point.There have been a lot of wheels that have hit the market since the release of the Logitech G27, but this wheel continues to sell despite the fact that it does not work natively on the PS$ or Xbox One.
Technical Details
Mac Compatible
Minimum RAM: 256 MB
My Review of the Logitech G27
Overall I think the Logitech G27 is still a great wheel even though it was released in 2009.
I recently played Project Cars on the PC with a G27 and it was great. The force feedback was smooth, quiet, and strong.
While I did find there to be a lot of throw in the clutch, I thought the pedals felt pretty good and the brake did a decent job of simulating brake pressure. For me the shifter leaves a bit to be desired, but the wheel itself is what makes the G27 so special. Simply put the wheel rim and motor that power this racing wheel are were all of the value lies in the Logitech G27.
Compared to the newer releases from Logitech I think the G27 holds it's own. If you are looking for a wheel for your PC or a Playstation 3, the G27 is still a solid go to wheel for sim racers looking for a mid priced option.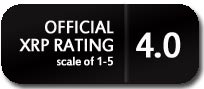 Check Out The Logitech G27 and Related Products at Amazon
Customer Reviews
Good, but in desperate need of an overhaul.
388 people found this helpful.
I had the privilege of owning its predecessor several years ago, the G25, so I knew mostly what to expect with this new G27, but I was still expecting so much more from Logitech. The expression "Logitech giveth and Logitech taketh away" seems most pertinent.
Great addition to PS3
kid loves it. he plays that gran turismo game for hours on end. Steering wheel is well constructed and pedals/shifter look real.
Love this wheel
3 people found this helpful.
Love this wheel! It's not the best on the market, not by a long shot, but it's not meant to be. I've built a simulator seat with this, and its everything my teenage self wanted. There are pedal mods to make the pedals feel more realistic, but they feel fine really. The force feedback is strong, accurate, and quiet. This version doesn't have the sequential shift mode for the H-shifter but that doesn't matter much to me. The build quality is exquisite for what your paying. The steering wheel is wrapped metal, feels very good. The buttons are in intuitive spots that don't require reaching. The paddles are also metal and feel nice with a tactile click to let you know they are pressed. Almost all of the major games support the wheel. Absolutely recommend it for anyone interested in stepping their game up without spending thousands on a super sim seat.
Best deal for the price
When it comes to simulator gear, everything begins to get stupid expensive. This wheel bridges the gap between junk from goodwill and a thousand dollar custom setup, and it does it for a reasonable price. It's performance is excellent, and the software makes it infinitely adjustable to however you want it to work.
glad I jumped on
One person found this helpful.
This wheel is badazz. I got this for $191 right around Christmas.
Five Stars
Wish they still produced them for people who don't want or need the new version
My 15yr old loves it!!
Well worth the money for the authentic experience. My son has asked for this racing wheel for some time now. I finally broke down and bought it for Christmas this year (2012). All the kids of various ages that come to my house can't seem to stop playing the games associated with the G27. It rocks!