Logitech G29 Review and Compared to G27

Logitech G29 Unboxing and In Depth Look – PS4

Logitech G29 Racing Wheel Review

Logitech G29 Driving Force Racing Wheel For PS4/PC – Full Review

Logitech G29 Racing Wheel Review

Logitech G29 Driving Force Racing Wheel Review

TRYING OUT MY NEW RACING WHEEL!

Logitech G29 Driving Force Racing Wheel vs Logitech G27 Force Feedback Wheel – Full Comparison

Logitech G29 & G920 First Impressions from E3 2015

Logitech G29 Driving Force Racing Wheel vs Thrustmaster T300RS – Full Comparison

Playstation 4 Racing Wheel Buyers Guide by Inside Sim Racing
Amazon Price:
$399.99
$262.00
You save:
$137.99 (34%).
(as of July 24, 2017 8:38 pm –
The definitive sim racing wheel for PlayStation 4 and PlayStation 3. The Logitech G29 Driving Force Racing Wheel is designed for the most recent racing game titles for your PlayStation 4 or PlayStation 3 console. You can also add the Driving Force Shifter (sold separately) to your wheel for manual shifting. The G29 features dual-motor force feedback, helical gearing, on-wheel controls and responsive pedals.
Logitech Racing Wheels
This is not the first wheel made by Logitech (they have been making wheels for years), but the G29 is the first steering wheel they have made for PlayStation 4 compatibility. The other wheel they made recently was the G920 for the Xbox One.
6 years ago Logitech proclaimed they were done with racing peripherals. This wheel is a follow up to the Logitech G27 wheel, which is one of the highest rated and best selling steering wheels on Amazon (4.5 stars and 1200 customer reviews).
Let's get into the Logitech G29 Driving Force Steering Wheel. This is a mid to high end driving wheel for anyone looking for a simulated and immersive racing experience. The price point is set competitively based on the features and other similar racing wheels on the market.
G29 Specs:
3 Stainless Steel pedals (gas, brake, clutch), Hand stitched leather wheel, duel motor force feedback, semi- automatic paddle shifters, d-pad and on wheel controls, and helical gearing.
What you get in the box is the wheel and pedals, a USB power supply, and the user manuals.
Similar To The G27 Steering Wheel
The wheel itself looks completely different than the G27 and of course it doesn't have the shifter, but pedal set feels exactly like the Logitech G27. Truth be told the brake pedal is much improved over the G27 version. If you ever owned or played with a Logitech G27, then this wheel offers a similar experience with quality and build.
You can actually use a G27 shifter with this wheel (the shifter will work correctly, but the buttons will be disabled).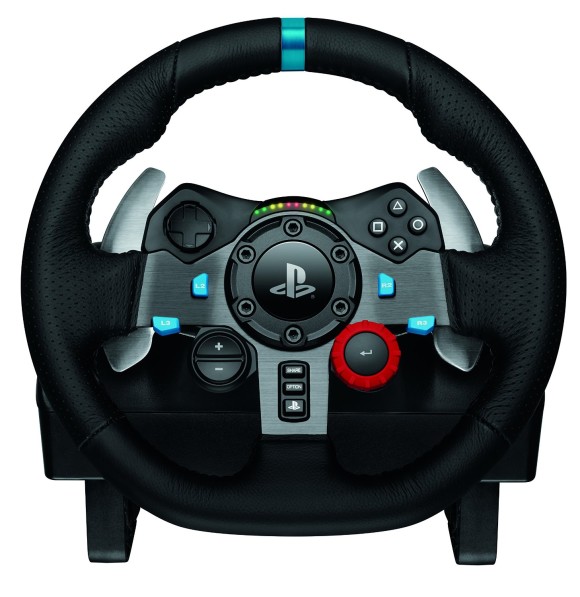 Logitech G29 Racing Wheel Review
Logitech G29 Pros:
Built tough: Made with durable solid steel ball bearings
Quality materials: Stainless steel pedals and hand-stitched leather wheel grip
Dual-motor force feedback: Smooth, quiet, helical gearing – decent force feedback
Easy to access controls: D-pad, paddle shifters, and console buttons
Simulation: Delivers a solid simulation experience
PS4 compatible: Works with the latest Play Station console
Logitech G29 Cons:
Pedals: The pedals are only 8 bit resolution and brake feels real stiff
Looks: This racing wheel looks a bit toyish
Compatibility
The G29 is compatible on the Playstation 3 and Play Station 4 only. No Xbox One and no PC compatibility
Mounting The Wheel
The G29 comes standard with table clamps for securing your wheel to a table or desk. The only downside to desk clamping is that there is nothing to help your pedals in place. The G29 pedals do hold pretty well on a carpet, but mounting on a cockpit or wheel stand is a much better solution.
To mount the G29 racing wheel on a cockpit your best options are the Playseat Evolution or the OpenWheeler Advanced Racing Seat. For Wheel stand options checkout the Wheel Stand Pro.
Logitech G29 Review- Wrap up
While the G29 has it's flaws especially compared to the G920 for Xbox One, this is a decent racing wheel. The one thing that stood out to me is how quite and smooth this wheel is. The Logitech G29 has been heavily reviewed at Amazon and you can see in the G29 reviews below consumers rate it well.
I think the wheel delivers a pretty good simulation experience. I personally think it could feature a bit heavier force feedback and the pedals should be more responsive, but that is my personal preference. I think what bothers meet most about this wheel are the looks, I prefer a wheel that is more of a replica style. The hand stitched leather is a nice touch and feels like a high performance racing wheel in your hands…just doesn't look like one. The nice thing about this set is that comes standard with 3 pedals and you can also pick up the add on shifter.
Logitech has announced though there will be no additional peripherals made for the G29 driving wheels though.
If you are in the market for your first racing wheel for the Playstation then the G29 will make you never want to play with a controller again. I rate this wheel at a solid 3.5 may be even a 3.7.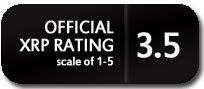 Check Out The Logitech G29 and Related Products at Amazon
Customer Reviews
Great wheel once you mod the brake pedal
216 people found this helpful.
I really like this wheel, though I wish I didn't have to buy it. I already have a Logitech g27 with the shifter that cost quite a bit less than this wheel without the shifter. I realize this isn't a review about the price though, so I'll move on and talk about the wheel.
Very well drivers, you have been warned!
11 people found this helpful.
Omg, this is my 4th wheel and I will never again use those other 3 whether I'm using my ps4 or 3!!!! This is good, very well made… and I am in love with those metal pedals! Such feel!!!! Dirt Rally never felt so good!!!!!☺
This is a great mid-range wheel
15 people found this helpful.
This is a great mid-range wheel. The pedals are a strong point, they have a smooth progressive throw and unique to the Logitech system, they're mounted on a wide, solid base with a carpet grabber, rendering them usable without a simpit.
Love it.
8 people found this helpful.
I play America Truck Simulator with this on PC. Love it.
Hard to rival at this price range,
6 people found this helpful.
Great product for the price. I currently have Fanatec Porsche Turbo S wheel setup and while the steering feel is great, its pedal is an absolute crap. On the other hand, Logitech offers a good amount of resistance on all of its pedals. While the steering feel may be a step behind that of Turbo S in its stock form, users should be able to adjust it according to their taste using Logitech Gaming Software.
Awesome wheel with force feedback
9 people found this helpful.
So i bought this to work in conjunction with Project cars in Oculus Rift VR.
Great wheel
3 people found this helpful.
This is a really cool racing wheel. While I haven't used any other brands, this being my first, I can't compare it to anything else. Using it in games like F1 2016, Dirt Rally and Project cars, creates for a very solid experience with plenty of feedback.
now you too can be fast and furious
8 people found this helpful.
This matched up easily and properly with my G920 racing wheel. its solid construction, the clamps work well for budget desk setups, it has mounting holes for higher end bolt down attachments.
FM6 settings and review for G920
58 people found this helpful.
I have had my G920 wheel for 11 months now and have logged about 33,xxx miles on Forza Motorsports 6 with it. It is a great product but it does require some common sense to get it properly configured for optimal operations. The brake pedal is stiff, which is great however it needs to be compensated for by adjusting your in game settings. On FM6 I run my deceleration outside dead zone at 70 and it works phenomenally.
Feels like I'm at the track.
One person found this helpful.
All I can say is wow!! There are times I have to look around the room to see if I'm still there and not sitting in a race car on the track. The sensitivity is amazing that when I am racing and my car starts to fishtail, I almost feel like I'm moving sideways myself. You feel every bump imaginable. I did a lot of research before ordering the Logitech and compared this to the Thrustmaster racing wheel. My brother has the Thrustmaster and I was impressed the moment I tried it but I decided to go with the Logitech because of the price difference. Well, that is the only difference I can see, the Logitech is as responsive and maybe even more so. You won't be disappointed.