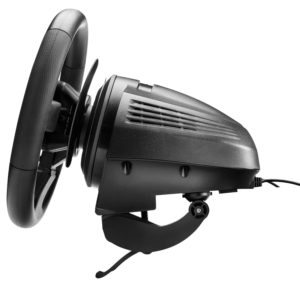 When I first got the TMX from Thrustmaster I wasn't entirely prepared for a wheel that was table clamp only. Both my racing rig and my wheel stand have wheel plates that are just too thin for a clamp. So how do we solve this….
If you are looking to mount your Thrustmaster TMX or T150 on a sim racing seat or a wheel stand you have three options:
DIY Mod
A Wheel Stand that takes a clamp
A Custom Ricmotech Mod
DIY Mod for Mounting a TMX or T150
First it's important to understand how the table clamp works. Take a look at the picture below (the wheel is upside down so you can see better). Notice how the front of the wheel extends past the table and then the table sits in a grove on the wheelbase.
You can take hard cover book or piece of wood about 1 inch think and put it on top of the wheel plate on your cockpit or wheel stand and then clamp the wheel to it. To get the book or wood to be more grippy and match the look of your wheel you can get a can a spray can of black rubber coating. This will help the bottom of the wheelbase grip the wheel plate. I am not saying it's great…I'm just saying it works.
The problem you will find is that between the force feedback and vibration you still will continually need to re-tighten the clamp as it doesn't keep the wheel stable over the long haul.
A Wheel Stand That Takes a Table Clamp
While the Ulitmate Wheel Stand is not my favorite wheel stand, it happens to be the best wheel stand solution for the TMX and T150 wheels. This stand is designed for wheelbases that use a table clamp.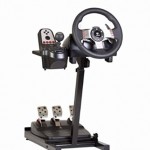 The wheel plate doesn't have any holes in it. It's basically a table top on a stand. The wheelbase will sit nicely on it just like a table and you can clamp it down…much sturdier than my DIY solution above. Another nice thing about this stand is that it will hold your pedals in place and you can adjust the height and angle of your wheel. There aren't many other table clamp wheel stands that I would recommend so your options are limited. Thise gets the job done though for the TMX and T150. You can read more about the Ultimate Wheel Stand Here.
Ricmotech Custom Mount Adapter for TMX and T150 Wheels
This is an inexpensive mod you can get from Ricmotech that will allow you to hard mount your TMX or T150 wheelbase onto a cockpit or wheel stand. The adapter screws in to the bottom of your wheelbase, where the table clamp would normally screw in. On the bottom of the adapter there are pre-drilled holes which allow you to hard mount your wheel just like a Thrustmaster TX or T300.
Below you can see the Ricmotech adapter attached to the bottom of a T150. It fits perfectly into the bottom grooves of your wheel base and makes the wheelbase sit flat on a surface.
If you want to read more about the TMX/T150 Hard Mount Adapter, go here.
No more adjusting the table clamp and re-tightening between races, you can now hard mount your wheel…Problem Solved! The adapter is built out of strong industrial polyethylene, allows you to mount on most stands and rigs that have pre-drilled holes for Thrustmaster, and it comes with all the screws and instructions.
Best Solution to Hard Mount a Thrustmaster TMX or T150
While the Ultimate Wheel Stand is an easy solution, it still involves using the table clamp which is not very stable. In that regards you are best to take a look at the adapter from Ricmotech. It's inexpensive, easy to attach, and it works. Once you have the adapter in place it opens your choices up to almost any wheel stand or racing cockpit that you want. You can get the Ricmotech adapter here.
Related Products at Amazon
Do you own a TMX or T150? Do you have a custom solution that makes the table clamp more stable or allows you to hard mount your wheel? Let me know in the comments below.