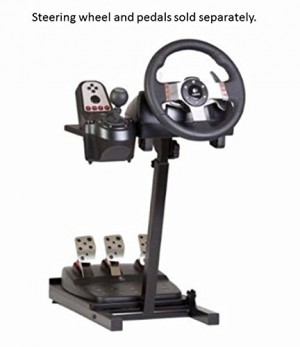 Steering wheel stands are a great alternative to clamping your racing wheel on a table? They are also much smaller and less expensive than buying a full racing cockpit.
The Ultimate Steering Wheel Stand has been around for a while and originally this was the stand of choice by most people with a Logitech G27/G25 racing wheel. I recently had a chance to take one for a test drive with a Thrustmaster TX F458 hooked up to it.
All in all this stand will be an upgrade of you have had your racing wheel clamped down on a table. This stand will provide you stability under strong force feedback, a way to stop your pedals from sliding forward, and it will put your body into a racing position just like driving a car.
The Ultimate Steering Wheel Racing Game Stand, is very similar to the Wheel Stand Pro and is made to work with any chair, couch, or gaming seat. There are a few main differences between these two racing wheel stands which I will address later in this review.
A Well Built Racing Wheel Stand for the Price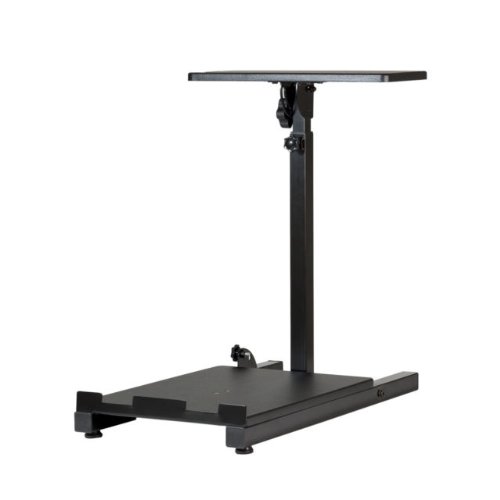 The Ultimate Wheel Stand is made of wood and powder coated metal. It weighs just under 14 lbs, is about 27 inches high. The platform, for the pedals is 17.5 X 12.5, but all in all with the supports it's 25 inches in length. Basically the Piping and supports are metal and the Wheel support and pedal support platforms are wood.
Under strong force feedback with a racing wheel attached the stand feels pretty sturdy.
Folds Up To Fit in Tight Places
The compactness and foldability are the BEST aspects of this wheel stand. This thing can under your couch if you have a 6 inch clearance. Of course to do that you need to unhook your wheel and pedals, but nonetheless that is a big time space saver.
"Folding it up and unfolding it are straight forward and don't require any tools, all you need to do is unclamp your wheel"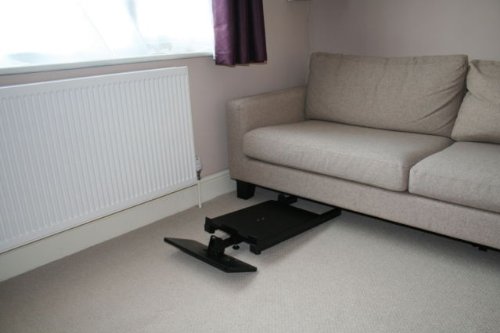 Mounting the Wheel and Pedals No Tools Required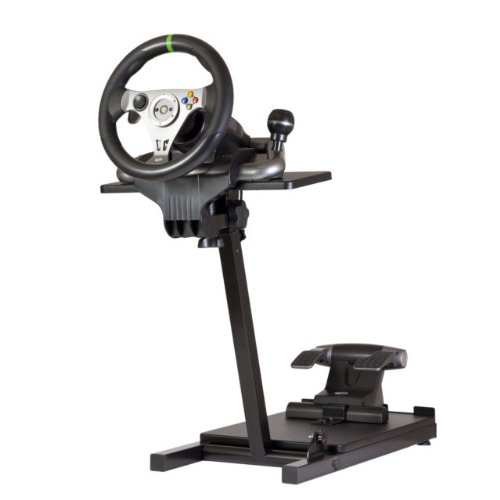 What makes this stand extremely different than other driving wheel stand models is that it doesn't have any pre-drilled holes for mounting your wheel. That's cause you do not need them. This stand is sort of like an elevated table, you just clamp your wheel on it with the table clamp for your wheel.
Even the pedal don't need to be mounted. You just lay them on the pedal platform and that is it. There is a metal backstop on the pedal platform that keeps your pedals from sliding forward while you are jamming on the pedals.
This makes this racing wheel stand ideal for products like the Thrustmaster TMX,because it is table clamp only and requires a special adapter for to attach to other stands.
It Puts Your Body in a Perfect Driving Position
Racing Simulator Cockpits and wheel stand are much better than clamping your wheel to a table simply because they put your body in a perfect driving position. Being in a driving position is what makes a racing game immersive.
The Ultimate Racing Game Steering Wheel Stand, definitely accomplishes this. You may be looking at it thinking the center pole is going to be in the way of your legs, but it's not. The pole sits just past the inside of your knees and you won't even notice it while you are racing.
It even offers a good amount of adjustability for you to tilt the wheel forward. The stand can also be made to accommodate a small child.
Compatible with Multiple Steering Wheels
The Ultimate Wheel Stand will fit the following wheels:
I don't think this stand will work with The Hori Racing Wheel, because that wheel mounts with suction cups and I don't believe they will grip onto the wheel platform.
Pretty much any wheel that has a table clamp can work with this wheel stand. There is also a shifter plate that you can switch around onto either side of your racing wheel. The only constraint you would have is the wires for your shifter being long enough to reach your inputs, depending on your setup.
The Ultimate Steering Wheel Stand Vs the Wheel Stand Pro
There are a few key differences between this two driving wheel stands. The Ultimate Stand is certainly less expensive and folds up to a smaller size, but it is not as sturdy, doesn't strap your pedals down, and only supports wheels that have table clamps.
Also when you pack up the Ultimate Wheel Stand, you need to remove your racing wheel and pedals from it. That means that every time you take your wheel out, you need to hook everything back up. Hooking your wheel back up is quick and easy, but I thought it was worth mentioning.
So in those aspects I think the Wheel Stand Pro is a better product.
A Few Limitations with the Ultimate Stand
If you are using this for playing games on a PC, the wheel base will align directly with the top of your desk, you won't be able to get your wheel close to your monitor.
The titling mechanism for moving your steering wheel towards you is locked by turning a knob. If you are using a racing wheel with a heavy wheel base, then the knob will not hold the weight of the wheel when titled at angles passed a few degrees.
You will really have to over tighten the turning knob to support a heavier wheel and that may lead to stripping out the threading. You can imagine in the picture on the right of how a heavy wheel might affect this wheel stand.
It also does not contain a mechanism to lock your pedals into place, although the backstop does a good job of keeping them from sliding.
The Ultimate Racing Game Steering Wheel Stand Review Wrap Up
For the price they are asking for it, The Ultimate Wheel Stand is a great product. Sure there are a few limitations, but…
"if you are looking for an inexpensive simple solution that stores away extremely compact then it will be hard to find something better than this"
Having this racing wheel stand will IMMEDIATELY increase your racing immersion experience especially if you have been clamping your wheel on to a table. Given the price of this it's pretty easy to rate it 4 stars.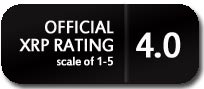 Check Out Racing Wheel Stands at Amazon
The Ultimate Steering Wheel Racing Game Stand
Rated
4
/5 based on
1
review
What are you currently mounting your racing wheel on now? Let me know about your experience in the comments below.