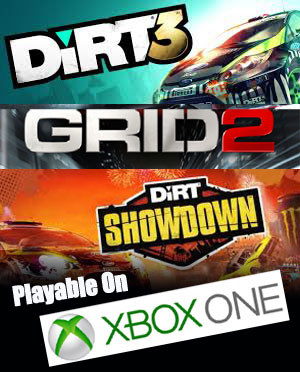 If you are an Xbox racing game addict like myself then you be curious which racing game titles from the Xbox 360 are available for backwards compatibility. As of March 22, 2016 three racing games are ready to go for you to download or load in the hard disk.
Forza Horizon, Dirt 3, Dirt Showdown, and Grid 2 are all now available for play. Horizon, DiRT 3, and Grid 2 are featured on our Top 25 Xbox 360 Racing Games list we posted in 2015.
If you owned these games previously then they will show up in your Xbox games as ready for download. If not you can purchase them through digital download in the Xbox Store or through Amazon.
Checkout the videos below. Each is the original review from IGN and gives you some good info on what to expect from each game.
Forza Horizon
Forza Horizon is an innovative open world racing game that takes please in Colorado, USA. We ranked this game at #12 on our list of the Top 25 Racing Games for Xbox 360.
DiRT 3 review
DiRT 3 is a great game, lots of fun fun with rally cars, and driving in crazy weather. We ranked this game at #6 on our list of Top 25 Xbox 360 Racing Games.
Grid 2
Grid 2 is a decent racing title. It's a bit more arcadey then sim, but has decent driving physics with a focus on drifting. We ranked this game at #24 on our list of Top 25 Xbox 360 Racing Games
DiRT Showdown
DiRT Showdown is an aracde style racer with lots of crashes and effects. It plays more like a demoloition derby.
Burnout Paradise
In Burnout Paradise you shred your way across 250+ miles of open road. Game features many jumps and stunts. We ranked this game at #8 on our list of Top 25 Xbox 360 Racing Games.
Wheel Support?
*UPDATE*
Announced in August of 2016 some back compatible games will offer racing wheel support. Now that doesnt mean all future Xbox 360 backwards compatible racing games will have support, but at least it is now confirmed that Forza Horizon, Dirt 3, Dirt Showdown, and Grid 2 all will be supported for Xbox one licensed wheels. To my knowledge this is the first time we have seen games get upgraded in backwards compatibility. This may open the door for other games to add on Xbox One peripherals. If you were thinking of getting a wheel, to play these games…checkout this entry level wheel.
Where To Buy The Games
Your best bet for the best price on these is probably a direct download from the Xbox Store or finding a used copy at your local game retailer. You should be able to get these games for less than $25 either used or as a digital download. If you are looking for more information on backwards-compatibility you can checkout Microsoft's Backwards Compatibility FAQ.
Other Racing Titles At Amazon
Will you be trying any of these Xbox 360 titles on your Xbox One?