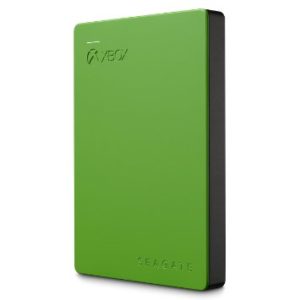 Seagate 600 Desktop Solid State Hybrid Drives vs SSD vs HDD – Showdown

Best Hard Drive for PlayStation 4 & Xbox One!! – 2017 Review

Unboxing & Review: Seagate 2TB Portable 2.5 inch External Hard Drive

10 Best External Hard Drives 2016

Make your Xbox One FASTER with the Transcend ESD400 Portable SSD!

What is the Best Hard Drive?

Best Hard Drive to use

Xbox One SSD Update: Make Your Xbox One FASTER!

Best USB 3.0 External Hard Drive: WD My Passport Ultra Review

SSD vs. HDD vs. Seagate Hybrid SSHD
Amazon Price:
$80.00
$79.99
You save:
$0.01 (%).
(as of July 24, 2017 8:35 pm –
Nowadays 500 GB just ain't cutting for an Xbox One hard drive. We need more disk space so we can store more games and the only way to do that is by adding an external hard drive.
The Seagate 2TB Game Drive for Xbox was created exclusively for Xbox One and Xbox 360. It is super slim, can fit right in your pocket, and can hold about 50 games of so. Of course you could also store music and videos on it as well.
The best part about the Seagate 2TB Game Drive, or any external hard drive, is that you can free up considerable space on your Xbox, reduce the amount of load times for games (because the RPM's of the drive are faster than the Xbox), and you can take your external drive with you to a friends house.
The Seagate Drive is Easy To Install
The Seagate External Drive has plug-and-play capability offers you instantaneous power up. Your Xbox will automatically detect your drive and walks you through the setup process. It only takes a few minutes.
When you first install it you can put music or videos right on the drive. To install games though you need to format the drive first. I would advise doing this as the first thing you do when you get it.
When you install the drive you will notice you have 1.8 TB of free space and not 2 TB. This is common on all external drives because there are some system files that take up a little bit of space.
Moving Games From Your Hard Drive to the Seagate Drive is Easy
If you have games on your Xbox hard drive and you want to shift them over to the Seagate Game Drive for Xbox its pretty easy. All you need to do is have your Seagate drive plugged in, go to MANAGE GAMES, and then select MOVE.
From there you just need to select your Seagate drive and then the game will move from your Xbox hard drive over to your Seagate external drive.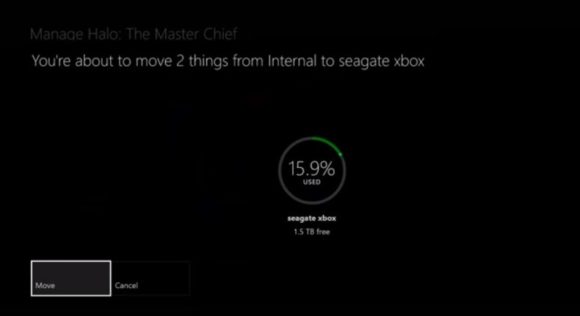 Note: Large games take a little while to move. Don't expect instant results.
Take Your Games to Go
You can simply unplug the Seagate Video game Drive and take your whole game library to your friends house. All you need to do is plug in your drive to their USB port and then sign in on their Xbox. Once you do that you can access the games on the drive.
Compatible With Xbox One and Xbox 360
The Seagate Game Drive works with both Xbox One and Xbox 360. It plugs straight into any USB port in your console.
Why I Bought The Seagate Game Drive
At the time my internal Xbox hard drive was at about 65% capacity…mostly filled with huge games like Forza 5, Forza 6, and Project Cars. I needed something to fee up some space. I did research and was considering the Seagate drive and the WD 2TB My Passport X for Xbox One Portable External Hard Drive.
Both drives looked promising and had all 5 Star reviews on Amazon…so to be honest I picked the Seagate because it was exclusively made for the Xbox and it had over 400 5 star reviews. Overall I am extremely happy with it, it works perfectly as advertised, and I have freed up so much space on my internal Xbox drive.
It did make my games load significantly faster also. For example, normally Forza 6 takes roughly 25 seconds to load a race, now a race loads in about 15 seconds or so when I play the game directly from the Seagate drive.
There are other options for larger space if you need it. I ended up getting the 2TB drive, but there is also a 4TB version.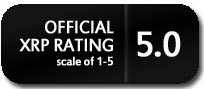 Check Out Xbox One Hard Drives at Amazon
Customer Reviews
Buy if you have a lot of games
7 people found this helpful.
Really good I bought it for my xbox one it says it hold 50plus games but I think that's only true if the game take little memory my xbox is a 500gb and I have six games on it and it's 90% full the games on it are GTA V, Halo collection (1,2,3,3 odst,4) halo 5, gears of wars ultimate edition, black ops 3, dying light and that's just on my xbox but thanks to game drive I have fallout 3, the old gears of war 1,2,3,and judgment and just cause 2 but I still have 6 more games to download I'll update to see how much it holds
Plug in, click okay, have space!! Easy
8 people found this helpful.
Arrived exactly as it was shown and all parts worked. Extremely easy to configure with the Xbox One and quick. The down side is I feel the read/write speeds are kinda slow. The read/write speeds are also not posted anywhere on the page for the device. The only reason i bring that up is loading games from the hard drive seem to take longer.
I highly recommend this product not cause it was only designed for …
84 people found this helpful.
I recently purchased this product and delivered in two days if you sign up to Prime Amazon trial anyways this Seagate exclusive 2TB external hard drive really does the job on expanding that extra storage you need on your xbox gaming console. It works very well at a speed of 5,400 rpm. I got to say that within 2 to 3 minutes you'll be able to complete a transfer of a 21GB game size. I highly recommend this product not cause it was only designed for xbox, but it's performance.
I love this thing.
2 people found this helpful.
I love this thing. If you struggle with the limited memory on the console and have to constantly juggle the games you have installed, pick one of these up. I mean it never fails that as soon as you decide to delete a game in order to make space for another, you want to play that deleted game. And if you download your games…good grief! Something like Doom is 70+ GB. Crazy.
Does its job
2 people found this helpful.
Not a whole lot to say here. It's an external hard drive I used connected to my Xbox one. Load times seem to have slightly improved, transferring everything over from the internal hard drive was fairly quick and quite easy. I could've saved some money and purchased another drive, but I rather like the lime green color. (It's easier to spot in a world of black plastic) The 2tb capacity holds a lot more than I thought it would as well. I have well over 50 games installed, and I still have over 900gb free. Perfectly happy with this purchase, and will be ordering another.
Extra 2T for under $100, you can't beat that deal!
One person found this helpful.
This is probably the simplest must do mod for your Xbox one. Well, it's not really a mod I recon but it increases your storage composite by 2T! I bought this for our son's 1T Xbox One. Now it's basically a 3T Xbox One! Not bad for $100! It's plug and play, you may have to format it but our son has never had an external hard drive and was able to connect it by himself, it's easy!
Easy hook up
3 people found this helpful.
Great storage unit. I use it for my Xbox one, I plugged it in and it synced automatically. My Xbox kept having problems and was super slow. After putting my games on this my Xbox is lightning fast again. It is very sleek and I never notice it on top of my counsel.
Finally got it to work and does so great but was very annoyed at first
2 people found this helpful.
Had some issues getting it to initialize which is literally why I bought this for a slight markup over literally the same drive sans xbone branding. Finally got it to work and does so great but was very annoyed at first. It was definitely not plug and play for me. Could not manually install and would not auto initialize.
A must have for xvox one owners
One person found this helpful.
A must have. The xbox one with it's software and up dates will use about half the hard drive it comes with. Leaving only about enough room for 7-8 games. This hard drive add on will give you room for another 30-40. Works great. I bought two of them, one for my son and one for me.
Get The Seagate 2TB Game Drive for Xbox
Have you tried an external drive with your X Box One? If so let me know what your experience is and which external drive you use in the comments below.
Seagate 2TB Game Drive for Xbox
Rated
5
/5 based on
1
review