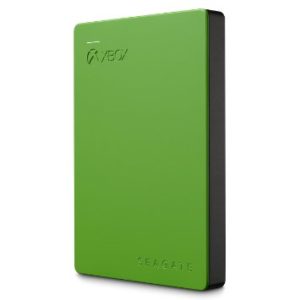 Best Hard Drive for PlayStation 4 & Xbox One!! – 2018 Review

Seagate Game Drive for the Xbox Review

Don't Buy The Wrong Hard Drive!

Seagate Firecuda 2TB Review: The Ultimate PS4 Upgrade?

PS4 External Hard Drive – Is it any good?

Seagate 600 Desktop Solid State Hybrid Drives vs SSD vs HDD – Showdown

TOP 5: Best External Hard Drive

Western Digital My Passport X for Gamers / XBox One : REVIEW

#0144 – Seagate FireCuda 2TB SSHD Review + Real World Tests

Best Hard drive Upgrade in 2017! | Seagate Ironwolf 10TB Hard Drive Review
Amazon Price:
$86.02
$86.02
(as of February 24, 2018 4:05 pm –
Nowadays 500 GB just ain't cutting for an Xbox One hard drive. We need more disk space so we can store more games and the only way to do that is by adding an external hard drive.
The Seagate 2TB Game Drive for Xbox was created exclusively for Xbox One and Xbox 360. It is super slim, can fit right in your pocket, and can hold about 50 games of so. Of course you could also store music and videos on it as well.
The best part about the Seagate 2TB Game Drive, or any external hard drive, is that you can free up considerable space on your Xbox, reduce the amount of load times for games (because the RPM's of the drive are faster than the Xbox), and you can take your external drive with you to a friends house.
The Seagate Drive is Easy To Install
The Seagate External Drive has plug-and-play capability offers you instantaneous power up. Your Xbox will automatically detect your drive and walks you through the setup process. It only takes a few minutes.
When you first install it you can put music or videos right on the drive. To install games though you need to format the drive first. I would advise doing this as the first thing you do when you get it.
When you install the drive you will notice you have 1.8 TB of free space and not 2 TB. This is common on all external drives because there are some system files that take up a little bit of space.
Moving Games From Your Hard Drive to the Seagate Drive is Easy
If you have games on your Xbox hard drive and you want to shift them over to the Seagate Game Drive for Xbox its pretty easy. All you need to do is have your Seagate drive plugged in, go to MANAGE GAMES, and then select MOVE.
From there you just need to select your Seagate drive and then the game will move from your Xbox hard drive over to your Seagate external drive.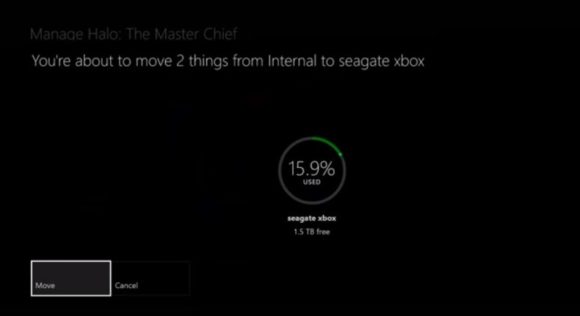 Note: Large games take a little while to move. Don't expect instant results.
Take Your Games to Go
You can simply unplug the Seagate Video game Drive and take your whole game library to your friends house. All you need to do is plug in your drive to their USB port and then sign in on their Xbox. Once you do that you can access the games on the drive.
Compatible With Xbox One and Xbox 360
The Seagate Game Drive works with both Xbox One and Xbox 360. It plugs straight into any USB port in your console.
Why I Bought The Seagate Game Drive
At the time my internal Xbox hard drive was at about 65% capacity…mostly filled with huge games like Forza 5, Forza 6, and Project Cars. I needed something to fee up some space. I did research and was considering the Seagate drive and the WD 2TB My Passport X for Xbox One Portable External Hard Drive.
Both drives looked promising and had all 5 Star reviews on Amazon…so to be honest I picked the Seagate because it was exclusively made for the Xbox and it had over 400 5 star reviews. Overall I am extremely happy with it, it works perfectly as advertised, and I have freed up so much space on my internal Xbox drive.
It did make my games load significantly faster also. For example, normally Forza 6 takes roughly 25 seconds to load a race, now a race loads in about 15 seconds or so when I play the game directly from the Seagate drive.
There are other options for larger space if you need it. I ended up getting the 2TB drive, but there is also a 4TB version.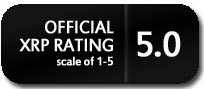 Check Out Xbox One Hard Drives at Amazon
Customer Reviews
Easy hook up
23 people found this helpful.
Great storage unit. I use it for my Xbox one, I plugged it in and it synced automatically. My Xbox kept having problems and was super slow. After putting my games on this my Xbox is lightning fast again. It is very sleek and I never notice it on top of my counsel.
Plug in, click okay, have space!! Easy
22 people found this helpful.
Arrived exactly as it was shown and all parts worked. Extremely easy to configure with the Xbox One and quick. The down side is I feel the read/write speeds are kinda slow. The read/write speeds are also not posted anywhere on the page for the device. The only reason i bring that up is loading games from the hard drive seem to take longer.
Massive amount of storage.
7 people found this helpful.
I connected the Game Hub to my Xbox One S and transfered 48 of my games in preparation of my XBOX 1 X's delivery in November. Once formated you will have 7.2tb of storage. After I transferred my games I was left with 6.2tb remaining. It's somewhat weighty…which I expect and the two USB ports will come in handy for charging controllers or gaming headset. This game hub will future proof you on storage for years to come. Also the Game Hub runs at 7200rpm. I did notice a slight difference with minor increase in load times when playing games. So…if you have a xbox one x preorder. I suggest moving your games to it before you connect this hub to it. It took 4hrs to transfer my 48 games from Xbox One S 2tb internal HDD.
Great price – great product – expand your storage!
3 people found this helpful.
MAKE SURE WHEN YOU PLUG THIS INTO AN XBOX ONE THAT YOU SELECT "USE AS AN EXTERNAL STORAGE DEVICE" AND NOT MEDIA STORAGE. IF YOU DON'T SELECT THIS OR SEE THE PROMPT, GO TO SETTINGS -> STORAGE.
Saved my social life
3 people found this helpful.
Ok this is a game changer, before I purchased this 8 terabyte usb hub my storage was always getting full and I had to keep uninstalling and reinstalling games in order to enjoy them but that was horrible, having to tell my friends "I don't have it installed" or "I have to install it" on games that we enjoyed was horrible I was always embarrassed whenever my friends played a game that I had but I had to uninstall it to install another game we played and I just got sick of it so I decided to splash some cash on this bad boy and let me tell you it was one of the best decisions I've made, this hub is amazing first of all the 8 Terabyte storage is just monumental and the extra 2 usb slots come in handy an unbelievable amount of times for me so this hub is a well worth buy in my opinion.
Great price, faster than internal 1tb
6 people found this helpful.
I've had bad luck with seagate in the past, but decided to give this one a go because the price per gb is great. It's also one of the only dedicated Xbox one externals I could find in sizes bigger than 1 tb. So far, so good! It was formatted in seconds after plugging it in. I transferred several of my larger games over to it right away. Most games load noticeably faster on this than they did on the 1tb internal. Games like forza, madden, halo, and skyrim load a lot faster on this by as much as 20 seconds for a forza race. Time will tell on longevity, but it works flawlessly about a month in. Unless it blows up, I've gotta recommend it!
This thing is awesome – HIGHLY recommended
2 people found this helpful.
I have a two-year old XBOX ONE which is going through some hard drive issues (startup/shutdown, games freezing, etc.).
There's always a BUT..
5 people found this helpful.
I have over 80 of my Xbox games on this hard-drive and still have ~500GB left. It's a solid drive, never any connection problems, and being able to customize the drive to accept game-clips / different names / etc. make it so much better. I gave it a 4/5 though (although I do NOT know if it's a hard-drive issue or specific to this hard-drive itself but certain games will not run correctly on this drive. For example, a game I play called Rainbow Six Siege runs at 60 FPS on Xbox One (constantly), but when this game was on the drive and I began to play it, I started a game with 10 FPS and a terrible ping to the server. I transferred the game back onto my console and it ran at 60 FPS again. Like I said, I don't know if it's just a game that can't be run on a hard-drive or it's just this hard-drive but that's the only thing I have had wrong so far. Great product!
Great value for a 2TB external HDD
One person found this helpful.
I got this because my stock 500GB hard drive fills too fast especially since all games these days are massive in size and must be installed to be played unlike the last generation where you had the option to install the game. The way this seamlessly allows you to merge your internal and external hard drives so that you can organize and maintain your library with ease. Only had this for one day and must say that I am beyond impressed. By the way any external hard drive will work for Xbox One so long as it its as usb 3 and is formatted properly so that you can use it. For the money this is a fantastic value for a 2TB external hard dive and it is very hard to beat so be sure to buy up on this. 2TB is enough for you to do most things for the average gamer. If you require larger than I highly suggest you still stick with Seagate because these are very economical. This review has gone on too long so I bid you all a great day 🙂 (also if you are not a fan of the Halo Brute design just remember that there are USB ports on the backside of the console so you will not be staring at it all the time )
I highly recommend this product not cause it was only designed for …
98 people found this helpful.
I recently purchased this product and delivered in two days if you sign up to Prime Amazon trial anyways this Seagate exclusive 2TB external hard drive really does the job on expanding that extra storage you need on your xbox gaming console. It works very well at a speed of 5,400 rpm. I got to say that within 2 to 3 minutes you'll be able to complete a transfer of a 21GB game size. I highly recommend this product not cause it was only designed for xbox, but it's performance.
Get The Seagate 2TB Game Drive for Xbox
Have you tried an external drive with your X Box One? If so let me know what your experience is and which external drive you use in the comments below.
Seagate 2TB Game Drive for Xbox
Rated
5
/5 based on
1
review