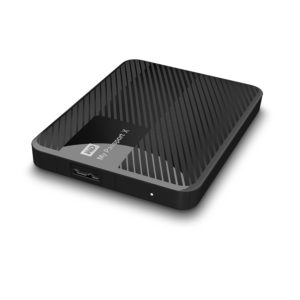 WD My Passport X – 2TB Hard Drive (Optimized For Xbox One/PC Gaming)

How to Increase Xbox One Storage using External Hard Drive

How To Add 2TB to Your Xbox One with Seagate Game Drive!

Xbox One S External Storage problem fix (hint: it's non-compatible USB 3.0 cable)

How to use an external hard drive with Xbox One

Seagate Game Drive for Xbox Review & Impressions [Gaming]

Review – WD My Passport Ultra – PC Mac Xbox one PS4 – Boonana J

Xbox One: Troubles with external drive

Seagate | Xbox One How to Format for Games and Apps

Best Hard Drive for PlayStation 4 & Xbox One!! – 2018 Review
Amazon Price:
$119.99
$79.00
You save:
$40.99 (34%).
(as of February 24, 2018 2:05 pm –
An external hard drive is a necessity these days considering the size of games and the Xbox One only comes with a max 500 GB hard drive. The Western Digital 2TB My Passport X external drive is a GREAT choice to free up space on your Xbox.
The WD My Passport X drive for Xbox One is slightly smaller than the 2TB Xbox One drive by Seagate, but it not as slim. Functionality wise, these two drives are very similar though.
The My Passport X game drive will allow you to free up alot of space on your Xbox internal drive by transferring your games over. An added benefit is that games on you WD external drive will actually load a few seconds faster. This drive is also portable so it's easy to unplug and bring your games over to your friends houses.
The WD My Passport X Drive is Easy To Install
The Western Digital drive has plug-and-play functionality and fast power up.
When you first install it you will need to walk through the formatting process before you can store anything on it.
Also worth noting, when you hook up the drive you will have 1.8 TB of free space and not 2 TB. This is common on all external drives because there are some system files that take up a little bit of space.
Moving Games From Your Hard Drive to the WD is Easy
If you have games on your internal drive taht you want to shift over to the WD My Passport X drive its a really simple process. You just need to have your WD drive plugged in, go to MANAGE GAMES, and then select MOVE.
After that you just select the WD My Passport X Drive and then the selected games will automatically move from your internal hard drive onto your external drive.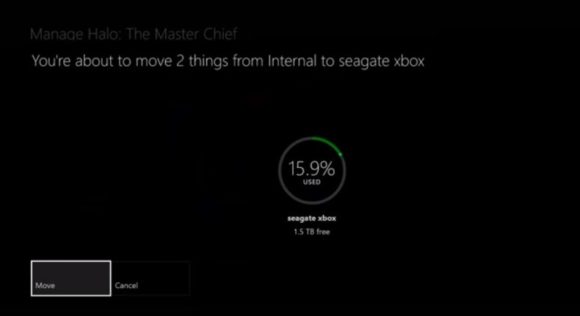 You can store music, videos, or games on your WD drive. If you have a 2TB drive it will hold about 50 games total depending on the size of the games of course.
Note: Large games take a little while to move. Don't expect instant results.
Portable
It's super easy to unplug your drive and take your game library with you to their house. To hook it up to another Xbox you just need to hook it up to the USB drive and sign in. After you sign in, you can access the drive.
WD My Passport X 2TB Drive Review – Wrap Up
This drive is extremely well received at Amazon with 5 stars and over 200 reviews. While I chose to purchase the Seagate 2TB Game drive, I heavily considered this WD drive.
From all of my research which included videos, reading articles, and consumer reviews from what I can tell the Western Digital Drive is a solid product and people love it. People consider this drive to be a lifesaver and you will be hard pressed to find any negative info about it.
If you were in the market for an external hard drive the WD My Passport X is a great option and is on par with it's main competitor the Seagate Game Drive.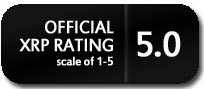 Check Out Xbox One Hard Drives at Amazon
Customer Reviews
Necessity for any Xbox One owners
116 people found this helpful.
Anyone who owns an Xbox One can attest to the irritation of having to install every game you want to play on the hard drive that comes with very limited space. This is the perfect answer to keep adding games to your collection without having to either sweat it out over which games live or die on your hard drive or play russian roulette with your currently installed games to make room for a new one. With 2 TB of space added on, I can comfortable install all my games with plenty of room to spare. This page, and other reviewers, said that after you plugged in the external drive that the Xbox One detected it and put instructions on the screen to follow so you could use it. I did not get this prompting and had to suss out how to manually set up the drive:
Improve your XB1 game experience w/ this Drive
5 people found this helpful.
i hooked this up to the Xbox One and that's about it. my issues came w/ the Xbox – but once they were cleared up, I moved every game that was notoriously slow to this drive and saw marked improvement. so even though this is not an SSD, it is a marked improvement on the default slow drive that comes standard w/ the XB1. you can't go wrong choosing this drive.
Very easy to use
I bought this for my kids Xbox ,because they had to uninstall games all the time if they wanted to play a new game,and now they don't have to do that anymore,for the moment they have all the room they need and then some.Very easy to use,Plug and Play,just follow directions on the screen.Great product,Great seller,Fast shipping,A+++
Easy to install
One person found this helpful.
We had to format it from media to games, but it formatted quickly and we were able to have all of our digitally bought games available instead of deleting other games to play games in our cloud.
Five Stars
One person found this helpful.
Fantastic product!
Four easiest set up and to avoid wasted time, turn on console and then plug in …
One person found this helpful.
For easiest set up and to avoid wasted time, turn on console and then plug in the external drive. It will then request for you to reformat with a pop up. Otherwise you could be having problems finding the storage device through the settings like everybody else is saying.
Interchangeable storage for my Xbox has been nothing but great. I have never had an issue with the …
One person found this helpful.
Interchangeable storage for my Xbox has been nothing but great. I have never had an issue with the drive being detected or activated on either of my Xbox Ones.
Get The WD My Passport X 2TB Drive for Xbox One
Have you tried an external drive as an addition on your Xbox console? If so let me know what your experience is and which external drive you use in the comments below.
WD 2TB My Passport X External Drive for Xbox One
Rated
5
/5 based on
1
review