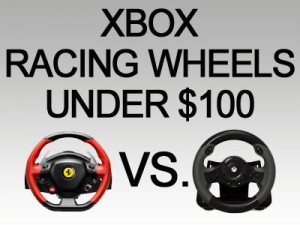 If you are looking for an Xbox One racing wheel for under $100 there are currently two options available on the market, The Thrustmaster Ferrari Spider and The Hori Racing Wheel One.
Both of these wheels are compatible with all of the Xbox racing game titles on the Xbox One, except for Need For Speed Rivals, which was developed without support for ANY racing wheels.
Use the comparison chart below to compare your options for creating an immersive driving experience on your Xbox One.
Xbox One Racing Wheels Under $100 Comparison Chart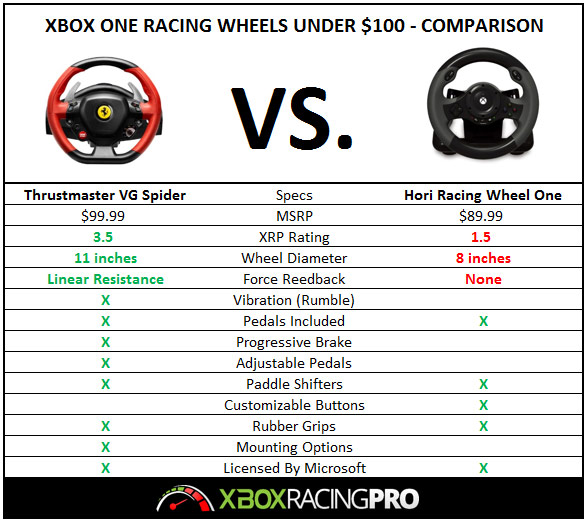 Read the Thrustmaster Ferrari Spider Review or The Hori Racing Wheel One Review
In my opinion it's clear that for an extra few bucks the Thrustmaster Ferrari Spider smashes the Hori racing Wheel hands down. The two biggest differences for me are the size 11 inches vs 8 inches and the fact the Hori wheel features ZERO force feedback. Force feedback is what truly makes a racing wheel much better than a standard controller. The VG Spider can also be mounted to a wheel stand, which provides a better simulation, because it puts your body in a racing position.
Both of the wheels are marketed towards the casual racing gamer or someone looking for a more simulated racing experience on a small budget. I think the price gap between these two wheel options is so small, but the difference between the quality is os great. Without a doubt the Thrustmaster Spider VG wins this battle all day!!
If you are brand new to purchasing an Xbox One racing wheel you can read the buyers guide that discusses the major points to consider when making a steering wheel purchase. I am also happy to answer any questions you have via comments below or my contact page.
Buy Xbox Racing Wheels At Amazon
Have you raced with any of the Xbox One racing wheels? If so whats your take? Let me know in the comments.