It's a fact that adding a steering wheel to your Xbox racing experience is a pimp move! However, not everybody has the budget to throw down on Xbox racing gear. In this article we discuss your options for steering wheels on a budget!
If you want a cheap steering wheel to take your Xbox racing to the next level, there are two choices for under $100 and another budget racing wheel for about $200.
On the less expensive end you've got either the Hori Xbox One Racing Wheel ($60) or the Thrustmaster VG Spider ($100). LEt's discuss those first…
The $30 difference in price between the two wheels can be seen in how much infinitely better the Thrustmaster VG Spider is over the Hori Racing Wheel. Let's take a look at the basics of both wheels:
The Hori Racing Wheel for Xbox One ($60)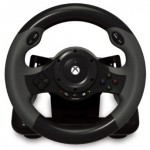 The Hori Racing Wheel features an 8 inch diameter rim, programable buttons, a d-pad, rubber grips, and paddle shifters. It also comes with a gas and brake pedal set. This product is comprised of mostly plastic parts and provides no force feedback or vibration. It features suction cups on the bottom of the wheelbase so that you can mount it onto a table to stabilize it while you are racing. This wheel is best suited for a first wheel for a kid or someone who plays racing games very casually.
The Thrustmaster VG Spider ($95)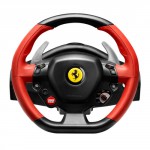 The Thrustmaster VG spider features an 11 inch diameter rim, 8 buttons, d-pad, a 4 way spring switch, and metal paddle shifters. It has a gas and progressive brake that simulates brake pressure like a real car. It's made of plastic and metal and has resistance via a bungee cord system, but does not have vibration. It has with a table clamp for mounting and its compatible with popular wheel stands. This wheel is a great pickup for at a low price point.
UPDATE 2017: I have seen this wheel go up in price. If you can't get it for less than $125 then its not worth it. In that case you may want to consider the Thrustmaster TMX.
Detailed Comparison of Thrustmaster vs Hori
Best Budget Racing Wheel for Xbox One
The Thrustmaster VG Spider is a better value. The wheel rim is bigger, it has a linear resistance bungee cord system, progressive brake, and it's mountable on a wheel stand. All of those things for an extra $30 bucks over the Hori wheel are a good value in my book!
The truth is though that if you were to extend your racing wheel budget just a bit, you would find that there is another Thrustmaster wheel on the market that is an entry level sim racing wheel…
Thrustmaster TMX ($200)
If you were looking passed the $100 price range for the steering wheels at the next level up, you are looking at the Thrustmaster TMX ($200). This wheel is on par with more expensive wheels like the Logitech G920. While its double the price of the 458 Spider…The performance difference is huge.
It features true force feedback via a dual belt motor and a two pedal set similar to the set that comes with 458 Spider. The difference between the TMX and 458 Spider is that it has MUCH stronger resistance, gives a better feel for the road, and you can add on a shifter or 3 pedal set.
The Conclusion for Budget Friendly Xbox Wheels
For my money the best budget racing wheel is the TMX. It out performs the cheap Xbox One wheels and its ability to add on upgraded peripherals make it expandable in the future. Just because you want a budget steering wheel now…doesn't mean you can't add on a few upgrades later when you can spend a little more.
Check Out Cheap Xbox Steering Wheels at Amazon
If you have any questions about budget racing wheels for Xbox One, feel free to leave them in the comments below and I will answer them.