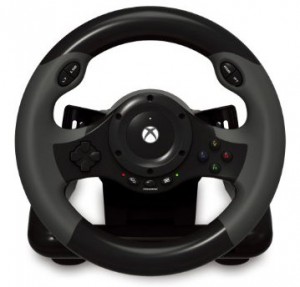 Welcome to my review of the Hori Racing Wheel One and pedal set for the Xbox One. If you are weighing your options for an Xbox One racing wheel for under $100, then this and the Thrustmaser VG Spider are your only two options at the moment.
I will breakdown the specifics and review this low priced offering from Hori and see if it's a worth the money they are asking for it.
This is not the first wheel made by Hori (they have been making wheels for years), but this is their first option for the Xbox One.
The Hori company makes inexpensive options for video game controllers and this is their follow up to the wheel they offered on the Xbox 360. At the time of this review there is only one other Xbox One steering wheel option at a similar price point and that is the Thrustmaster VG 458 Ferrari Spider which retails at about $20-$30 higher than the Hori Racing Wheel One. Currently this Hori steering wheel is the least expensive Xbox One wheel.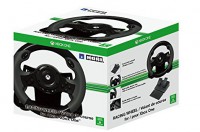 Let's get into the Hori Racing Wheel. This is a budget friendly option for anyone looking to purchase an inexpensive racing wheel for the Xbox One. I think this wheel is a great starter wheel for kids or adults that are really casual racers and don't need all the fancy options higher priced wheels offer. While the price point is outstanding it comes at a cost of missing some major features that create a great immersive racing experience.
Hori Racing Wheel One Xbox One Specs:
Paddle shifters, rubber grips, 8 inch diameter wheel, programmable buttons for customization, auto centering, and analog foot pedals. If you are switching from the Hori Xbox 360 wheel then you may be disappointed, because while they redsigned the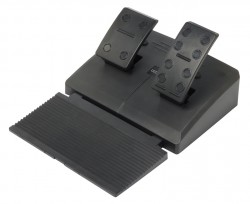 pedals for wider spacing, they added an arc to the pedal set that makes it a bit uncomfortable on your feet. They also removed the force feedback (which certainly is why it is priced so low).
So for under $100 does the Hori Xbox One wheel compare to other options at the same price point? Is it a better choice than the Thrustmaster VG Spider? I will answer that question by the end of this review.
Racing with The Hori Racing Wheel One On Xbox One
How it feels to race with the Hori Xbox One racing wheel – I used this wheel with Forza 5 and Forza Horizon 2. It feels really small in your hands and the lack of any type feedback standout immediately. It feels plastic and cheap, not to suggest it would break easily, just it feels like a kids toy in your hands. The arc they added to the pedals is pretty awkward on the bottoms of your feet and causes the pedals to move around a bit more than a normal set.
Once you get into racing it doesn't really feel authentic. The reason this wheel lacks is because there is no forced feedback, no vibration, and not even a rumble sound to give you any indication of how the cars are handling. Its really not enjoyable and you feel very disconnected from the game. Simply put, the wheel and pedals functionally work (it turns the cars, accelerates, and brakes), it does what it says, but I would much rather use a standard controller than this wheel. For a guy who loves racing wheels that is a big statement for me to make. With that being said, this makes for a perfect inexpensive starter wheel for a kid…I would have died for something like this as a child.
One Mounting Option For The Hori Racing Wheel One
As far as mounting the wheel, it uses suction cups to hold it into place on a table. There are no clamping options at this time. If you have a rough table or desk, you may have issues getting the suction cups to work and would probably find a smooth finished surface or glass table will work better.
While This Wheel Isn't For Me…
If you are looking for a wheel under $100 the Thrustmaster Ferrari Spider is a much better value and extremely better racing experience. There just really isn't much to the Hori wheel aside from the fact it has the lowest price point that makes it any good. For an extra couple dollars I personally think you will be much happier, with the VG Spider if you are an adult or teenager.
So that's some of the specs and my opinion, let's hit some pros and cons and close out this review
Pros:
Xbox One compatible
Affordable
Turns Easy
Small wheel base
Licensed by Microsoft
Cons
Rim feels small, cheap, and plastic
No feedback at all
No clutch and not upgradeable to add one
No headphone jack
Only compatible with Xbox One
No progressive resistance brake
Has a fairly short USB cord (8 feet)
No table clamp and suction cups won't work on all surfaces
Hori Racing Wheel One Xbox One Review Wrap Up
If you consider yourself more than a casual racer who is looking for a racing wheel, then this is not for you. I just have a hard time recommending it without any type of feedback…remember you even get feedback (vibrations) in a standard Xbox controller. However as a first wheel for someone young, that wants to play Forza or F1 2015, this is wheel may just be exactly what you are looking for.
All in all, my best recommendation would be to spend a few more bucks and grab the Thrustmaster Spider. The lack of any type of feedback in the Hori Racing Wheel really will make your racing experience seem disappointing and fake if you are an adult with expectations.
"Given the fact that this wheel is low priced , it's probably perfect for the right person!"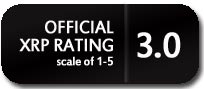 Buy The Hori Racing Wheel one Or Related Products At Amazon
Have you tried the Hori Xbox Racing Wheel or another Xbox One wheel? What is your take on this steering wheel or how do you compare it to the other Xbox One racing wheels on the market? Let me know in the comments.
Hori Racing Wheel One Xbox One
Rated
3.0
/5 based on
1
review