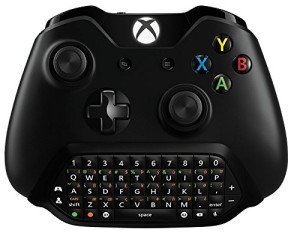 If you are looking to write messages to friends, enter codes, and search applications on the Xbox One without the stress of using your controller A,B,X,Y buttons to do it…then you need the Xbox One Chatpad in your life! This simple little device hooks up directly at the bottom of your Xbox controller and plugs into the port for the stereo adapter.
I decided to grab one of these Xbox 1 Accessories, simply because I HATE typing out game codes and messages with a controller. Using the chatpad is so much more convenient, efficient, and user friendly!!
"Gone are my days of someone sending me a message and I send them back a two word reply, simply because I dont feel like spending 10 minutes writing one sentence"
After being happy with my Xbox Media Remote, I decided maybe this gadget was worth a shot.

Xbox One Chatpad Features
– Comes with a Chat Headset with a 3.5mm jack (plugs directly into bottom of Chatpad)
– Has a full QWERTY keyboard and a backlit keypad for typing in the dark
– Has audio control including volume, game/chat mix, and mic mute
– Compatible with Xbox One and Windows 10
Best Features
Besides of course the aspect of typing…One of the best features is the backlight keyboard. The ability to type in the dark is so nice and I am actually not sure how I lived without it. The chat pad also has some feature buttons for screen snapshots and also video recording. The orange and green button will enable you to enter special characters from the keyboard.
Using it couldn't be easier and it kind of feels like what a blackberry cellphone type pad was made out of. The buttons are more of a hard plastic than a rubber. If you had tried the old Xbox 360 chatpad, this is pretty similar (although this wont work on the 360).
Makes Certain Game Features Easier
As a regular player of racing games, like Forza 6, I am also tuning cars and creating designs. this means I have to name files when I save them and I also have to write a description. I use to skip the description section because I didn't have the heart to bang out a full description in the on screen keypad one letter at a time. Now with the chatpad I write better file names and descriptions which allow more gamers to find my designs and tunes when they use the search feature in FM6.
High Durability & Quality
The manufacturing of the product looks and feels solid and it met my expectations for what I wanted in a Microsoft accessory. I can't stress to you the importance of this, because one you use this chatpad, you will find yourself using it every single day, so it's important that it holds up under duress.
Pros and Cons
Pros
Makes typing super easy with a full QWERTY keypad
High quality build
Compatible with both Xbox One and Windows 10
Has a 3.5mm headphone jack (no need for stereo headset adapter)
Programmable button feature will be upgraded through firmware in mid 2016
Cons
The headphones are cheap and worthless
Some Chatpads Have Issues, But Not This One
I read through a ton of Amazon reviews before I purchased this. this Chatpad has over 150 reviews and comes in strong at 4 stars. When comparing it against other similar chatpads, there are two things that stand out: the fit and the headphone jack.
Some of the other chat pads people report them fitting to loose or becoming loose overtime. The other complaint is that some don't have a headphone jack and when you plug in the chat pad, you can no longer use headphones.
for those reasons I recommend playing it safe and getting the Microsoft version of the Xbox One Chat-pad. It's a bit pricier than the competitors, however it is simply a better product.
Xbox One Chatpad Review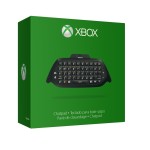 Overall I really like the chatpad, but they could have knocked 5 bucks off the price and spared us the task of throwing away the cheap headphones. The xbox One Chatpad will work with any standard Xbox One controller and even the Elite Controller. Any kind of headphones with a 3.5mm plug will work, doesn't matter the brand only the size of the plug.
The cheap headphones are what prevent me from giving this a 5 star review. I couldn't be happier with the actual keyboard itself and the ease in which it makes typing. If you are entering codes, sending messages, typing in the search box on Netflix, or typing out a full URL in IE on your Xbox One, this product will majorly upgrade experience and remove all on screen keypad headaches. This product is easy to recommend and I think it will revolutionalize the way you feel about typing on the Xbox One.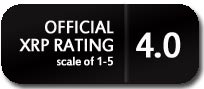 Buy an Xbox Chat Pad at Amazon
Have you tried the Xbox One chatpad or perhaps the one that had for the Xbox 360? This is one of my fav Xbox 1 accessories, but what are your thoughts…Let me know what your thoughts and questions are in the comments below.
Xbox One chatpad
Rated
4.0
/5 based on
1
review