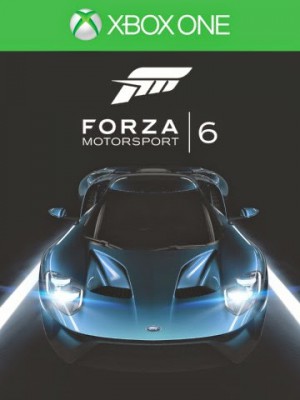 Forza 6 Xbox One Overview:
Developer: Turn 10
Release Year: 2015
Race Style: Race Tracks
Game Physics: Simulation
Maps: 26 Worldwide locations
Game Progress: Career Mode (70+hours)
Cars Featured: 450
Best Features: Rain/Night
Biggest Complaint: Linear Career Mode
Racing Wheel Support: Yes
DLC: Yes
XRP Rating: 4.5
Finally, Forza 6 is the game we all expected to get from the much maligned Forza Motorsport 5. This time around there are over 460+ cars (the most of any Forza release), 26 tracks with 100+ ribbon variations, rain and puddles, night racing, and all of the top notch sim you can always expect from the Forza series. This is all done at 1080p 60 FPS!
Without a doubt, Forza motorsport 6 is the BEST and most comprehensive racing game released to date.
Forza 6 Xbox One Game Trailer
Pro Tip
: If you are not sure about Forza 6, check out how I get games, save money, and avoid getting stuck with bad games.
Click Here
.
The Gameplay Is Easily the Best of Any Forza Game
As always the driving physics for the game are AWESOME! The cars really give off a sense of grip and weight allowing you to feel subtle shifts in your driving. Forza also expands the competition field from 16 competitors in Forza 5 to 24 competitors.
On the whole the driving and gameplay are very similar to Forza 5, but there is an overall better feel and realism. It's also worth noting that the sound engine seems vastly improved offering more accurate portrayal of sounds particularly when taking damage or driving in tight spaces.
If you like forza drifting, than check out our Forza 6 Drifting Guide for Beginners.
Most Cars Ever In a Game at Launch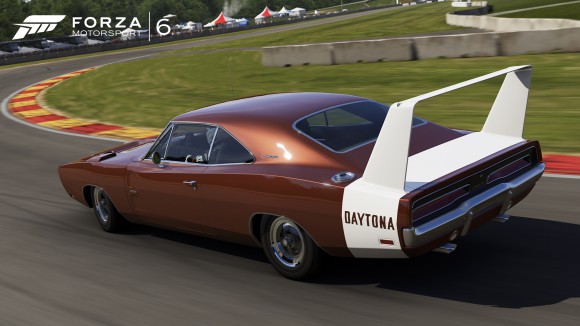 Since Forza 4, we have been waiting for a title loaded with car choice options, this is it my friends…we have gotten what we asked for! Forza Motorsport 6 packs over 460 cars and includes:
80's Cult Classics
90's Performance Cars
Present Day Hyper Cars
F1 Cars from the 60's, 70's, and present day
WTCC cars
V8 Super Cars
Indy Cars
Can-Am Cars
Pre War Open Wheelers
The variety is deep and the look of the cars in fantastic. Staying true to the Forza series, they are all upgradable and ready for a fresh livery to be slapped on. All the cars are viewable in Forzavista mode, which is laid out similar to Forza 5.
One of the biggest improvements for the cars is simply the filing system for sorting through them. In past titles you had to scroll left and right and use a limited filter for finding what you wanted. Now as you scroll left you move through manufacturers and the individual car models appear vertically. This is a very welcome change and much needed given the amount of cars this game features.
Finally Features We Clamored For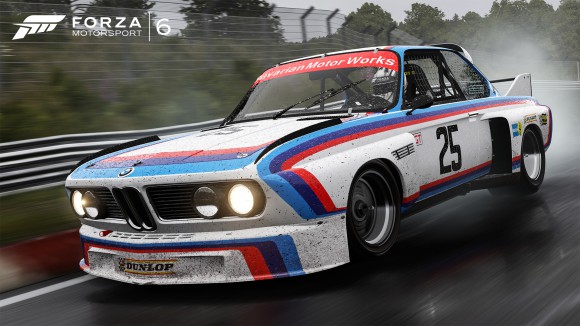 Rain
Pouring rain, puddles and night driving are the most dramatic difference between FM6 and other Forza titles. While having dynamic weather like Horizon 2, would have been better, it is nonetheless done very well in the game. For the rain, you get your wind shield wipers going, rain drops moving across the windshield and car body, and 3D puddles placed on the track accurate to real puddle build up placements on tracks. What's crazy is that when you hit a puddle, you don't just hear it, you can feel it.
This makes for awesome racing, having to change your line because there is a puddle mid corner apex or screaming down a straight and hydroplaning right off the track.
Night Racing
Night Racing looks fantastic as well. One of the best looking tracks is Daytona with the great big stadium lights beaming down onto the blacktop, which cause multiple shadows to creep off the cars.
There are however no tracks that combine rain and night, and the rain or night features are only available on certain tracks.
Split Screen is Back
Worth mentioning here, Turn 10 has also brought back split-screen which was not available in Forza 5.
New Feature Called Mods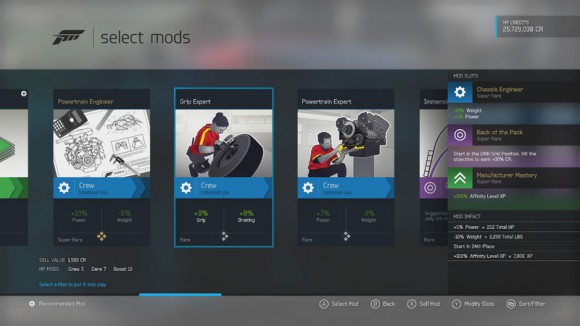 Mods stands for Modifications and can either be a bonus or a handicap. For example you can earn a mod that earns you a 10% credits increase or you can earn a mod that places you at the back of the starting grid and then awarding you bonuses for a top 3 finish. It's up to you if you even want to use them, but you can only use most of them once and they can't be used in multi-player, leagues, or rivals.
Career Mode With 70+ Hours of Racing
The super long Career mode is two faceted; It has volumes in which progress you need to play the game to unlock future events and showcases which are designed to pay homage to vehicles, racing series, or eras. Career does a great job of putting you in a wide variety of cars and now offers you the ability to tune or practice pre-race. For showcases you don't even need to own the car for the event and they serve as a nice break-up in between your standard career mode races.
It's Damn Near Perfect, But There's Always Something
The one thing that stood out to me as slightly annoying is that the career mode is very linear, you can't just bounce around into a different racing series. I also found myself wanting the race weekend feature offered in Project Cars, but there isn't anything other than race and practice in Forza 6.
The Mods are take it or leave it and I think they are tailored for the more casual player, for me I find myself forgetting about them.
Without dynamic weather and day/night changes everything does start getting a little repetitive, however the variety of tracks should help balance some of that out.
Forza 6 as A Simulator Is the Best On Xbox One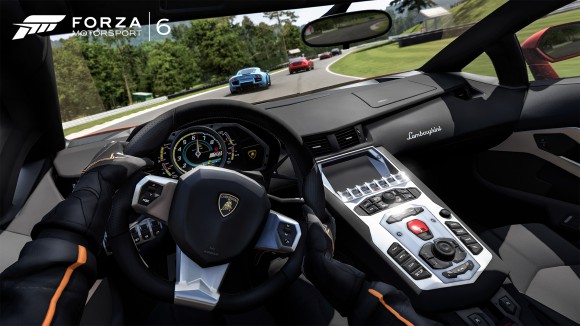 For testing Forza 6 as a simulator, I used a Thrustmaster TX, TH8A shifter, T3PA Pro Pedals, and both the F1 rim and the 28 GT Rim. I've got it all strapped to the Playseat Evolution, with a custom vibration setup.
The first thing I noticed when playing Forza 6 with a wheel and pedal set is that the force feedback is much stronger than Forza 5. That is welcome change because Forza 5 was fairly weak.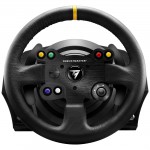 The cars feel really good with the wheel and the game offers you some standard options for fine tuning your wheel settings (although not as customizable as Project Cars). Because Forza 6 has such incredible physics the cars handle extremely accurate with the wheel, shifter, and pedals. For example when you are shifting you will notice a delay in the gear shift on a Volkswagen Golf as opposed to an immediate shift when you are driving a high end Ferrari.
The puddles feel really good when using the wheel also. If you clip a puddle on one side of your car, the steering wheel is gonna jerk in that direction…it is frustrating and incredibly awesome at the same time.
Using the F1 rim for F1 cars and Indy cars, gives a nice authentic feel, but the 28 GT Leather rim feels 10X better with the heavier force feedback on Forza 6. On the whole though any Thrustmaster rim add on is gonna feel great with this game.
If you are running vibration from your Xbox to your gaming seat, you will notice an increase in the games low end sounds. The rumble strips, the car engines, the tunnels, everything is bassier. This make for some nice vibration in your bass shakers.
Overall the sim feel of this game is great. I would say the cars are more controllable than Project Cars, but out of control enough for you to have to have some Xbox driving skills to succeed. Doing a little bit of baseline tuning of the cars can go a long way.
Forza 6 Bundle and Expansion Packs
With the release of the game Turn 10 announced they would offer a special Forza branded Xbox One console and controller. The console and controller are blue like the Ford Gt that is on the game cover and the console has special features like an engine sound when you turn it on.
Two Expansion packs are also available for the game. For the first time since forza 4, Porsche makes it's way back into Forza and for the very first time there is a full Nascar expansion. Both packs sell for $20 and make some nice additional content to the game adding new cars and tracks
Forza Motorsport 6 Xbox One Review Wrap Up
Forza Motorsport 6 is far and away the best racing game on a next gen console and has something for everyone from the automobile fanatic to the slam on the gas/jam on the brake casual player. While the game isn't perfect and a few other race titles have showed us what Forza is missing, this game is a huge upgrade from Forza Motorsport 5. For me FM6 beats out the other racing titles put out this year both with visuals and simulation and is a must own game for anyone.
If you are planning on adding a forza racing wheel, then your experience will go from a 4.5 to a 5!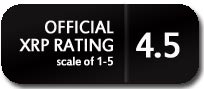 Get Forza 6 Or Related Items At Amazon
Forza Motorsport 6
Rated
4.5
/5 based on
1
reviews
Have you played other games in the Forza 6 series? Let me know about your Forza experience in the comments below.