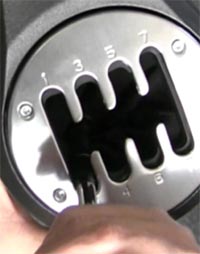 Currently there are a few steering wheels and pedal sets that offer a wheel, a clutch, and a shifter.
In this article I will break down for you, what the best affordable options are and then give you an estimate for total cost of ownership for an Xbox One steering wheel, clutch and shifter as they require components to be purchased separately.
All of these packages will range between $350 and $680 to get everything you need for racing. Let's take a look at options you have for getting a racing wheel, clutch and shifter at an affordable price for Xbox One and then lastly Ill show you the most complete package you can get.
Popular Racing Wheels that offer a Clutch and Shifter
There is also options like the Meagadream Wheel ($190), which while is super cheap and comes with a shifter it is the worst performing X Box One wheel on the market, so we will not discuss that here.
Let's start with the Logitech G920 and then discuss the Thrustmaster TMX, and TX.
Logitech G920 Driving Force Steering Wheel ($300)
Logitech G920 is a great driving wheel and is one of the best selling wheels on Amazon. It is powered with helical gearing and delivers solid force feedback. The steering wheel rim is wrapped in hand stitched leather. It comes standard with a 3 pedal set (Gas, brake, and clutch).
To shift gears it features two metal paddle shifters that move with the wheel. The 3 pedals for this set have 8 bit resolution and are servicable. They do have a brake mod installed that simulates the feel of real brake pressure. The 920 comes with a table clamp for mounting on a table/desk, but it is also able to be mounted on a sim racing cockpit.
So for $300 you get a best selling driving wheel with a leather rim and a 3 pedal set. If you want a shifter to go with it, you need to purchase it separately.
The Logitech Driving Force Shifter $60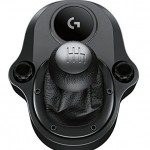 The Logitech Driving Force shifter will actually work with both the G920 wheel for the Xbox One and the G29 wheel for the PS4. The shifter is a six speed shifter with a push in reverse. It is a short stick shift with a fairly short throw, similar to what you would see in a high end performance car. It is wrapped in leather and certainly has a nice sports car look to it.
Logitech G920 Cost for Wheel and Pedals Plus Add On Shifter $360
So you are looking at a total of $360 dollars to get the Logitech G920 steering wheel which has a throttle, brake, and clutch, plus adding the separate Driving Force shifter. That's really best package you can get for under $400 if you are looking for a good mid-priced wheel that meets all the basic requirements. Another nice perk of the 920 is it has a 2 year warranty. You can read more about the G290 in the review here or you can click the link below and start racing today.
Now that we know what the Logitech is $360 for a wheel, shifter, and clutch, let's take a look at the Thrustmaster TMX which needs more add-ons, but the base package is $100 cheaper than the Logitech.
Thrustmaster TMX ($200)
The TMX is a nice entry level wheel thats not going to cost a small fortune. It is powered by a dual belt mechanism and delivers force feedback both quiet and strong. The wheel rim is plastic with a rubber grip around the rim, but the center column is 2mm thick brushed metal. The motor contains friction free technology which puts less wear and tear on the internal parts.
To shift it features two 5 inch metal paddle shifters that move with the wheel. It comes standard with a 10 bit resolution plastic two pedal set (gas and brake) and the brake has progressive resistance.
The TMX comes with a table clamp for mounting, but requires a special adapter if you want to mount it onto a cockpit or higher end wheel stand.
While $200 is a great price for this product, to add on the clutch and shifter you need to purchase them separately.
Thrustmaster TH8A Add On Shifter $150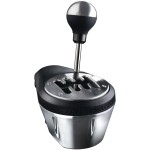 The TMX works with the TH8A shifter which is made out of 90% metal and contains contacless sensors for added durability. The shifter adds an H-pattern 7 speed gear box to your wheel and even offers an optional sequential gear plate. It plugs directly into your wheelbase and works perfect with the add-on clutch. The 3 pedal set s not required to use the shifter.
T3PA Pedals $100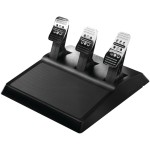 The T3PA Wide pedals are the same 10 bit resolution pedals that come standard with the TX Leather edition. The set has a plastic base and features 3 adjustable metal face plates on the pedals. The brake has an adjustable conical brake mod, which simulates progressive resistance and performs much better than the stock pedals featured with the TMX. If you wanted a more robust pedal set you could consider the T3PA Pro Pedals for $150.
Thrustmaster TMX Cost for Wheel and Add On Clutch and Shifter $450
$450 gets you the TMX with a clutch and shifter. This is a great entry level package and in my opinion out performs the Logitech G920, because it offers a better shifter, has better pedal set options with higher resolution, and has a slightly better motor. If you are looking for something to get you started with a full package then the TMX is a nice entry level sim racing wheel. You can read more about the TMX in the review here or you can get one now and start racing…
Thrustmaster TX Leather Edition ($460)
The Thrustmaster TX is my # recommended wheel for Xbox One. It has two versions: the Leather Premium Edition ($460) and the F458 Italia Edition ($300). The Leather edition comes with a 3 pedal set (Gas, brake, and clutch), while the Italia Edition only has a two pedal set (gas and brake), but both have the same Thrustmaster wheel base motor. For This article we are gonna focus on the Premium Leather Edition, because it comes standard with a clutch pedal.
The TX features a super quiet brushless motor, friction free contactless sensors, and it delivers strong and smooth force feedback via dual belt mechanism. The rim is wrapped in hand stitched leather and has a 2mm thick black brushed metal center column. The rim is detachable via a patented quick release system which allows to change out the wheel rim.
It comes standard with the T3PA Wide Pedals which have 10 bit resolution on the gas, brake, and clutch. The brake has an adjustable conical brake mod to simulate progressive braking and allow you to fine how much pressure you want to feel. To shift there are two 5 inch metal paddle shifters that move with the wheel.
It has 2 mounting options: table clamp for mounting to desks/tables or pre-drilled holds for hard mounting on a cockpit/ wheel stand.
If you are looking for a shifter, it needs to be purchased separately.
TH8A Thrustmaster Shifter $150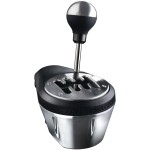 The Thrustmaster TH8A shifter is by far the best shifter made for a wheel on the console. This thing is made of 90% metal and was built using contactless sensors so it can withstand over 10 million shifts. It has a 7 speed H pattern shifter with a reverse and it also has an optional sequential shifter plate. You can also change out the knob for a universal shifter knob that you would use on a real car. This shifter is far better than the Logitech shifter, but then again, it is more than 2x the asking price.
Thrustmaster TX Cost for Wheel and Clutch and Shifter $620
So overall you are looking at $620 to get the wheel, clutch and shifter. This is a great package and is the one I recommend the most for Xbox One because of the technology that powers it. The nice part about Thrustmaster brand products is that they have continued to release peripherals to work with the TX to give you additional options, like invertable pedals and add on wheel rims. You can read more about the TX Leather Edition in the review here or get your raing career started now…
Which Is The Best Xbox One Wheel, Clutch, And Shifter?
In total cost of owner ship for an affordable Xbox One wheel with a clutch and a shifter: the G920 is $360, the TMX is $450, and the TX is $620. All three wheels work great on the console and PC so it's a matter of what your budget is…but if we put money aside, which is the best?
The G920 is best selling because of it's affordability even with the shifter added, but I am not a fan of helical gearing which can create a bit of a clunky feel when under heavy vibration and force feedback. The TMX is a good starter package, but doesn't quite deliver as powerful as the TX, it's table clamp only, and you can't change out the rim.
In my opinion the TX Leather Edition is the best bang for your buck on Xbox One. It features the most robust wheelbase with advanced technology inside like a brushless motor and friction free contactless sensors for added durability. Of the 3 wheels compared above the force feedback is the strongest and the quietest. The pedals are 10 bit resolution (2 bits higher than the 920) which mean they are more precise in measuring your pedal inputs.
If you like the idea of adding on to your setup such as alternate steering rims, like an F1 rim or Alcantara rim, or having a 3 pedal set that can be inverted, than the Thrustmaster TX should be your choice.
Amazon also has special bundle package (pictured above) that offers the TX leather edition with everything included the wheelbase, leather rim, the pro pedal set and the shifter for about $679. This bundle saves you a few bucks and get you an the entire wheel, clutch and shifter package you were looking for on your console.
"The TX Bundle is the only complete package for Xbox One that comes with a wheel, motor, clutch, and shifter"
Check Out Xbox One Wheels, Clutches, And Shifters At Amazon
Have any questions of thoughts about these racing wheels or peripherals? Let me know in the comments below.