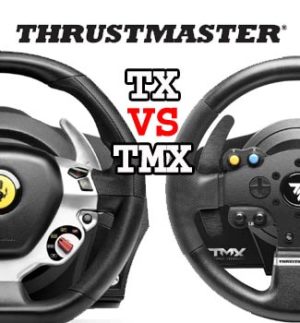 Making a decision about which steering wheel to get for your Xbox One or PC isn't easy. There are multiple factors to consider such as price, performance, immersivness, etc…If you're reading this there's a good chance you already know the TMX is more than $100 cheaper than the TX.
So whats the big difference aside from the price?
By the end of the article you will know everything you need to know that makes these wheels different and make an informed decision on which one is right for you.
While both these wheels are great because they are compatible with both Xbox One and PC, provide accurate force feedback, have vibration, have wheel rotation angles that are switchable from 270 to 900 degrees, and they come standard with a wheel rim, a motor, and a 2 pedal set…
Today I am going to break down the 5 major differences between the Thrustmaster TX and Thrustmaster TMX racing wheel models.
We will discuss motors, scalability, stock wheel rims, pedal sets, and the mounting options. Since there are multiple variations of bundles you can get with the TX edition, for this article I will compare the TMX which retails for about $200 to the TX F458 Ferrari Italia Edition which is the least expensive of the TX models retailing between $300 to $350.
The TX Motor is Stronger and Contains Better Technology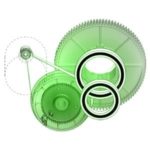 Inside the TMX there is a mixed belt-pulley and gears system with a metal ball-bearing axle for enhanced sturdiness. This system delivers smooth force feedback and is much quieter than the helical gearing you would find in wheels like the Logitech G920. The servo motor uses brushes which reduces the efficiency of the power output, but it's also the reason this model is priced affordably. The wheel responsiveness with the motor offers decent precision at 12 bit resolution. The Force feedback strength on a scale of 1 to 10 is about a 7.
TMX Motor Recap
Mechanism: Mixed Belt and Pulley System
Servo Motor: Brushed
Resolution: 12 Bit
FFB Rating: 7 on a scale of 10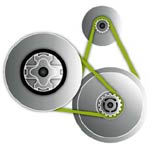 The TX is even more quiet because it's driven by a dual-belt, friction-free optimized mechanism. It also contains a brushless motor, which means it performs more efficiently and basically requires less effort from the motor for maximum output. In addition it contains H.E.A.R.T HallEffect AccuRate Technology which features a contactless magnetic sensor, the net effect is precision that will not decrease over time because of friction. The wheel responsiveness is at 16 bit resolution. The force feedback strength on a scale of 1 to 10 is about an 8.5.
TX Motor Recap
Mechanism: Dual-belt
Servo Motor: Brushless
H.E.A.R.T.: Contactless Sensor
Resolution: 16 Bit
FFB Rating: 8.5 on a scale of 10
The Stock Rim on the TMX is Better than the 458 Italia
The TMX rim feels slightly heavier in your hands. It has a brushed metal center column and rubber grips on the wheel rim. It transfers the force feedback and vibration decently into your hands. It doesn't really give of an authentic race car look, but what it lacks in aesthetics it makes up for in performance. While I don't love the colored buttons, I do appreciate the sleek blank look of this rim.
TMX Stock Wheel Rim
Action Buttons: 12
Rim Shape: Round
D Pad: Yes
Rim Siz: 11 inches (28 cm)
Overall Feel: 6 out of 10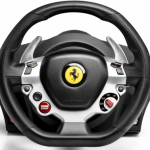 The TX rim is very plasticy and feels light in your hands. Even the wheel rim itself is plastic and it has a thin layer of rubber on it for grip. The force feedback and vibration is servicable, but leaves a lot to be desired. This rim however looks much cooler than the TMX rim, because this was meant to look like a 7/10 replica of a 458 Ferrari. They even do a great job of disguising the D-pad in the red Start Engine button.
TX Italia Edition Stock Wheel Rim
Action Buttons: 12
Rim Shape: D-Shaped
D Pad: Yes
Rim Siz: 11 inches (28 cm)
Overall Feel: 5.5 out of 10
The TX Italia is More Scalable
Both racing wheelbases offer you the ability to attach components from the Thrustmaster eco-system such as the T3PA Wide Pedals, the T3PA Pro Pedals, and the TH8A 7 Speed Shifter.
They key difference in these two wheel models is that the TMX does not allow you to change out the wheel rim…the stock rim is your only option. So while I don't really like the stock TX rim, the nice thing is you can upgrade it to an awesome add-on rim.
You can see here below, what the TX looks like without a wheel rim attached.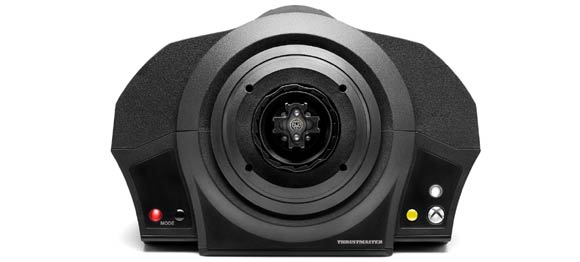 The TX features Thrustmaster's patented Quick Release System which provides the ability to change your wheel rim in a matter of seconds. This allows you the option of adding on the F1 rim, the 599XX EVO rim, the 28 GT Leather rim, or the GTE challenge rim. All of these rim options are upgrades in class from the stock rims on either wheel.
The TX has a Wider Brake Pedal and Metal Pedal Plates
For both of these wheel and pedal sets you get a throttle and a brake pedal standard. They look very similar in design and both offer a progressive resistant brake pedal and pedal plates adjustable up to 3 different positions. Neither of these pedal sets are really great, but they are servicable for racing. Even better on both racing wheel models you have the option to upgrade your pedal set.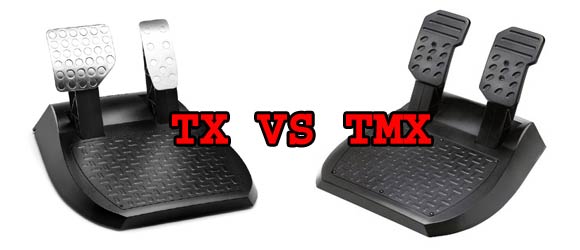 The two key differences between these two pedal sets is the TX has metal face plates and a wide brake pedal while the TMX has plastic face plates and a thin brake pedal. The metal face plates are a nice touch, but in all honesty you can't really tell the difference underneath your feet. The wider brake pedal on the TX pedal set is preferable, but ultimately won't make too much difference in your performance.
The TX has Mounting Options, the TMX is Table Clamp Only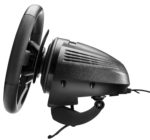 Both wheels come standard with a table clamp for mounting to a desk, table, or certain wheel stands.
For the TMX it only comes with a table clamp, there are no other mounting options. On the right you can see the table clamp for the TMX, it's the park that looks like a hook and comes off the bottom of the wheel base.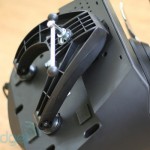 The TX on the other hand also has pre-drilled holes underneath the wheelbase so that you can mount it on a racing cockpit or wheel stand that has a wheel plate. This is an important option if you are more than a casual racer, because mounting to a cockpit adds to racing immersion, but putting your body in a racing position. In addition the TX comes with a removable table clamp so you have multiple mounting options.
Is The TX Worth the Extra Money?
In my opinion it is worth it, but you need to consider that I am a serious fan of racing games. If you are a casual racer and are looking for a great entry level wheel that will allow for a few upgrades than the TMX is a great choice and an awesome value for the price.
If you think that you are more serious about racing and have interest in getting an upgraded rim, have a desire to mount your wheel to a cockpit, and want a stronger and better performing wheelbase motor than the TX is the way to go.
Thrustmaster Racing Products at Amazon
If you have any questions about either one of these steering wheel and pedal sets let me know in the comments below.