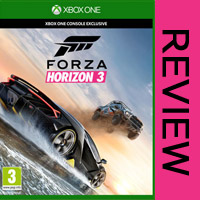 Forza Horizon 3 – Before You Buy

Forza Horizon 3 Xbox One X Gameplay Review

Forza Horizon 3 – Open World Free Roam Gameplay (HD) [1080p60FPS]

[4K] Forza Horizon 3: Xbox One X vs PC Graphics Comparison + Frame-Rate Test

Forza Horizon 2 Review

Forza Horizon 3 – Easy Allies Review

Top 5 Best Open World Racing Games Of 2012-16

Forza Horizon 3 | Awesome Open World Racing in Australia

Forza Horizon 3 Gameplay | Racing Across Open World Australia in 4k | Livestream

Forza Horizon 3 vs. DriveClub vs. The Crew vs. Need For Speed | Graphics, Rain Comparison PS4 & Xbox
Amazon Price:
$49.99
(as of February 24, 2018 8:32 pm –
You don't need to be an avid racing game fan of games like Forza Motorsport or Assetto Corsa to enjoy exotic cars cruising at high speeds through brilliant landscapes. Playground games and Turn 10 deliver a perfect game for the casual racer, but doesn't neglect its Motorsport roots in awesome handling physics and pristine looking machines.
Forza Horizon 3 is a perfect hybrid of a simulated racing experience with all of the insane fun of an arcade racer. Whats even better is that it is built to be customizable to steer the gameplay towards your preferences…wanna just go fast and whip a car through the Australian Outback, just pick a car and get in, but for gamers who want to ratchet up the difficulty you can tweak all the vehicle tuning from differentials to aero.
Horizon 3 is an open world racer set in Australia. The map is huge and feels much bigger than Horizon 2, but not quite as big as the US map in The Crew. FH3 truly captures the beauty of the Australian Continent and is one of the most visually stunning racing games ever made. You get to race through cities, open roads, beaches, rain forest jungles, and many other terrains under a awesome blanket of blue and pink skies and clouds.
Pro Tip
: If you are not sure about Horizon 3, check out how I get games, save money, and avoid getting stuck with bad games.
Click Here
.
Forza Horizon 3 Cars
FH3 boasts 350 cars at launch and there is regularly scheduled DLC car packs coming. For an open world racer this is the largest amount of cars I ever rember being available in a title like this.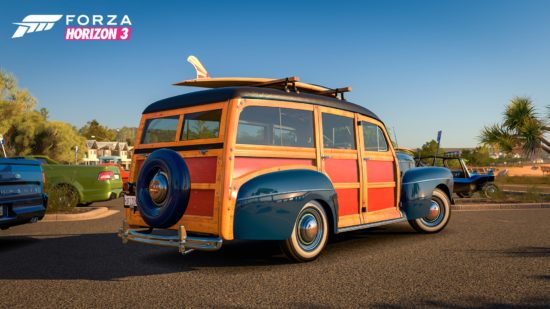 The one thing that stands out about the car selection is the variety. From exotic super cars like Mclaren' to classics like the Aston Martin DB5, or from the Alumi craft 2015 Class 10 Dune Buggy Race Car to the Baldwin Motorsports 2015 #97 Monster Energy Trophy Truck. There are also a great number of Australian cars in the game the likes of which I had never experienced before like the 2014 FPV Limited Edition Pursuit Ute.
Each car you drive handles unique and the Forza handling physics seem well represented even in this hybrid sim-arcade style racer.
No Rules Racing
As an avid sim racer I tend to like rules about clean driving and corner cutting etc, but all of that gets thrown out for the sake of fun in Horzon 3. No matter how you drive there are no penalties, which I am learning to appreciate. The point is not to drive perfect, the point is to have fun. You can choose to stick to the map navigation or simply ignore it and make your own way towards whatever destination you want. Nothing is off limits, driving through jungle, racing through water, or launching your car off huge cliffs.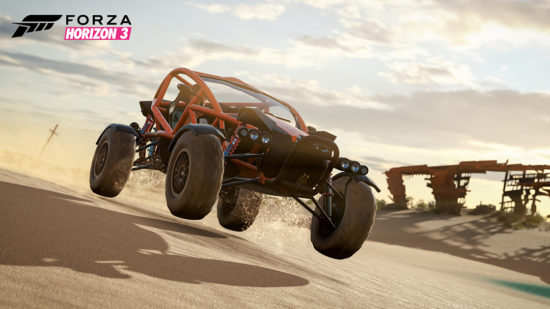 The game also tends to give you praise no matter what you do. If you drive clean you get rewarded with points and if you flip the car and smash into someone's house the game tells you fantastic wreck. As is with all Forza games, you do have the ability to rewind if you want to correct your mistakes.
FH3 Story Line
If you are not familiar with the Forza Horizon series, all of the games revolve around a racing festival. The festival is a series of events focused around music and racing that put you in competitions set all over the map.
What Horizon 3 does different than previous titles is that you are no longer just a participant in the festival you are the host. This sets you up for customizing the events and making the game play how you want it. You can even choose from a variety of avatars and find pick your name from a huge list of choices. For example I set my name as "James" and that is what the game calls me. Another cool feature is the ability to customize your license plate.
I think what Playground games was going for in Horizon 3 was choice. By making you the festival host you can decide any way you want to race…all you have to do is choose the type of cars you want, time of day, and weather for each race. Hosting the festival is no work at all and really that game tries to get you out on the road as fast as possible.
The game has lots of challenges and races to attend, but the real fun can be found in the showcase events where you can race against cars that are air lifted onto the track or even race against a freight train.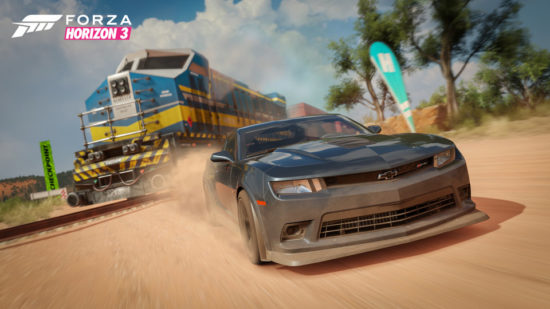 CHECK OUT FORZA HORIZON 3 AT AMAZON
The Game Has a Social Element
I am the type of driver who races offline, but for those who are looking for the community racing experience FH3 has a lot to offer. Like previous Forza titles the game features drivitars of your friends and other gamers. The drivitars are programmed to emulate their driving styles and tenancies. This makes for a nice competitive atmosphere because its always fun to beat your friends or wreck them to make sure they dont finish in front of you.
If drivitars aren't your thing and you want real human interaction Horizon 3 thrives on it's seemless online component. You can quickly go from offline to online with no lag or drop outs. There is a lot of different online event types to choose from sprint races to team races and there even silly online race modes like capture the flag. Of course to race online, you don't even need to be in an event you can just enjoy driving through the open world with other gamers online.
Incredible Sights and Sounds
While the game does run at 30 FPS it looks great on the Xbox One with no frame drops or tears. Horizon 3 is easily one of the best visually pleasing racing games of this generation much attributed to the dynamic lighting engine which makes fantastic glares from the pristine sky reflect perfectly off the shiny metal on your car.
All the cars are beautifully done and show good wear and tear from as you kick up dirt from the outback and brush your fender into a tree. The car interiors from the cockpit view really capture the essence of what these cars look and feel like.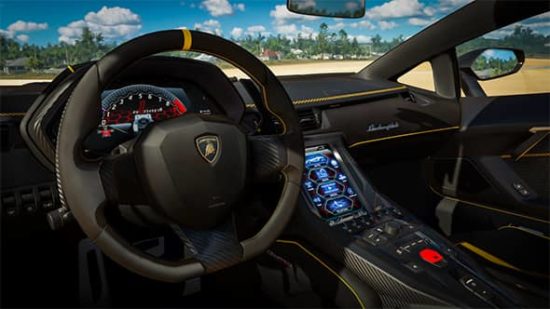 Everything about this game looks great, but what makes it so outstanding is the detail of the sky. From the clouds to the richness of the blue to fading sunsets and the darkness of the nights the way Plaground games captured the sky is unlike anything you have seen in a game before.
From a sound perspective, this game sounds noticeably better than Horizon 2. The cars really have a nice roar to the engines and everything seems bigger and louder. I would go as far as to say this is the best sounding Forza game to date, even better than Forza Motorsport 6.
How is Forza Horzon 3 with a Steering Wheel and Pedals?
FH3 is a lot of fun with a steering wheel and pedal setup on Xbox One or on PC, but the force feedback isn't quite as good as Horzion 2. It seems that the amount of FFB was downgraded and the best way to get a bit more out of your wheel resistance is to tweak your settings by lowering the DOR. I get that this is an aracde style racer, but I certainly would of liked a bit more out of my wheel with the game
I've been racing with the Thrustmaster TX and my racing setup, but have tried the TMX, Logitech G920, and Fanatec Clubsport. If you are in the market for a wheel, you can see my best steering wheel suggestion for Horizon 3 here.
Pros vs Cons
Pros:
Huge open world map with pristine graphics
Lots of cars to choose and customize
Customizable events
Varied terrain which keeps gameplay interesting
Fun online gameplay modes
Custom livery designs
The music is fun and customizable to your playlist
Cons
Force Feedback is much weaker than Horizon 2
Forza Horizon 3 Review Wrap Up
Aside from the lack of Force feedback Horizon 3 has the game is a lot of fun. If you are sim racing fan this is still a good game to take for a spin and not take yourself so seriously. There are plenty of moments in the game that will get your heart beating and raise your adrenaline levels as you try to navigate your way through trees back onto the road.
The game has a lot of variety and more DLC content to come so I am expecting this game to be fun for a long time. After all I still like Horion 2 which came out in 2014. Playground games did a nice job of building on what they already had…a fun open world racer with a bigger map, more customization options, a better social experience, and more cars than you can wrap your head around.
FH3 is easily the best open world racing game I have ever played.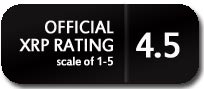 Checkout Racing Games At Amazon
Customer Reviews
Probably my favorite racing game ever
3 people found this helpful.
So much fun and has lots of replayability. Even without any DLC there are hours and hours of quality play available.
It has already provided hours of non stop fun!
2 people found this helpful.
Make sure your X-Box One has been updated with all of the latest firmware. We tried to load this onto our machine and had problems with it getting stuck @ 17%. We ended up having to reset the entire X-Box One to upload the latest updates because we had not done it in a while. Once it was complete, we restarted the installation of this game and it completed the process without any issues. It has already provided hours of non stop fun!
Fun racing game!
One person found this helpful.
Super fun racing game. Street racing, off-road racing, regular racing, tricks, drifting, the list goes on. This is a really fun open world racing game. Gain fans and open up festivals and purchase new cars! Not to mention the world looks amazing. They did a great job.
I love it.
The best racing game I've ever played. All kind of cars. All kinds of racing; on-road, off-road, etc.. Tons of skills challenges, including how far you can jump, drifting and more. Or you could just drive all around Australia; the outback, the rainforest, the city, or the wine country. The driving and handling are very realistic. And the music is awesome! choose your radio station (my favorite is the drum 'n' bass) . Hours of fun. I've had this game for months and I still keep going back. I highly recommend it.
Great game!
One person found this helpful.
Great game!!!!!! If you're into racing games, this is a must have. The forza collection is at it again with another installment of it's racing franchise. This time you're in Australia traveling to all four corners of this beautiful country. It's visual and sounds are amazing .This game is a must have!!!!
Excellent graphically beautiful, smooth gameplay lots to do!
One person found this helpful.
I haven't been impressed with racing games for next gen consoles until now I was iffy but everybody in Xbox one groups say it's a great game so it goes on sale I bought it and I'm happy I did!
Five Stars
4 people found this helpful.
Graphics are great, game is challenging.
Pretty fun game but the current version is pretty unstable
3 people found this helpful.
Pretty fun game but the current version is pretty unstable. My game crashes quite frequently and it's usually as I'm unlocking a new car or finishing a tough challenge.
If you liked any of the other Horizon games or frankly just …
One person found this helpful.
If you liked any of the other Horizon games or frankly just like a quality racing experience in a near borderless world, buy this.
Must have for fun!
One person found this helpful.
I love this game. This game has all the parts of GTAV that I like and gets rid of the rest. Stay in the car and explore the massive world without worrying about doing stupid missions. Do whatever you want.
Have you tried Fh3 yet, do you agree this is the best open-world racing game? Let me know in the comments below.
Forza Horizon 3 Xbox One
Rated
4.5
/5 based on
1
review