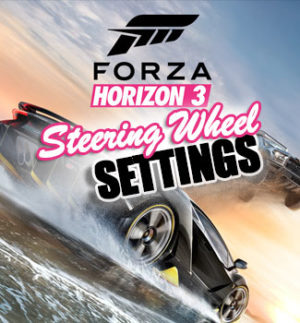 The force feedback in Forza Horizon 3 is pretty inconsistent no matter which brand of wheel you are racing with.
The tarmac doesn't give you to much in the way of vibration or force feedback (FFB) and the dirt, grass, sand, and gravel provide too much force feedback! Compared to other Xbox One racing games, getting the settings for this one was pretty tough.
This is pretty disappointing after such a great experience with Horizon 2 and other recent games like Assetto Corsa having amazing force feedback.
In this article I'm gonna give you my settings and you can use them as a baseline for figuring out what works for you. Unfortunately Playground Games and Turn 10, dont give us much in the way of FFB settings to tweak…lots of deadzones, but thats not gonna help the FFB. So what we need to do is try to strike a balance between FFB, vibration, and wheel rotation that works for both street and off roading.
So far I have run FH3 with a Logitech G920, Thrustmaster TX, and Thrustmaster TMX. All the wheels performed similar, with the only difference being the Logitech G920 felt a bit clunky off road-road and I dialed the vibration down a little bit more to about 80.
Forza Horizon 3 Settings
For getting the FH3 wheel settings first I set the difficulty, then I used default layout 1 in the controls, and last I adjusted the advanced wheel settings.
Difficulty Settings
Braking: ABS Off
Steering: Simulation
Traction Control: Off
Stability Control: Off
Shifting: Manual w/Clutch
Pro Tip: If you feel like your steering is a bit twitchy, particularly on a Logitech G920, try switching from simulation steering to normal.
Control Setting
If you use default layout 1, your settings will look like this:
Note the game has the clutch labeled as E-brake. It is mislabeled in the game.
Layout: Default Layout 1
Vibration: On
Switch Gear Up/Down: Off
Switch E-brake/Clutch: Off
Switch Look Back Camera: Off
Invert Vertical Look: Off
Switch ANNA/Telemetry: Off
WANNA SHORTEN YOUR SHIFT TIMES ON THE TH8A SHIFTER?
Advanced Wheel Control Settings
To access your advanced wheel control settings press "X" on your controller when you are on the basic controller setting screen. Below the settings I list here, I will share some details on what you might consider adjusting in order to make these settings better for you.
Note: The Wheel Rotation setting will not show on your menu, you have to scroll down on the list to get to it.
Steering Axis Deadzone Inside: 0
Steering Axis Deadzone Outside: 100
Steering Linearity: 50
Acceleration Axis Deadzone Inside: 0
Acceleration Axis Deadzone Outside: 100
Deceleration Axis Deadzone Inside: 0
Deceleration Axis Deadzone Outside: 85
Clutch Axis Deadzone Inside: 10
Clutch Axis Deadzone Outside: 70
E-Brake Axis Deadzone Inside: 10
E-Brake Axis Deadzone Outside: 100
Vibration Scale: 85
Force feedback Scale: 100
Wheel Rotation Angle: 510
Best Way to Make In-Game Adjustments
The settings above should be used as baseline, but are probably not gonna work for every one. If you are not getting what you want out of the wheel, try playing with these 3 settings: Vibration Scale, Force Feedback Scale, and Wheel Rotation Angle. You may be tempted to adjust the steering linearity, but in my opinion it's best to leave it at 50, which is a 1:1 setting.
Vibration Scale
The wheel does not vibrate much on tarmac and it vibrates like crazy in the dirt (or the jungle). I found settings between 80 and 100 to feel pretty similar on the tarmac. The wheel doesn't vibrate much anyway on the roads, so you are not losing much by dialing down the vibration. Now off road is the reason you should dial it down. Settings between 75 and 85 are probably a good range to start and you should test how it feels for you off road.
Note: I dialed the G920 down to about 80ish is it has a bit more of a choppy vibration feel.
Note: The two rims that delivered the best vibration where the Thrustmaster 599XX and my custom Momo Rim
Force Feedback
I personally didn't find the force feedback to be tough enough on the streets and it was too heavy off road. After trying lots of combinations of settings leaving this at 100 seemed like the best idea. To get the wheel to behave a little bit tighter I found adjusting the wheel rotation angle to be a better way to add sump umph to the force feedback…
Wheel Rotation
With the wheel rotation angle set at 900 degrees it feels like a dead fish in your hands. To get some resistance out of the wheel when you turn, try dialing down the rotation angle. Try starting at 540 and dialing it down in 30 degree increments.
I personally found 360 to be much too low and the resistance too tight and causing understeer. Between 420 and 450 the force feedback got choppy in certain turns and felt like the resistance was turning and and off to create inconsistent resistance.
Other Settings
Horizon 3 does a good job describing the settings in the game for what they do so I am not going to get into what each of the settings mean. However I do want to call out two particular settings that I incorporate deadzone…
Deceleration Axis Deadzone Outside
I use a load cell brake mod on T3PA Pro Pedals and because it doen't compress like the stock pedals on the G90, the TX, or the TMX wheels it's good to add a little deadzone on the outside since your not hitting the range anyway. If you are using a load cell, you can dial this down pretty far.
If you are using Thrustmaster T3PA pedals with a concial brake mod, try setting the rubber stopper around 75% and then using the deadzone around 85.
HOW TO ADD AFTERMARKET PEDAL PLATES TO T3PA PEDALS
Clutch Axis Deadzone Inside and Outside
I like to be able to quick tap the clutch without sacrificing to much wasted effort pushing the pedal all the way to the floor. Putting some deadzone on the outside shortens the throw distance of the pedal for you to reach 100% input. I also add a touch of deadzone on the inside of the pedal so that I can get my timing just right as I shift.
Best FH3 Steering Wheel Settings
Hopefully these settings will have you putting in some great circuit times in Horizon 3. While the wheel is alot of fun with game it just doesn't deliver the same strength of FFB we got from Horizon 2 and even Forza Motorsport 6 for that matter. I don't expect too much to change or a patch to come, I honestly think this is the best of what we will get on the Xbox One.
If my settings change over time as I get feedback from the community or I discover a way to get more out of the settings, I will return to this article and update the settings. You can read more about my Xbox One Racing Setup here.
Are you enjoying Horizon 3 with your racing wheel? Have any tips and tricks for settings to share with other readers? Let me know in the comments below.