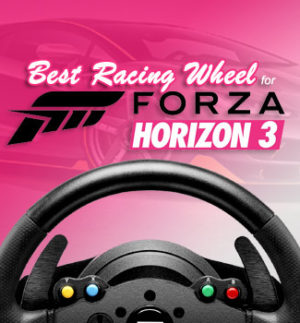 Racing in Forza Horizon 3 is much more immersive with racing wheel.
If you want to feel every bump in the rugged Australian outback terrain and fight for control of your car to keep it on the path then a driving wheel is a must. Horizon 3 uses the same physics engine Turn 10 uses in Forza Motorsport 6 so the gameplay with a steering wheel is solid.
There are several brands that make racing peripherals for FH 3 and they are all compatible with the Xbox One, Xbox One S and the PC via the USB ports.
I raced several different wheels with Horizon 3 and considered price and performance as my two deciding factors. For this review I tested the Logitech G920 ($300), the Thrustmaster TX Italia Edition ($350), and the TMX ($200).
Best Racing Wheel for Forza Horizon 3
Thrustmaster TMX ($200)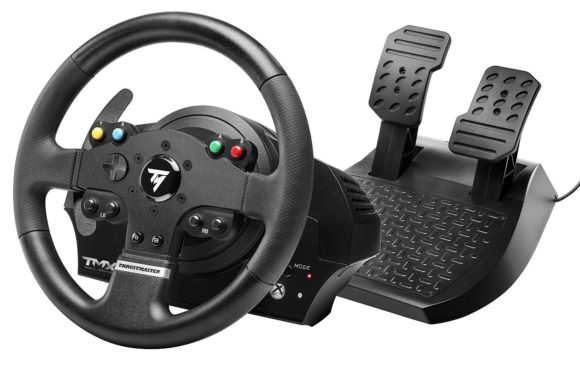 The Thrustmaster TMX is the best steering wheel for Forza Horizon 3. What makes this wheel great is that it's perfect for someone who is not looking to spend a ton of money on a sim racing setup, but wants a more immersive racing experience. It's Thrustmaster's best option for the more casual racing gamer.
TMX Specs
The TMX offers up to 900 degrees of rotation (changeable on the fly), a belt driven motor, a two pedal set (throttle and progressive brake), paddle shifters, a D-pad and all the required Xbox One and PC buttons, a table clamp for mounting, compatible on Xbox One and PC, and the ability to upgrade your pedal set and/or add a shifter.
"The force feedback performs well above its price point and it's stronger than the more expensive Logitech G920"
Force Feedback With Horizon 3
Horizon 3 has excellent handling physics, but it's more of a arcade style racer than a simulated racing game, given that you can drive a Lamborghini at high speeds on the beach or through the woods. With that in mind, you don't need a high end simulated racing wheel for FH 3 to make the game immersive. All you need is a wheel that can translate the feel of the road, give you decent force feedback, and help you understand how the back end of your car is handling as you drift through dirt and grass.
Overall the turning felt very accurate, the force feedback is moderate, the progressive brake offered a nice resistance, and the motor was really quiet.
If you are a drift style racer, than you will also love the fact that you can adjust the rotation of the wheel up to 900 degrees. Typically I like a tighter rotation of around 360 for normal racing, but when its time for nailing my drift scores you can crank it up to 540 or so for a fun experience.
CHECK OUT REVIEWS OF THE TMX STEERING WHEEL AT AMAZON
The TMX is Upgradeable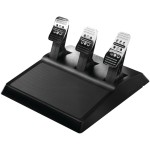 While you can't change out the rim on the TMX like you can on other Xbox One Wheels, you can upgrade the pedal set and add a shifter. My best recommendation would be to add the T3PA wide pedal set ($100), which would take your total package to $300.
Adding the shifter is great, but I would add the 3 pedal set first. I don't love the TMX pedals as they are plastic and don't come standard with a clutch pedal. You could also consider the T3PA Pro pedals for $150.
"Since the TMX can take an upgraded pedal set and add a shifter, it makes it a better long term value"
Mounting
The TMX is table clamp only, so you will need to attach the wheel base to a table or a desk. There are some wheel stands for the TMX, that work great because they are compact and don't require any holes for mounting. There are also special adapters you can get from 3rd party vendors that make the wheel able to be mounted on a cockpit.
Compatibility on Xbox and PC
Since Horizon 3 offers Play Anywhere capability, that means you can play it on your console or PC with windows 10. The Thrustmaster TMX will also work with both so you can race on either gaming platform.
Why the TMX Wheel is My Best Recommendation for Horizon 3
What stands out most to me about the TMX is the performance for the price. I actually like this wheelbase better than the Logitech G920, which is a good mid priced steering wheel. Because the TMX has a mixed belt and pulley driven mechanism its force feedback is slightly stronger and quieter than the G920 which has helical gearing. It's also worth noting the G920 only has 8 bit pedal resolution, while the TMX has 12 bit.
While I didn't get to test the Thrustmaster 458 Spider, which is a $100 wheel, I do own this wheel and it isn't in the same class. The Spider wheel uses a bungee cord mechanism to provide linear resistance, doesn't have vibration, and only offers 240 degrees of rotation. It's fine for what it is, but for an extra $100 the TMX has aspects that grade with mid-priced options.
With how loose the car physics are you don't need the accuracy of a sim racing wheel for this game, you just need something that can give you the bumps in the road and decent force feedback. I think the TMX delivers a solid performance and should be considered first if you are a casual racer. You can read more about it here or you can get one right one right now…


If you take racing a bit more seriously or think eventually you want to get into sim racing, you can also checkout my #1 recommend sim racing wheel for Xbox. It is a lot of fun on FH3, but it comes with a heavier price tag. There is also a comparison of the 5 differences between the TX and the TMX here.
Forza Horizon 3 Steering Wheels and Related Items at Amazon
Have you raced any of the Forza Horizon games with a wheel? If so, let me know which one in the comments below.