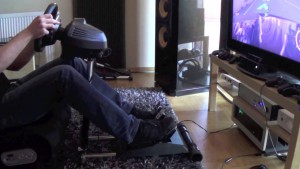 Steering wheel stands are great because they give a more immersive racing experience, they pack up easily, and they don't cost as much you paid for your console!
There are a lot of variations of racing wheel stands on the market, but I am going to highlight the three most popular.
All three are highly reviewed and have great rating on Amazon. I choose these three not only for their popularity, but by because they vary in style, foldability, compatibility, and price. This way no matter what type you are looking for in a steering wheel stand for your Xbox racing setup, I have got you covered.
These 3 stands are listed according to their XRP rating:
1. Wheel Stand Pro | XRP Rating 4.5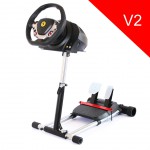 The Wheel Stand Pro is the best-selling wheel stand on this website. It is made of all metal and provides a way to hold your steering wheel in place and lock your pedals down. This stand is also very adjustable for height and tilt. in addition to being is extremely well built and very stable. It folds up fairly compact and you can leave your wheel and pedals attached when you put it away in a closet. To play, just unfold it and you are ready to race!
There are variations of this stand depending on which Xbox One racing wheel you have Thrustmaster TX, Logitech, Mad Catz, make sure you order the correct stand.
2. Xlerator Wheel Stand | XRP Rating 4.0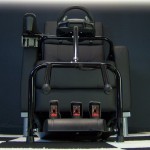 Xlerator Wheel Stand is unique for two reasons, first because it doesn't have a center pole and second because they make a version of it to accommodate people up to 6'4 and 290 lbs. This wheel stand will work with almost any couch, office, or gaming chair and it is made out of metal tubing. To pack it up, you simply fold the pedals up and raise your wheel. It can pack away in a closet, with your wheel attached.
The Xlerator Wheel Stand is not compatible with the Mad Catz racing wheel for Xbox One so if that is your racing wheel, you will need to consider a different option.
3. The Ultimate Racing Game Wheel Stand | XRP Rating 4.0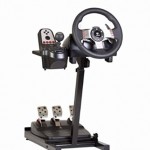 Ultimate Racing Game Wheel Stand is the least expense racing wheel stand on the market. It is made with a center pole design and it secures your racing wheel, by using a table clamp. The pedals sit on a pedal platform and are not secured, but sit against a metal backstop to prevent sliding. The Ultimate Wheel stand is made of wood and metal and also offers the most compact solution for storage, because it can fold down and fit under your couch.
This stand is compatible with all the popular racing wheels as long as they come standard with a table clamp.
Steering Wheel Stands For Xbox One Racing Wheels
No matter if you are looking for a Thrustmaster Steering Wheel Stand, Logitech Steering Wheel Stand, or any other brand…these above will accommodate all of the popular brands on the market.
When purchasing these you should not only check for brand compatibility, but also specific product compatibility. For example the Thrustmaster TX and the Thrustmaster Spider have different mounting holes, which is why Wheel Stand Pro offers two different versions of the stand depending on which wheel you own.
Check Out Steering Wheel Stands at Amazon
What do you currently have your racing wheel clamped to right now? Let me know in the comments below.