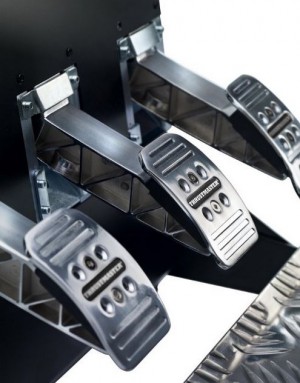 In April of 2015 Thrustmaster release their new pedal set the T3PA Pro's. They are are slightly more expensive the T3PA Wide pedal set they released in 2014. Everybody keeps asking is the extra $50 worth it for the T3PA Pro set?
We will get to that, by the end of this comparison, but first…
Both of these pedal sets are great and made with quality. Both offer a gas, progressive break, and a clutch, and are both plug in and play for any T-series steering wheel put out by Thrustmaster. While I have an Xbox One and review products for it, you should know these pedals will also work with PC's and Playstations.
NOTE: If you are using the Thrustmaster T500 wheel, the Wide Pedal set is inferior to the stock T500RS pedals and the T3PA Pro pedal set is exactly the same as the T500RS pedals.
Both sets will also work with any Xbox One racing game to date, except for Need For Speed Rivals, which did not offer any steering wheel support.
.
The comparison chart below details the major differences between the Thrustmaster T3PA Pro pedal set and the Thrustmaster T3PA Wide Pedal Set.
Xbox One Steering Wheel Pedals Comparison Chart
In my opinion, for extra $50 for the T3PA Pro Pedals are a much better value than the T3PA Wide Pedals. Simply put they are a higher quality construction, offer more adjustability, and they feel much more realistic. The 15 lbs of weight that they offer also make them feel extremely stable.
The T3PA Wide Pedals Are Great If You Are On A Budget
Now don't get me wrong, the T3PA Wide Pedal Set is a great pedal set, especially if you are getting started in Xbox racing or are looking to upgrade your pedals and are working on a budget. I have the Wide Pedal Set, they work great, and have withstood hundreds of hours of racing on several different Xbox One racing games. Being they are only about 5 lbs, they do tend to wiggle a little bit when I am jamming on the gas and break. It is not a huge deal, but worth noting.
I debated for a few weeks since I already had the T3PA wide Pedals if I should even bother upgrading, well…
The T3PA Pro's Are Much More Customizable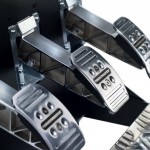 I upgraded to the T3PA Pro's in 2015. It was a noticeable difference, particularly in the fact that you can invert them form F1 style to GT style and also that the full metal construction make these things feel bomb proof.
The T3PA Pro pedals seem to give a better response under my feet as well as a much more simulated and immersive experience. Having the 3 options for the brake: No Mod, Spring Mod, and Conical Rubber mod is also a nice touch. All feel really nice, but I think the Conical Rubber brake mode offers the most realistic experience (BTW both pedal sets have Conical brake mod).
Another cool feature you can do with the T3PA's is that if you are using the conical mod on your brake pedal, you can add the soft spring to your clutch or throttle if you wanted to have some resistance on those pedals. That is something I am interested in doing, but havent tried yet.
Other Mods
For the T3PA Pro pedals you can purchase a load cell brake, which changes your pedals from braking by distance of pedal travel to braking by weight on the pedal. This mod feels much more like a real race car brake and will significantly reduce your lap times.
Another mod you can do to both pedal sets is a nice DIY customization. You can get an aftermarket set of pedal plates and custom mount them on your T3PA's. It requires a little bit of work, but its pretty nice to change out the face plates for a set of real racing pedals.
This will work on both pedal sets, because they utilize the same exact pedal plates.
Both Sets Feel Great In Gameplay
I have used these Pedals with multiple games on the Xbox One: Project Cars, Forza Horizon 2, and Forza Motorsport 5. Each one delivered a great feel and experience, but the Pro set feels way better than the Wide set. They have better pressure under your feet on all 3 pedals and the rubber brake mode feels a bit stiffer on the Pro set..
If you are in the market for adding a clutch on to your steering wheel pedals Thrustmaster TX or any other steering wheel in the T-series, either set is awesome, but if you have the means, go for the T3PA Pro's you will thank me for it later.
"When I use my T3PA Pro's I forget I am even playing a game"

After you add the clutch with either pedal set, you also may want to consider adding a shifter. The shifter and the clutch in combination really add to the immersion and simulation experience and it is really a next level racing experience on the console.
Wrapping Up The Pedal Comparison
The Pro set offers much more value than the Wide Set, but both pedal sets work great with the steering wheels and with the Xbox One games. The Wide Set has been one our sites best selling pedal sets, but the Pro set has only been out for a few months and I anticipate it will make our Top Seller list soon. You honestly can't go wrong with either choice, but the Thrustmaster
T3PA Pro's win the battle and are set at a very fair price point.
Check Out The T3PA Pedals And Other Related Items at Amazon
Do you own a 3 pedal set? Let me know which one you have and how you feel about them in the comments below.