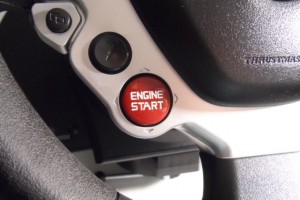 If you are looking for an Xbox One Forza steering  wheel because you are plain sick of playing with a controller I got you covered.
You have a few options with a wide price range ($80 – $1,400) that are compatible with all Forza Motorsport and Forza Horizon titled games on Xbox One. These wheel will even work with Forza Apex on the PC.
Your options for Xbox 1 racing wheels while vary in price point quality and force feedback and truly kick a controllers ass any day for a real racing feel. If you have been racing Forza with a controller all of these choices will take your driving simulation experience to the next level. If you are not exactly sure of what to look for in a wheel you can check out the racing rigs, except the Hori Wheel, which only will mount to a table.
Forza Steering Wheels Under $100: Lowest Prices
Hori Racing Wheel | $60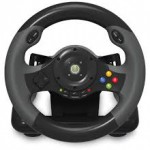 The least expensive Forza racing wheel option is the Hori Racing Wheel for Xbox One, which sells on Amazon for under $60. It doesn't have force feedback, but will provide you with a wheel and pedals for your game thats about it. The wheel is pretty precise, but feels like a toy as it only measures about 8 inches in diameter. The analog pedals are serviceable at best, but have an awkward arc to them that feels a bit strange on your feet.
---
Thrustmaster VG Spider | $100- Best Seller under $100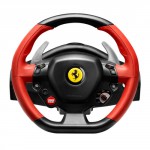 The next inexpensive Xbox One Forza racing wheel is the Thrustmaster VG spider which comes in at just under $100 at Amazon. While it's not true force feedback and works off a bungee system to provide resistance, I think it's a good value for the price, especially if you are just trying to get a wheel to satisfy your driving fix.  It's a quality build, with a serviceable pedal set, and hands down for me crushes a standard controller and the Hori racing wheel just with the resistance alone! This wheel also features paddle shifters and a pedal set with a progressive brake.
---
Thrustmaster TMX Racing Wheel | $200
The low-price Thrustmaster TMX, racing wheel is an upgrade in class from the aforementioned 458 Spider. This wheel offers 900 degrees of rotation, true force feedback, a progressive brake pedal, and the ability to add a shifter and a clutch. While you can't change out the rim, this wheel boasts a great force feed back motor that rivals some of the mid priced driving wheel options for the Forza titles. This is my best recommendation for an entry level racing wheel on Xbox One.
---
Forza Steering Wheel Mid Price
Thrustmaster TX 458 Italia Racing Wheel | $300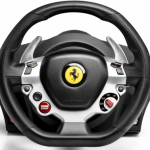 The mid-priced Forza Steering wheel option is the Thrustmaster TX, which in my opinion is currently the best Xbox One Forza racing wheel currently on the market and prices under $300 at Amazon.  It's upgradable with changeable rims, a shifter, a progressive brake, and a clutch and its brushless motor delivers a really awesome force feedback, that you can feel in your shoulders! There is a bit to be desired in the cheap plastic stock rim, but you can buy the motor only and add a rim, or purchase a bundle with everything.
---
Mad Catz Pro Racing Wheel | $350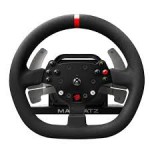 The 2nd highest priced Forza Xbox One Steering Wheel option is the Mad Catz racing wheel, which while it's priced on the high end at just under $300 at Amazon, comes up a bit short in my book compared to the TX. By no means is this a cheap product and it feels better in your hands than the Thrustmaster TX however, it fails to deliver the same feedback as the TX. Not only is the force feedback not equivocal, but it's a bit nosier and feels really light weight in your hands. This wheel also features paddle shifters and a pedal set with a progressive brake.
---
Logitech G920 | $350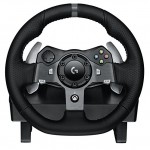 The highest priced steering wheel option for Forza games on the Xbox One is the Logitech G920. This wheel uses helical gearing and the force feedback, that is smooth, quiet, and strong. The wheel rim is wrapped in hand stitched leather and the center column and paddle shifters are made of metal. If you were looking for some peripherals, these wheel has the ability to add on a shifter solder separately. The one thing that sets wheel apart from the others is that it is the only one that comes with a gas, brake, and clutch standard.
---
Thrustmaster TX Leather Edition | $450- Best Option for Forza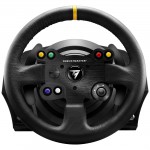 For me the Thrustmaster TX Premium Leather Edition is the best option for Forza. It is the same wheel base as the Ferrari F458 Italia edition, but it comes with a 3 pedal set and a leather rim. The best part about this setup is you save a few bucks from buying all the components individually and it is still upgradeable to add on rims, invertable pedals, and a shifter. It features the best leather wheel rim of all the previous options and it's the first 5 star rated wheel on the XRP blog.
---
Forza Steering Wheels Highest Price
Fanatec Forza xbox one Bundle | $1,400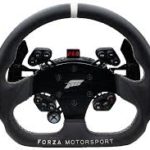 The Fanatec Forza Motorsport Bundle is the pinnacle of sim racing. It has a full size racing rim like you would find in a real race car, a 3 pedal set with a load cell brake, and even comes with a shifter. There is no other wheel that performs on Xbox One quite like this beauty and it is the closest simulation to a real race car that you can get on a console. This is the only wheel that works on Xbox One, PC, and PS4. To get this wheel you it can only be ordered through the Fanatec website.
---
Best Racing Wheel For Forza
I personally thing the Thrustmaster TX Leather Edition is the #1 choice for Forza Motorsport, Forza Horizon, and Forza Apex. It is not gonna break you in the bank and still deliver you an outstanding realistic simulated racing experience that work perfectly in tandem with the games superior driving physics.
For the second best wheel, I prefer the Thrustmaster TMX. The price is outstanding for a wheel made of that quality. It is far better than the 458 spider and in my opinion has better force feedback than the Logitech and Mad Catz wheels. It doesn't live up to the performance of the TX, but it also doesn't cost as much. I think this is a great wheel for entry level and causal racers for Forza games.
Buy An Xbox One Racing Wheel For Forza At Amazon
Whats your choice for the best Xbox One Forza Racing Wheel? Let me know in the comments below!