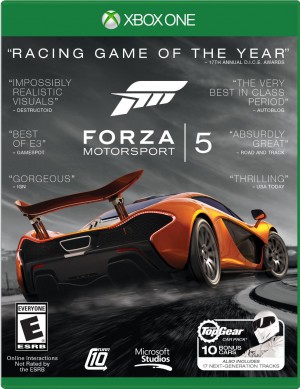 Forza Motorsport 5 Overview:
Developer: Turn 10
Release Year: 2013
Race Style: Race Tracks
Game Physics: Simulation
Maps: Worldwide (17 locations)
Game Progress: Career Mode
Cars Featured: 200+
Best Features: Graphics, Sound, Simulation
Biggest Complaint: Lack of tracks
Racing Wheel Support: Yes
DLC: Yes
XRP Rating: 4
When it comes to simulated racing it is hard to top anything put out in the Forza series. The game showcases a totally new graphics engine, a 16-player multiplayer, cloud-powered gameplay, hundreds of flawlessly reproduced cars, 17 laser scanned tracks, and a high powered livery editor.
If you are looking for a driving simulator for Xbox One then this is a great choice with a brand that has set the standard for console racing games.
Official Forza 5 Gameplay Trailer
How Is Forza 5 Gameplay
Pretty freaking awesome. This game is everything you expect it to be with the name Forza on it. The cars feel like they respond accurately to the tracks and situations. The sounds of the cars are recorded perfectly and it can really be heard in the screaming engine of the F1 Lotus.
Whether you are using a standard Xbox controller or an Xbox racing wheel the game really gives you a great amount of feedback about how your car is handling. For example if you are using a controller you can feel the left or right side brakes lock up in the associated trigger as it uses micro-vibrations.
Overall the racing in Forza 5 is a lot of fun and feels more like a simulator than a game.
Best Forza 5 Features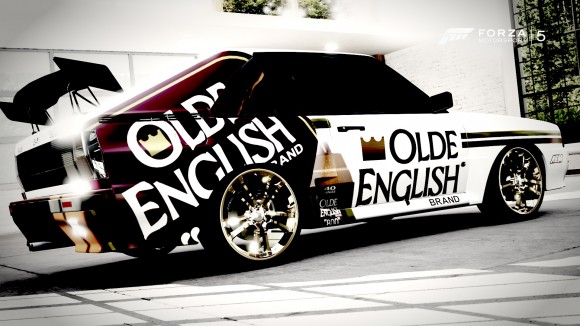 FM 5 is pretty feature rich. Race in career mode, race online, tune cars and test your tuning, design cars and download designs, or take photographs.
I personally have always loved the Forza livery design element and find it to be a game experience within the game. On the right is one of my livery designs.
There is subculture of Forza players that barely race all they do is tune, design or take photos.
The game has some nice online racing features such as monthly and weekly challenges and also a section where you can race with out collisions on (for those that are sick of trolling).
The games also features Drivitar technology, which learns your tenancies and simulates you in your friends offline races and your friends in your  offline races. The on thing I really like about this is nothing is more motivating or heart racing then wanting to kick your friends ass in a race.
CLICK HERE TO BUY FORZA 5 FROM AMAZON
Forza 5 Complaints
My Forza 5 complaints are fairly standard for all Forza games; poor menu naviagtion and I never feel like I am happy with their career modes. This career mode is designed so that you can stay in one car through a series of races, but there menu navigation is awkward if you do want to change cars after you have begun a series.
When the game was first released it feel under heavy criticism by the hardcore races who had fallen in love with the other games in the Forza series. Fans complained about too few cars, too few tracks, and the addition of micro-transactions to level up or gain credits. They also accused the maker Turn 10 of rushing the game in order to release it in conjunction with the release of the Xbox One console.
While I love the game and it is truly the go to choice for a simulated racing experience, I do feel all of the criticism it was dealt is justified, except for the micro-transactions. If you a real Xbox racer than you will have no trouble leveling up and earning credits quickly, because they also increased the amount of payouts you receive per race.
Forza 5 As A Car Simulator Game
When it comes down to it for me, I could car less about certain features or menu navigation…I wanna know how simulated is this experience in my Playseat cockpit as opposed to something that feels like an arcade game.
I love the way FM5 feels with the force feedback  in the Thrustmaster TX racing wheel, the gas and brake on the T3PA Wide Pedal Set, and using the "in cockpit" view in the game. Overall this view will give you the most simulated feel, but it's also important to make sure you have the best Forza Motorsport 5 steering wheel settings.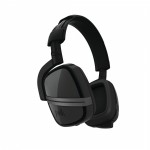 There are moments during gameplay that I honestly forget I am in my house and playing a video game. If you wear headphones (like the Polk Audio 4 Shot which were tuned for Forza 5) in addition to a racing simulator rig, the game really sucks you in. Don't get more wrong the game feels great with a controller, but the best experience is with a racing setup.
What Other Forza 5 Reviews Say

Wrap Up Forza 5 Xbox One Review
For 2014 this is the best in class sim racing experience on the Xbox One from one of the most storied racing franchises in Xbox History.  With the awesome graphics and sensitive responsiveness of cars, there is no other game like it to date. I can easily say that this is the best Xbox racing game as a simulator for Xbox 1 to date. If you want the best Xbox One racing wheel for Forza.
I think this game is super fun and is awesome with the addition of a racing wheel and cockpit, which honestly keeps your interest in the game far more than folks who use an Xbox controller. It really becomes a full body video game immersion experience.
The real drawbacks to me is only 17 tracks (which some do have multiple variations). With the low amount of tracks the game lacks a little bit of depth and some people may find it boring after a few months of playing.

"Forza Motorsport 5 is worth the money…give it some gas"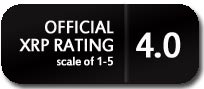 Buy Fora Motorsport 5 And Related Products:
Forza Motorsport 5
Rated
4
/5 based on
1
review
Have you played Forza 5? Let me know your thoughts and your Forza Motorsport 5 review in the comments.