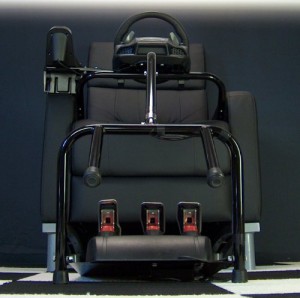 Tired of having your racing wheel strapped to a table?
Limited by space and can't fit a full racing cockpit in your room?
The Xlerator Wheel stand will take your racing game setup to the next level and keep your space usage and your budget to a minimum. There are two different versions of this stand, the XL20 Xlerator and the XL21 Big Boy. I'll get to the differences in a min…
There are plenty of other wheel stands on the market, like the Wheel Stand Pro, which has a pole that sits between your knees, but the Xlerator will let your legs fall naturally underneath the wheel just like they would in your car.
This company has been making wheel stands for a while and were particularly popular stands in the past for the PS3 and Xbox 360. Now they are built for wheels on the next gen consoles!
The stands are designed to work with your living room furniture, like a lazy boy chair, a couch, or even a gaming chair.
There are two versions; the stand called the XL20 is made for an average size man up to 6'4 220 lbs, while the XL21 Big Boy is made for a larger size man up to 6'4 290 lbs. These two stands are pretty identical in every other way except one has a higher cut lap bar.
Made of High Quality Steel Tubing and Builds Easy
The Xlerator stands are made from 2mm steel tubing and it has a powder coated gloss black finish. There is also a piece of sheet metal in place for mounting a pedal set. When you sit at the stand with a wheel mounted and turn aggressively back and forth on the wheel, the stand remains sturdy.
"These stands will definitely hold up against all the rigors of your sim racing and heavy force feedback"
Not only are they well-constructed, but you can put it together in about 15 minutes. It does come with instructions, but it's pretty intuitive when you see the parts.
Pack Up Easily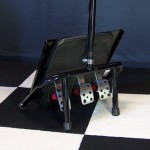 If you are limited on space and need to put the racing setup away when you are done, then this offers a great solution that can fit in a closet or a corner.
All you need to do is flip up the pedals and lift up the wheel. That's it, these stands thing couldn't be easier to pack up. You don't even need to unhook your wheel or pedals, just leave them on the stand.
"Packing this up takes about 30 seconds and its pretty lite weight so you can move it with ease"
Puts Your Body in a Perfect Driving Position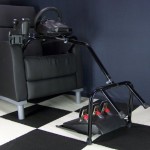 One of the key reason cockpits and wheels stands are SOOO MUCH better than clamping your racing wheel to a table is because they put your body in the perfect driving position. Being in a position that you would expect to be in as if you were driving is what really makes for an immersive racing experience. The XL20 and XL21 do this exactly.
Plus they are designed without a center column so your legs fit naturally right under the wheel without any obstruction between your feet and the pedals. The stand also has a pedal plate for mounting your pedal set, which is important for keeping your pedals in place when you are jamming on the accelerator and brakes.
What's also a nice touch is that the stands are fully adjustable for leg length and lap bar height.
Compatible with Multiple Steering Wheels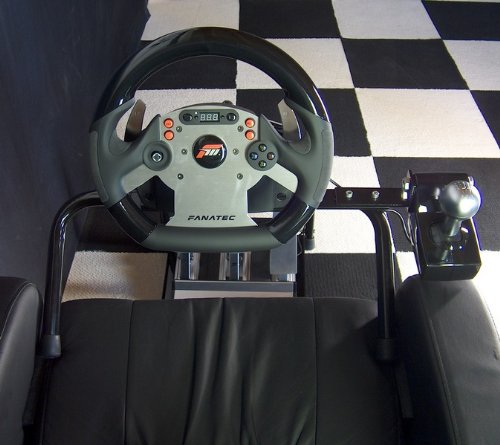 The Xlerator Wheel Stands will fit the following wheels:
The pedal plate is pre-drilled for the stock Thrustmaster pedals. If you have the Thrustmaster T3PA Pro Pedal Set, you will only be able to use the F1 style, inverting them GT will not fit. The stand also comes with shifter adapters for both the Fanatec and Logitech Shifters.
Neither stand is compatible with the Mad Catz racing wheel or the Thrustmaster Spider. If you were looking for a stand for those, then the Wheel Stand Pro is your next best option.
A Few Limitations
While this stand is built great and is perfect for anybody, there are a few limitations.
– Using the XL21 Big Boy lap bar it won't fit on certain chairs with arms.
– If you have T3PA pro pedals you can only use them in the F1 position on either stand
– Neither stand is compatible with the Mad Catz Racing Wheel
– Neither stand is compatible with the Thrustmaster Spider
– If you are using it while seated on a couch then the wheel may bounce a bit
– To keep the stands sturdy, you really need to tighten the Allen Screws tight
Xlerator Wheel Stand Review Wrap Up
These are solid wheel stand if you are looking for something sturdy, space saving, budget conscious, and built to last. Either version of this stand will INSTANTLY take your racing experience to the next level especially if you have been clamping your racing wheel to a table.
A word of advice before you purchase an Xlerator, just make sure, you consider your couch or chair before you purchase this wheel stand. It will fit most, but if you are planning on sitting at some weird chair this may not a great solution. All in all I think this is a quality product, well priced compared to the market, and an instant upgrade to racing immersion.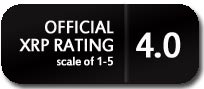 Check out Xlerator and Related Wheel Stands at Amazon
Xlerator Wheel Stand
Rated
4
/5 based on
1
review
What are you currently mounting your racing wheel on now? Let me know about your experience in the comments below.