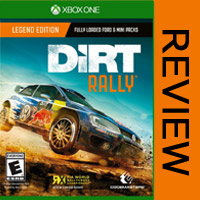 Dirt Rally Review

DiRT Rally Full Review!!! (Console Review)

Dirt Rally – Xbox One – Worth Buying?

Dirt Rally – Review & First Impressions (Xbox One)

DiRT Rally XBox One First Look and Test Drive

Dirt Rally – Review Commentary

DIRT Rally Review

Dirt Rally Xbox One Review and First Impressions! Should you buy?

Dirt Rally – Game Review

DiRT Rally – Review & Gameplay
Amazon Price:
$25.99
(as of September 21, 2017 8:24 am –
Codemasters Dirt Rally is the most complete rally racing experience on the consoles. The game embodies the difficulties and challenges of real rally racing as you try to control a rally car through a barrage of dangerous, undulating roads at breakneck speed, aiming to sqeeze every bit of power out your car to record a competitive stage time.
Dirt Rally features differing surface areas in a variety of environments such as snow, ice, tarmac and dirt and as you deal with a range of weather types and varying elevation changes.
Stages string together and each rally becomes a marathon-like test of concentration and skill as you rely on your co-driver, chasing after that ever-elusive ideal run.
Dirt Rally Quick Overview
Developer: CodeMasters
Release Year: 2016
Race Style: Rally (6 Rallies over 70 stages)
Game Physics: Simulation
Maps: Worldwide
Game Progress: Career Mode/Free Play/Online
Cars Featured: 39
Best Features: Graphics & Physics Engine
Biggest Complaint: Not for casual racers
Racing Wheel Support: Yes
DLC:
XRP Rating: 4.5
Standout Features
– Iconic Rallyt Cars – 39 of the most iconic and cars from different eras
– Six rallies With over 70 stages
– Official FIA World Rally Cross Sponsored Content
– Upgrade, Tune, Repair and Setup your car-
– Uncomprimesed Handleing with a new simulation engine
Pro Tip
: Dirt Rally is Really tough and might not be for everyone, check out how I get games, save money, and avoid getting stuck with bad games.
Click Here
.
What The Critics Rate It

My Opinion On Dirt Rally For Xbox One
Finally a rally racing game that lives up to the hype. Dirt Rally is brutally honest with you about your driving skills and will eat you up and spit you out if you take the slightest steering inputs for granted. Every single race is challenging and emotionally exhausting and rewards you with the feeling of a champion when you put up competitive stage times.
Graphically Dirt Rally kicks the ass of WRC 5 and Sebastian Loeb Rally Evo. The terrain, landscapes, and vehicles look amazing. It's particularly outstanding in replay mode, where there are moments you can't distinguish video game from reality.
DiRT really makes it's bones as a sim racer. This game is not for the faint of heart and is super hard to control the cars with both a racing wheel or a controller. Even an experienced racer like myself struggled to put up competitive stage times in the beginning, but once you get down the basic rally driving techniques you are changed forever.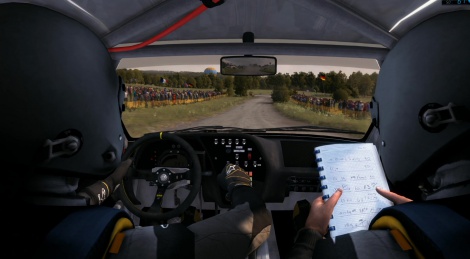 With a wheel the force feedback is strong and it offers a really nice racing experience giving you a nice feel for the varying road surfaces. The key to getting your wheel right though is starting out with the some good settings for the game. To master driving in the game with a steering wheel and pedal set you need to get good at doing left foot braking and Scandinavian Flicks. With DiRT Rally drifting isn't an option it is required!
NOTE: On an Xbox One using a steering wheel it's a bit challenging considering none of the Xbox wheels on the market have a compatible handbrake and you need to assign it to one of the buttons.
DiRT Rally Xbox One Review Wrap Up
Overall DiRT Rally is a ton of fun with stellar graphics and an outstanding rally experience. It translates the franticness of rally driving right into your living room and delivers the most simulated rally experience to date.
If you are a a casual racer, you may find DiRT Rally to be a little frustrating because it is HARD! I assure you that mastering the rally driving skills is extremely rewarding if you have the time and patience to practice. This game in my book is an easy 5 rating, but because I understand it's not for everyone I'm dialing it back to a 4.5.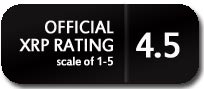 Check out Other Racing Games At Amazon
Have you played DiRT Rally or any of the DiRT games in the franchise? Let me know in the comments below.
Dirt Rally
Rated
4.5
/5 based on
1
review
Customer Reviews
Amazing physics and FFB – beware it's not easy!
4 people found this helpful.
I'm a big fan of SIM racing and am pretty critical when it comes to realism. I've actually done some real rally car driving and the physics in this game are pretty spot on. I can't say much about the game using a controller, other than its really designed for a wheel. I'm sure it's fun with a controller, but you are missing 95% of what's intended. This is not an arcade style game, it's simulation and thus very unforgiving. If you don't enjoy realism and the challenge that a simulation experience provides then I'd suggest you stick with something like Forza 6 – despite what the fanboys say Forza 6 is an arcade racer and bears very little realism to driving an actual car. I bought every Forza game up to and including Forza 5. Forza 6 was removed from my console after 10 minutes of playing the trial.
Dirt Rally hits a perfect line!!!!
7 people found this helpful.
Dirt Rally though it has a tough learning curve the rewards are definitely worth it. The game is beautiful and physics are great. The game has a much more simulation feel to it then previous installments in the series. If your a fan of racing you will be a fan of this game!!!! Only con I have so far is that I miss the good old days of multiplayer split screen. I wish that wasn't a dying tradition in games today
this is a really fun game for anyone who's into rally
3 people found this helpful.
this is a really fun game for anyone who's into rally. i don't know how close it comes to real rally, as i've never gotten the chance to go, but the vehicle dynamics feel pretty true to life. the only reason i dropped it to 4 stars instead of 5 is no fault of the square enix at all. it's that to fully get the best game play, you need a racing wheel/pedal set up. using the standard xbox controller, the steering is pretty difficult. just hard to get all the small input that you need while hauling butt down a gravel road.
This game is the best a capturing all of this in a way that …
2 people found this helpful.
Rally is the hardest Motorsport in the world. It's supposed to be hard! It's supposed to be unforgiving! You're not supposed to finish first in every stage! This game is the best a capturing all of this in a way that is entertaining, stressful, challenging, and beautiful to look at. The graphics are top notch and the sound is absolutely amazing on my home theater system. If you are a fan of sim racing, you should already have this game as it is an instant CLASSIC!! Codemasters should be commended for giving the true fans of rally what they really deserve. Bravo Codemasters!!!
Best rally title ever
2 people found this helpful.
Love this game. I'm a SIM guy, and do not like arcade style racing. Based on previous dirt games i was skeptical, but the driving physics in this game are challenging. A force feedback wheel is a must for this game to master it. It is not easy and I love it, it will make you a better driver in other games as well. I can't give it 5 stars because I want to see more vehicles in the game, it's a good selection of historically important cars, but more would bring this to 5 stars.
Dirty fun
One person found this helpful.
This game is intense. it can be frustrating. it's fun. it's a pretty game. if you like racers and a good challenge, give it a try. At this price, you can't lose.
Awesome rally simulation game.
2 people found this helpful.
Awesome rally simulation. Very realistic. Not for everyone though, as there is no racing line and no "re-do" for mistakes as there was in the previous two Rally games from Codemasters. I wish I had room for a steering wheel, but for now the controller will have to do.
THE Rally Simulator
Best rally simulator I have played to date by FAR. Get yourself a force feedback wheel and prepare to learn a thing or two about car control! Endless heart-pounding fun. This isn't forza, so no rewind button! Really helped me learn to balance risk with pushing for the win.
Hardcore sim
2 people found this helpful.
Hardcore sim that takes a some time and patience, but rally has to be one of the most demanding forms of driving sport so difficulty should be expected!